Michelin Chef Meets The Cape, a Thompson Hotel 
One of the most iconic hotels of Los Cabos, The Cape, a Thompson Hotel, will be part of Michelin Chef Meets Mexico. This initiative brings together prominent personalities from the food scene in different destinations nationwide.
The event will take place on July 6 and July 8 at this awarded resort located in the tourist corridor of Los Cabos. This event is a partnership with Michelin Mexico, the Robert Parker Guide, and Tablet Hotels with support from the Goverment' SRE, the FIPROTUR, and CANIRAC,
Michelin Chef Meets dinners are designed for around 125 guests per night to enjoy a pairing menu created by Michelin-starred chefs Paco Morales and Drew Deckman and a welcome reception with local tastes from female-awarded Chef Edith Jiménez.
Tickets are available at The Cape's Concierge Team: +52 624 163 0000 or by clicking here
About Michelin Chef Meets
Michelin Chef Meets Mexico in alliance with Michelin Mexico, The Robert Parker Guide and Tablet Hotels as well as the support of the Ministry of Foreign Affairs, Fiprotur and Canirac, endorse a series of thematic experiences strategically planned to promote the tourist and gastronomic industry at different locations with emblematic sites which combine and the joy of fine gastronomy and wine tourism throughout Mexico
Each encounter features the presence of outstanding Michelin-starred Chefs, who are invited to merge with local chefs and cooks, serving paired menus designed and produced with local and international products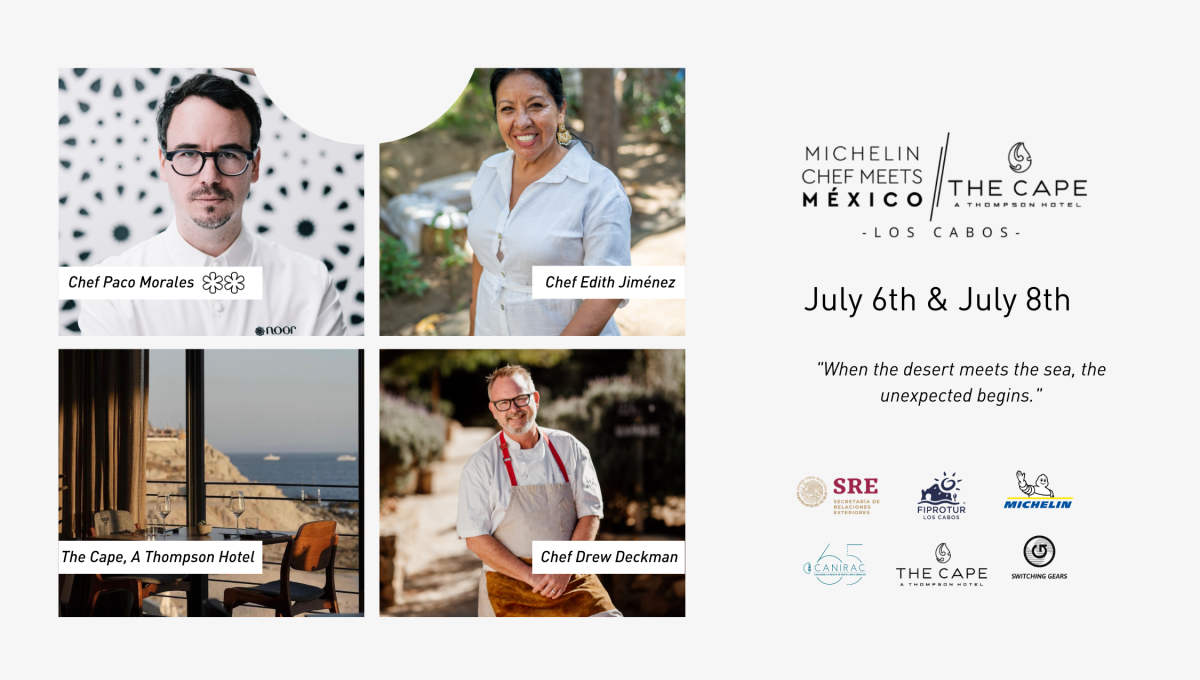 Enrique Olvera hosts 5-course dinner by both awarded with Michelin stars: Chef Paco Morales (2 Michelin stars) and Chef Drew Deckman paired with wines.
Cocktail & Sparkling Bar After Party and DJ. Art performance and auction to benefit the "Corazón de Niño Foundation."
ABOUT
Awarded with 2 Michelin stars is recognized as one of the 100 best chefs in the world.
With a long professional career in haute cuisine, Paco Morales stands out for his elegance and creativity, reaching its top essence at the restaurant Noor. His proposal recovers and reinterprets the legacy of the Al-Andaluz gastronomy creating a journey through time and brings our senses back with a surprising taste of contemporaneity. Such gift has earned him two Michelin stars and Three suns in the Repsol Guide.
ABOUT
Dynamic and outspoken Michelin Star chef Drew Deckman continually strives to run a zero-kilometer, sustainable community-based restaurant with a kitchen that is completely outside and is solely fueled by wood and natural elements, and where the majority of ingredients come from the ranch or nearby sea.
About Chef Drew Deckman and restaurant el Mogor
ABOUT
Chef and leader of Grupo Ediths, Edith Jimenez, was born in Jalapa, a small community in the mountains of Guerrero where she learned to cook with her grandmother Maria Morales. She opened Edith ́s restaurant in 1994 - currently one of the gastronomic pillars of Los Cabos that stands out for its cuisine and service, which has granted her the Five Star Diamond Award by the American Academy of Hospitality Sciences consecutively from 2009 until 2023.
THE CAPE, A THOMPSON HOTEL AEREAL VIEW