Don Sánchez and Chef Edgar Román were honored by The American Academy of Hospitality Sciences with the most important accolade that can be given to a restaurant on a global level: the International Five Star Diamond Award. This recognition previously awarded to places such as Le Meurice by Chef Alain Ducasse, or Market by Jean-Georges Vongerichten comes to San José del Cabo to acknowledge "the exceptional effort and commitment to gastronomic quality, service and atmosphere" of the restaurant.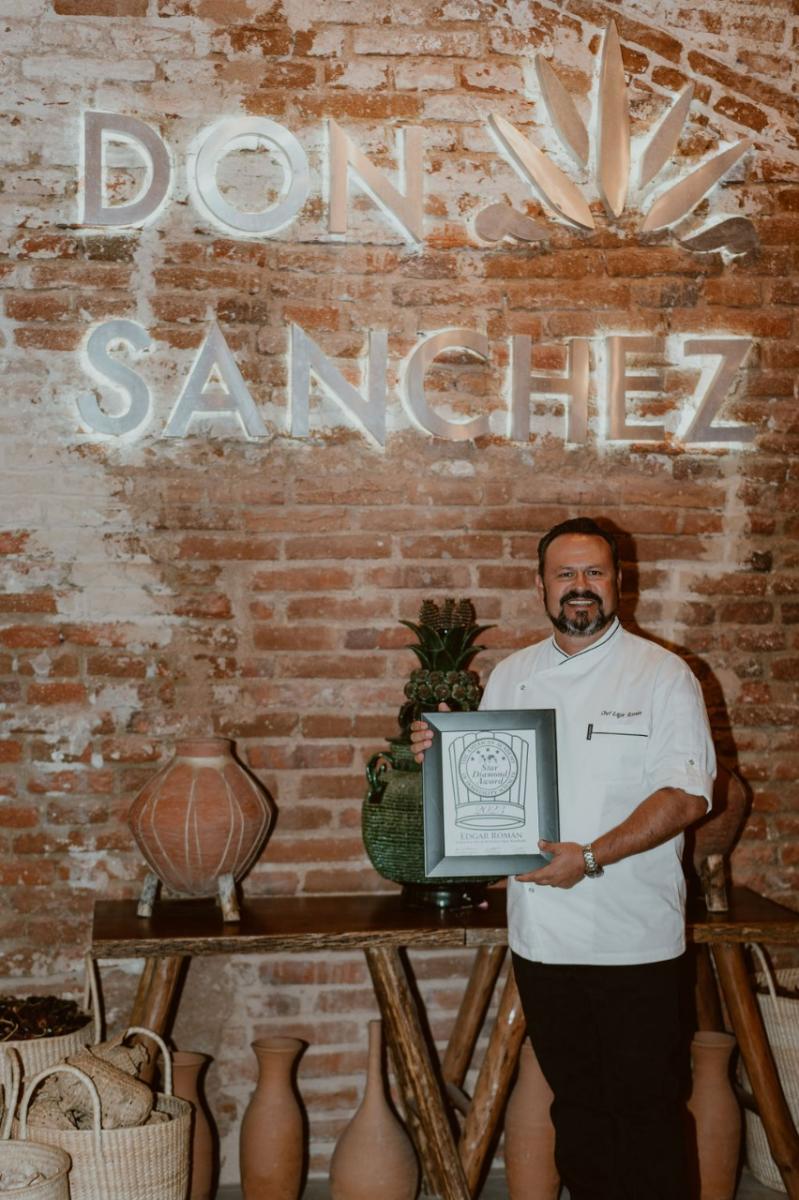 On the same ceremony at which the commemorative plaque will be presented, Chef Edgar Román will also become the only Chef to receive a special award for excellence from the Academy in recognition for his 20-year career, during which he has been responsible for the birth and development of what is now known as the culinary phenomenon of Los Cabos, one in which investigation, service, exploration of ingredients and respect for traditions have been fundamental elements of each of the projects that he has led to success.
It is important to note that the International Five Star Diamond Award has never been given to an individual Chef in Mexico, so this accolade, in addition to the one received by the Restaurant, for Chef Edgar Roman is not only a privilege but a great responsibility to maintain the commitment to quality product and the connection with the community of San Jose del Cabo and its sustainable producers that favor the responsible use of ingredients.
A celebratory Gala Dinner will be held on December 10th, where members of the Academy, media, special guests and friends will be there to celebrate this new achievement in the career of a chef who saw in Los Cabos the opportunity to promote a style of cuisine that recognizes the products of Baja California, the freshness of the ingredients of the Sea of Cortes and the flavors of Mexico in a peninsula full of microclimates that allows the creation of a culinary approach based on seasonality and sustainability.
Members of the Academy Board of Trustees that awards the prestigious International Five Star Diamond Award include Heinz Beck, David Bouley, Jean-Georges Vongerichten, Bernard De Villéle, David Burke, Heinz Winkler, Enrico Mambelli and Onno Poortier, among others.
About Don Sánchez
Don Sanchez is a Contemporary Mexican Cuisine restaurant owned and helmed by Chef Edgar Roman. Part of Edith's Group, not only the most important restaurant group in Los Cabos, but also a pioneer of innovative cuisine in the destination, which also includes Edith's, Tres Sirenas, The Office and La Pintada restaurants. Don Sanchez has a Garden, Sea and Farm Cuisine concept that takes advantage of mixed cooking techniques and the selection of sustainable products to offer a true culinary proposal.
About Chef Edgar Román
A graduate of Universidad Iberoamericana, he began his career under the mentorship of Antoine Wolenmilch and Bernard Brunnele. After working in Mexico City in different groups and positions, he decided to move to Los Cabos, becoming one of the pioneering chefs who saw the possibility of turning it into the gastronomic epicenter of Baja California Sur and a culinary destination of excellence.
After his time at Grupo Mi Casa, Pueblo Bonito and Cachet Beach, Edgar has contributed to the creation of a cuisine that respects seasonality and ties with the community to always offer the best ingredients, giving priority to flavor and the sustainable development of the industry in all its links.
He is the leader of Chefs x Los Cabos, a movement in which year after year a variety of events are created to support remote or vulnerable communities in Los Cabos. He also is the Chairman of the local chapter of Club Vatel. He owns Don Sanchez since 2019 and in 2022 he partnered with Grupo Edith's for the brand to be part of the restaurant group's catalog.
About the American Academy of Hospitality Sciences
Originally established in Chicago in 1949 as an international organization to rate restaurants, the American Academy of Hospitality Sciences is dedicated to awarding the International Star Diamond Award to five- and six-star hotels, spas, golf courses, restaurants, chefs, destinations, airlines, cruise lines and quality products.
Led by Joseph D. Cinque and headquartered now in New York, the Academy currently has offices in California, Colorado, Palm Beach, Beijing, Cannes, Greece and Tokyo, and its International Board of Trustees is made up of respected hospitality industry leaders including such iconic figures as Rita Cosby, Karel Lynn Dixon, Emma Cinque, Richard Meadows, Bernard Lackner, Mark Lettenbichler, Henry Meer, Mary Gostelow and Mexicans Adolfo Romero and Lucía Samaniego.