Los Cabos for everyone...
Los Cabos has become one of the world's finest luxury destinations for LGBTQ+ travelers, where elevated service and exclusivity come naturally to those who visit us. As elevated service is part of the DNA of the experience in Los Cabos, diversity, freedom, and openness are guaranteed. The excellence of the destination has been distinguished as a Gay Travel Approved destination in 2021 and has received the distinction of the Gay Travel Awards 2020 as the best sun & beach destination, the best Family hotel (JW Marriott Los Cabos Beach Resort & Spa) and best golf hotel (Hilton Los Cabos Beach & Golf Resort). The destination is in the top consideration of gay travelers by being a member of IGLTA.
The products and services in Los Cabos are ready to cater to the LGBTQ+ community, including some of the top sightseeing, tourist attractions and points of interest along the Baja California peninsula. Stunning El Arco in Cabo San Lucas is one of the region's most iconic natural landmarks, and it's the center from which many fun activities like whale watching kick-off. 
Los Cabos has experienced a complete mix of culinary influences worldwide; there's also a solid global influence thanks to the many international visitors and expatriates in the region. 
Los Cabos continues to embrace LGBTQ+ travelers with its endemic traditions and international influences to grow as a hub of music, art and culture. Los Cabos celebrates the eclectic, authentic and innovative with zeal, so it's easy to see why so many artists are inspired to call it home. Each Thursday evening between November and June, the San Jose del Cabo Art District hosts an Art Walk to allow locals and visitors alike to experience the works of the outstanding fine artists and artisans who live in the region.
LGBTQ+ travelers seeking a luxury retreat will find exclusive amenities and indulgent experiences hard to find anywhere else. From world-class personalized service to spa treatments and accommodations, Los Cabos' award-winning hotels offer luxurious amenities to fit any travel style.
Whether you're craving a convenient base for springboarding to the Baja California outback, an eclectic hideaway where wellness sets the tone, or a swanky suite complete with a private plunge pool, Los Cabos has emerged as a something-for-every-taste playground.
LGBTQ+ weddings
Los Cabos can cater to any LGBTQ+ couple's unique tastes and personalities with security. Professional services or wedding planners are ready to accommodate any budget or group size and a dramatic backdrop, couples can be assured that no detail will be overlooked at Land's End, as the destination offers a high level of personalization. LGBTQ+ marriages are legal & widely organized, this includes celebrities like Colton Haynes, who have chosen Los Cabos to enjoy this beautiful moment, among many others.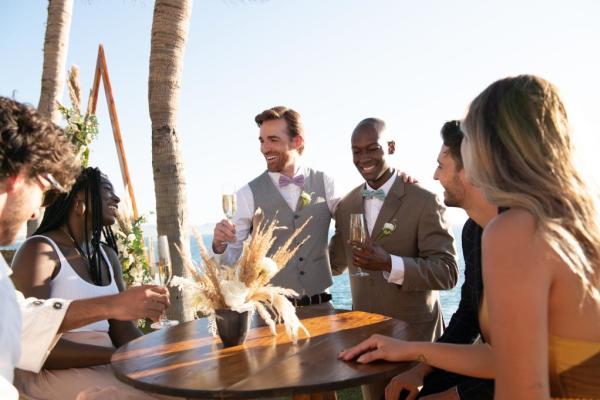 In partnership with Los Cabos Tourism Board, The LGBT+ Travel Symposium will host 50 of the world's leading LGBT+ buyers and media for the event. Dates June 13 & 14, 2023 Learn More
Get ready for an unforgettable celebration of diversity and inclusion at the Los Cabos Pride Parade 2023! June 17, 2023 7:00 PM Learn More
We want to hear from you!