We love this destination, this land of perfect weather all year round, this ocean where the whales come yearly and where plenty of fish species cohabit, this place where people offer a great smile and a warm welcome to all visitors, our shore of endless adventures for all family members… our most treasured gift to share with the whole world. We're lucky to call Los Cabos home!
Yet there's so much to see and do across Los Cabos and our handy list of the surrounding areas will help you figure out where to stay in touch with another side of this stunning stretch of paradise. 
Traveling along any destination requires an adventure-seeker spirit, but in the case of Los Cabos you also need energy, attitude and to be open-minded to new routes and astounding experiences.
It's time to bolster your bucket list with our 4 best kept secret natural wonderlands in Los Cabos
1- CABO PULMO
It is located just 60 miles north of Baja's tourism epicenter, Los Cabos. This jewel of the East Cape region of Baja California Sur stretches five miles from the northernmost tip, Pulmo Point to the southernmost tip, Los Frailes. Surrounded by undeveloped desert and a stunning mountain range, the pristine beaches of Cabo Pulmo Park give way to a shallow bay that cradles one of three living reefs (the only hard coral reef) in North America.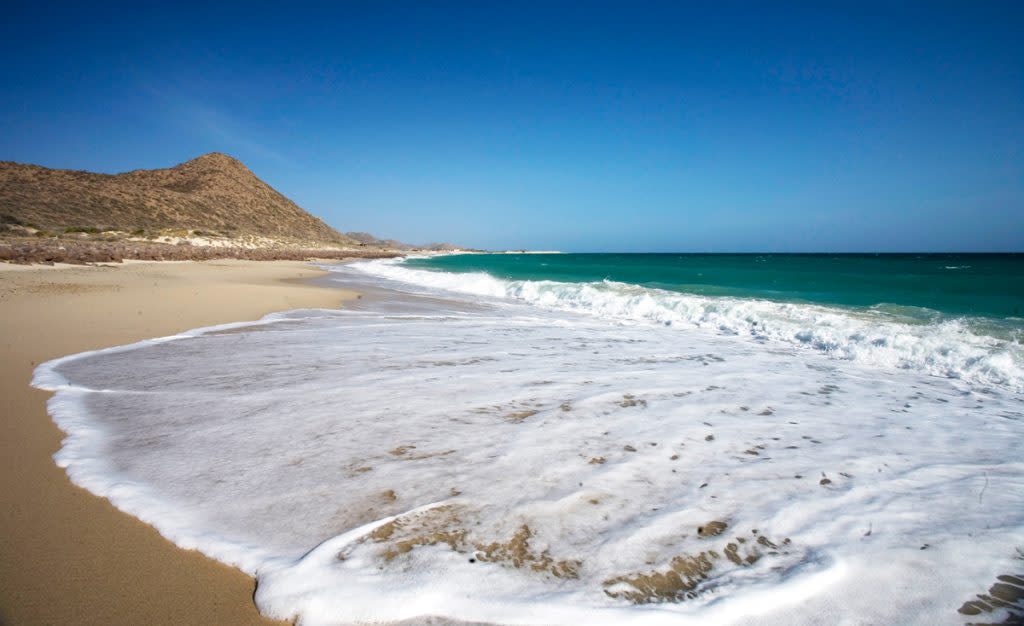 Cabo Pulmo is known for its high diversity of marine species, such as fishes, turtles, corals, sharks, manta rays, and whales. You can spend a calm day sunbathing on the beach and enjoying the services that the community from Cabo Pulmo provides its visitors such as diving, snorkeling, kayaking, horseback, restaurants and accommodation. Be amazed with the wonderful sunrises, the tranquility and the marine secrets that this beach will show you.
2- MIRAFLORES
It is located 30 kilometers (19 miles) from San Jose del Cabo, it is one of the culturally richest areas in the municipality of Los Cabos. Miraflores is populated by ranchers and farmers who have become famous and world-renowned over the years by making fabulous leather and furniture handcrafts.  If you love leather stuff, definitely you should stop by here!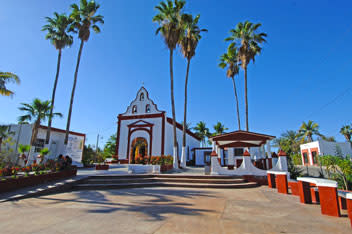 3- SAN DIONISIO
It's a beautiful community located north of Los Cabos. Its population is estimated around 50 people who live permanently, spread over 14 ranches. If you are looking for outdoor adventures, this is the perfect spot for alternative tourism. Stay in touch with the natural and cultural heritage. Here trekking is practiced and if we talk about mountain biking, do not hesitate to visit this area. The pathways around the canyon are unique!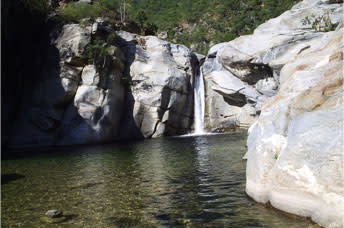 Climb giant rocks and walk in the midst of mountains. The reward will be great: refreshing calm waters. Drive over highway San Jose del Cabo – La Paz, towards the Delegation of Santiago. During the trip, you will admire the typical vegetation of the region.
4- BOCA LA SIERRA
Boca de la Sierra, is a small paradise not even on tourist maps yet, and only very few tourist guides are aware of it. Located just 8 kilometers from Miraflores, it is necessary to leave your vehicle about 100 meters away from the road, and start your trek towards the lake, divided into two parts by a stone trail.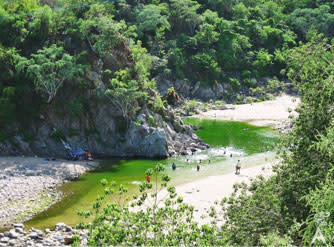 There are numerous pools that cascade down the mountain and a few authentic family owned restaurants in the area as well. This is a dog friendly swimming place.
If you are looking for some hidden places and want to get off the tourist trail, but still get the most out of your time, take the chance to explore Los Cabos surroundings.