Cap off a great weekend in Los Cabos on a high note with an elaborate Sunday brunch. Booking a table at one of the area's top restaurants or resorts not only guarantees a satisfying meal but also grants access to some of the area's most exclusive properties and amenities. See, and taste, more of Los Cabos by making a reservation at one of our go-to brunch spots.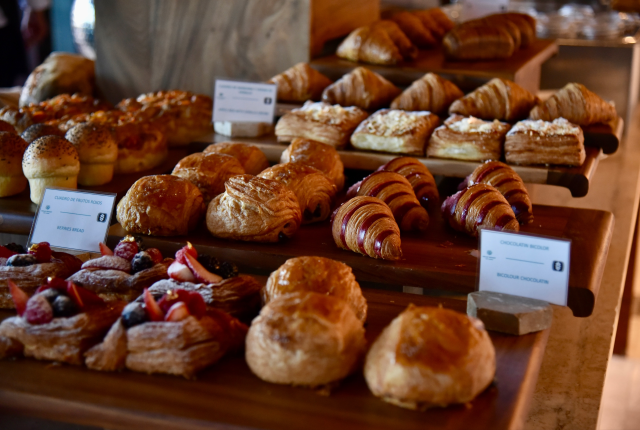 Solaz, A Luxury Collection Resort, Los Cabos
Sundays, 11:30 am to 4:00 pm | Adults: $131.50 | Teens, ages 13-17: $47.80 | Children 12 and under are free
Take a peek at one of the most design-forward resorts in Los Cabos by making plans for a luxurious brunch experience at Solaz. The five-star enclave is a celebration of art and architecture, biodiversity, and décor, and their attention to detail finds its way into the kitchen as well. Renowned Chef Elihu Sepulveda is at the helm, taking guests on a culinary journey that includes a welcome drink, salad station with raw seafood, oysters, ceviche, international gourmet selections, and trolley meals. Top off the meal with Pastry Chef Cesar's sweet creations or grab a drink at the Golden Open Bar.
After the meal, diners have access to the resort's beach and pools, including the kids' and teens' clubs.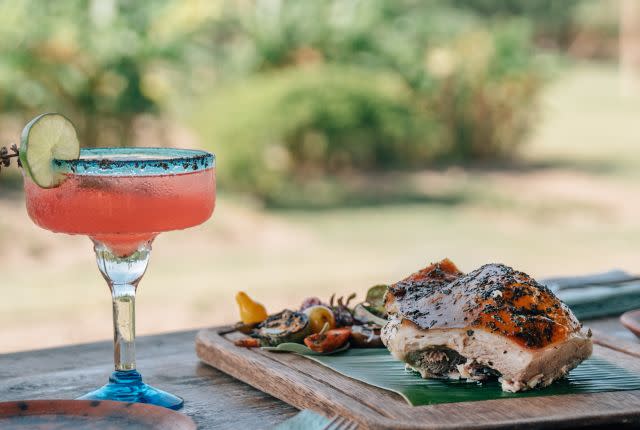 Saturdays & Sundays, 10:00 am to 3:00 pm | Per person: $38 | With unlimited mimosas: $75
A visit to this organic farm and restaurant, located just one mile from the Sea of Cortes, is like stepping back in Los Cabos' history. The property's farmhouse dates back to the 19th Century when the land was used to grow sugarcane, one of the region's largest exports at the time. Today, Tamarindos is considered one of the area's most important farms, and its guests enjoy the freshest possible farm-to-table brunch experience. The Fresh Brunch From the Farm menu is specially selected by Chef Enrique Silva to highlight the flavors of Mexico and the freshness of the ingredients he works with.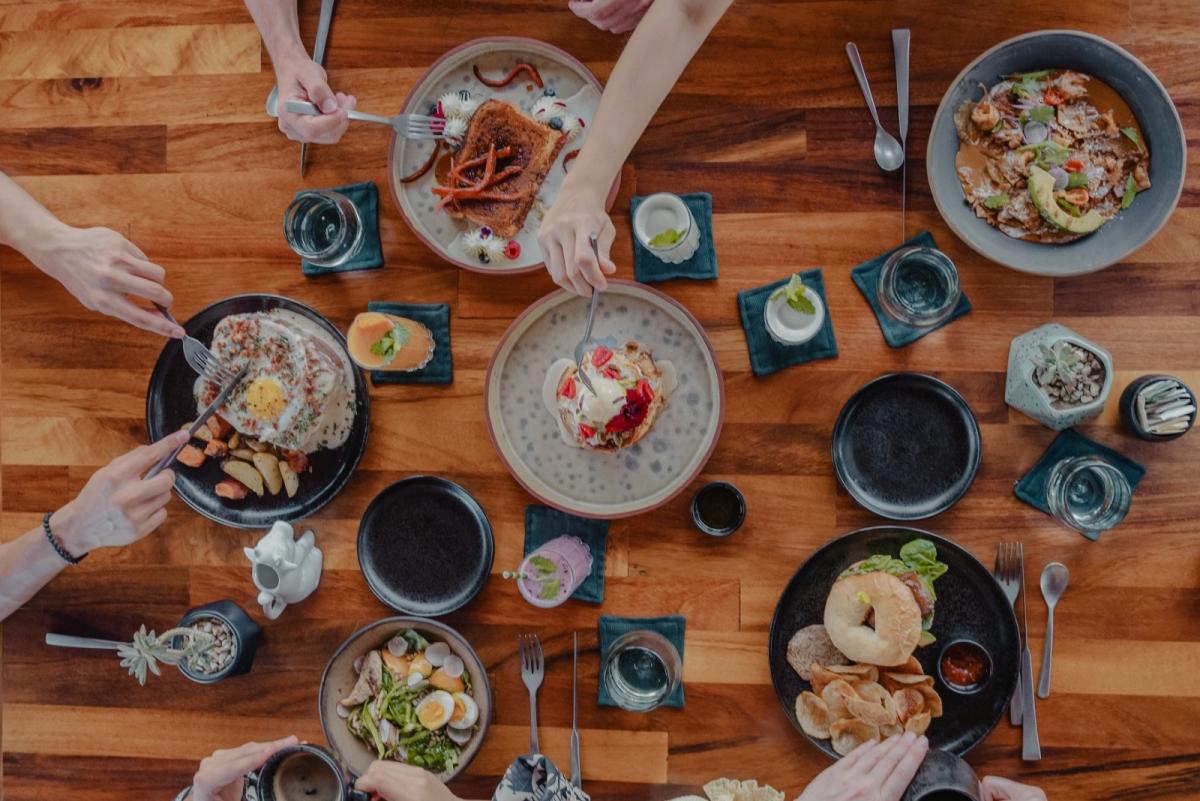 Sundays, 10:00 am to 2:00 pm | $65 per person | Cal for reservations: +52 624 261 6900
Indulge in a day of live music, farm-to-table cuisine, and some of the most jaw-dropping views in Los Cabos at Torote's Sunday brunch. The family-style menu includes courses of locally-sourced eggs, grilled seafood, and sweet breakfast choices along with generous wine and cocktail pairings, freshly brewed coffee, and a selection of juices.
Four-legged family members are welcome to join the party and are treated to a special dining experience of their own. Torote's "Spoiled Pets Menu" features flavorful options like beef tenderloin, salmon stew, and peanut butter cookies your furry companion will love.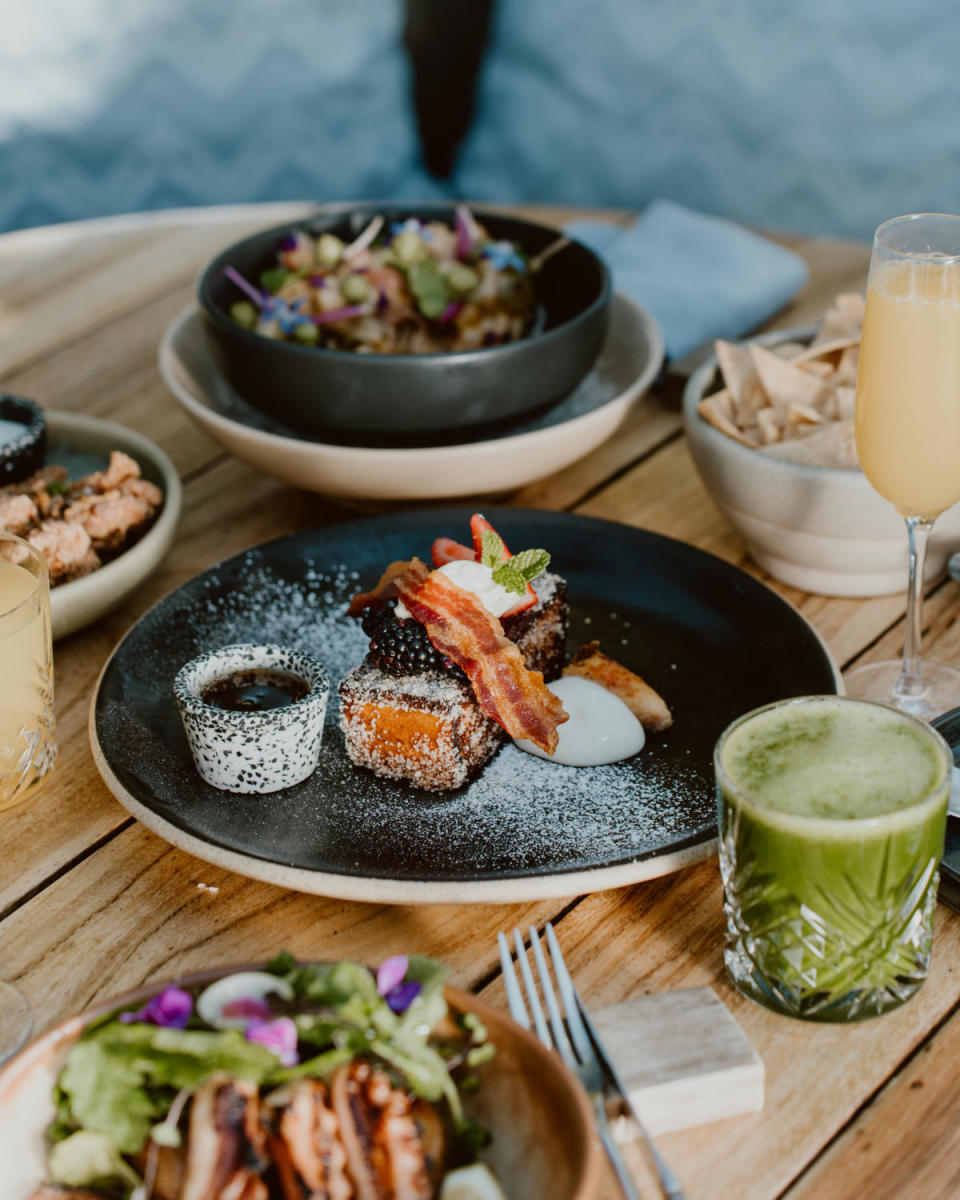 Saturdays & Sundays, 10:00 am to 2:30 pm | Adults: $60 | Children under 12: $30 | Reservations: +52(624)172-10-21, restaurant@acreresort.com
Dining at this posh jungle oasis requires a trip to San José del Cabo, which feels like a world away from the buzzing tourist corridor, but is worth the trip for breakfast cuisine served fresh from the on-site farm and accompanied by live music against a perfectly curated tropical backdrop. The menu is designed around colorful, hyper-seasonal, and impeccably designed cocktails and dishes, but there are two items that are absolute musts: the cheddar biscuits and the impossibly tender al pastor suckling pig. Make a reservation well in advance and request one of the airy, semi-circle booths.
Beyond the restaurant, Acre's sprawling grounds are home to donkeys, horse stables, farms, a mezcal bar, treehouse villas, and an animal rescue where visitors can play with (and adopt!) puppies.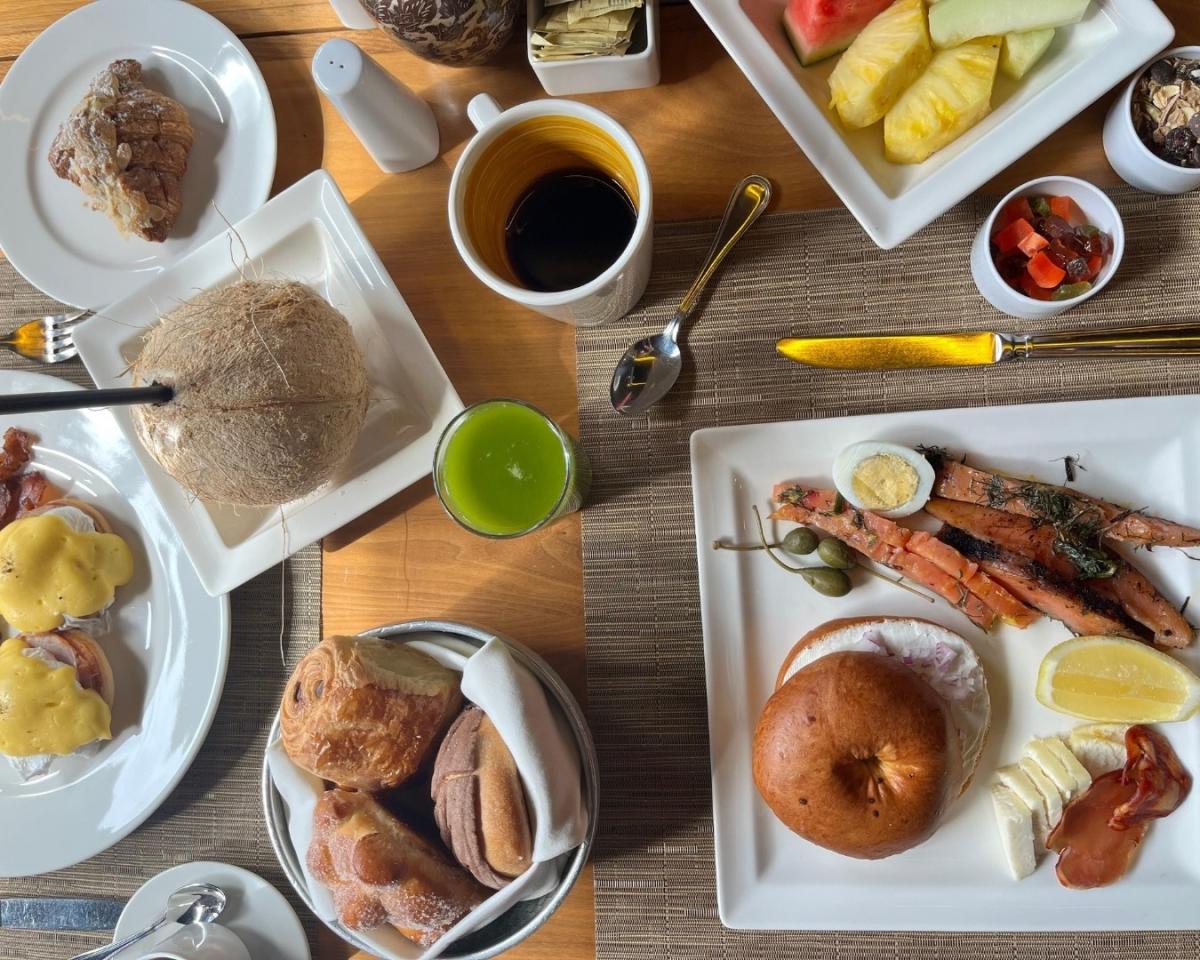 JW Marriott Los Cabos Beach Resort & Spa
Sundays, 11:00 am to 4:00 pm | Includes access to the pool | Instagram 
A day of indulgence awaits at this 4-star resort. Upon arrival, guests are welcomed with a delectable array of culinary delights including freshly baked pastries, made-to-order omelets, and succulent seafood. From their tables at brunch, visitors are treated to panoramic views of the breathtaking coastline and property outfitted with lush tropical gardens and cascading waterfalls.
Sunday brunch reservations include all-day access to the resort's infinity pool where guests can soak up the sun on loungers or keep the party going in one of the private cabanas.
Sundays, 11:00 am - 3:00 pm | Adults*: $40 | Add Unlimited Mimosas: +$20 | *Young Adults ages 8-15 are welcome with their parents
It is no wonder that even brunch at this trendy hotel, frequented by Hollywood celebrities, turns into a party. As a DJ spins the vinyl to set the mood in El Restaurante, guests enjoy handcrafted cocktails, local fresh produce, breakfast classics, and traditional Mexican favorites.
After brunch, head down to El Ganzo de Playa, one of the few swimmable beaches in San José del Cabo, where cocktails and mocktails are delivered straight from the bar.
Sundays, 11:00 am - 3:00 pm | $59 per person
Chef Alex Branch marries the flavors and fresh ingredients of Mexico with Mediterranean recipes to create unique dishes for every meal at Nao Cabo, including Sunday Brunch. The chic, whitewashed dining room lets the cuisine, take the spotlight, although floor-to-ceiling windows facing the ocean fight for guests' attention. A welcome cocktail and live music greet guests upon arrival for the brunch celebration. Visitors are encouraged to relax and take their time sampling a mezze of hummus, pita, olives, and focaccia, along with fresh seafood, kebabs, salad, and dessert that are served with coffee, juice, tea, and bottomless mimosas.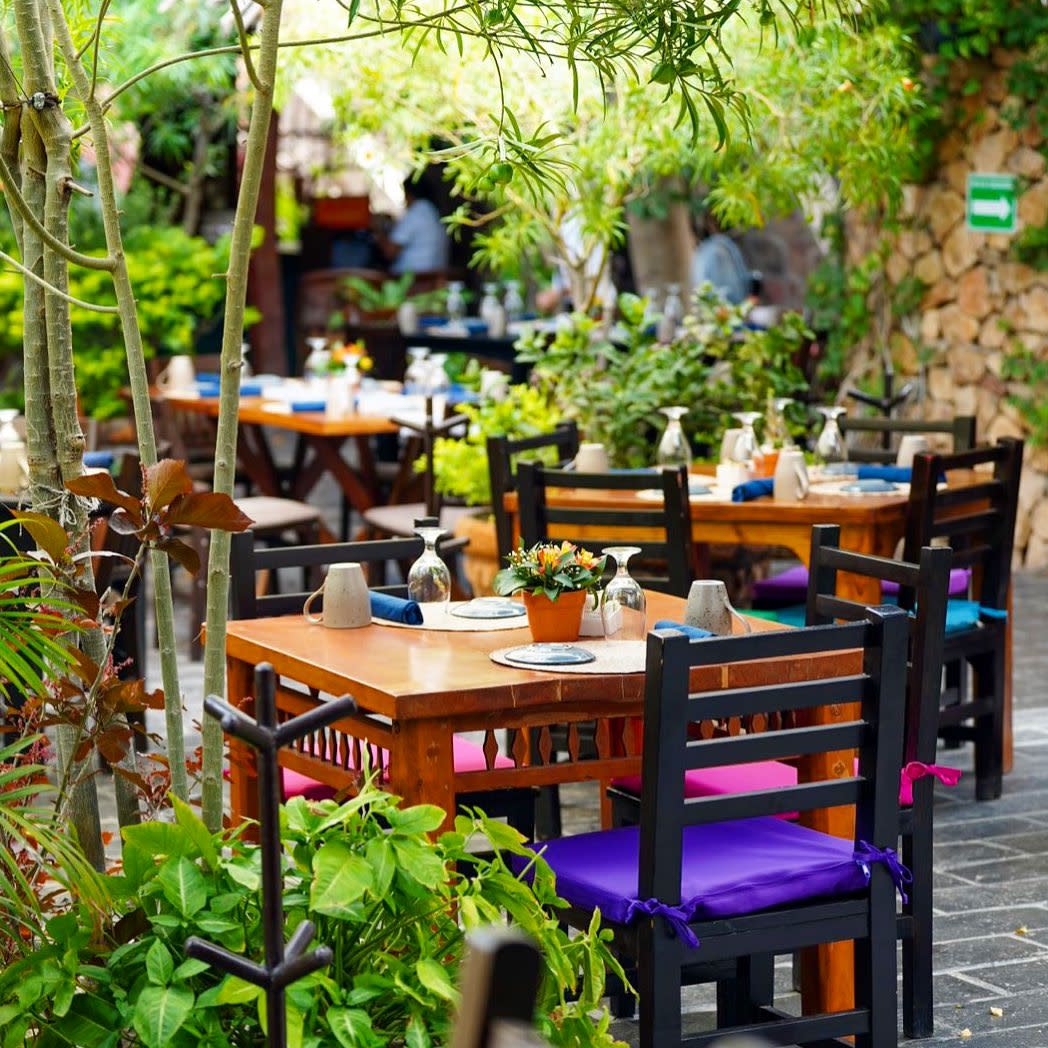 Sundays, 11:00 am - 3:00 pm | $84 per person
Located in the heart of Cabo San Lucas, the restaurant feels like a secret garden guarded by a heavy wooden door. Once inside, diners are treated to the handmade gourmet creations of Chef Roger Martin, the restaurant's namesake. Each Sunday, Chef Roger offers a tantalizing selection of brunch creations and keeps the bubbly flowing for unlimited mimosas.
Situated just a few blocks from the marina, brunch at Casa Martin is the perfect start to a day on the water or exploring more of Cabo San Lucas.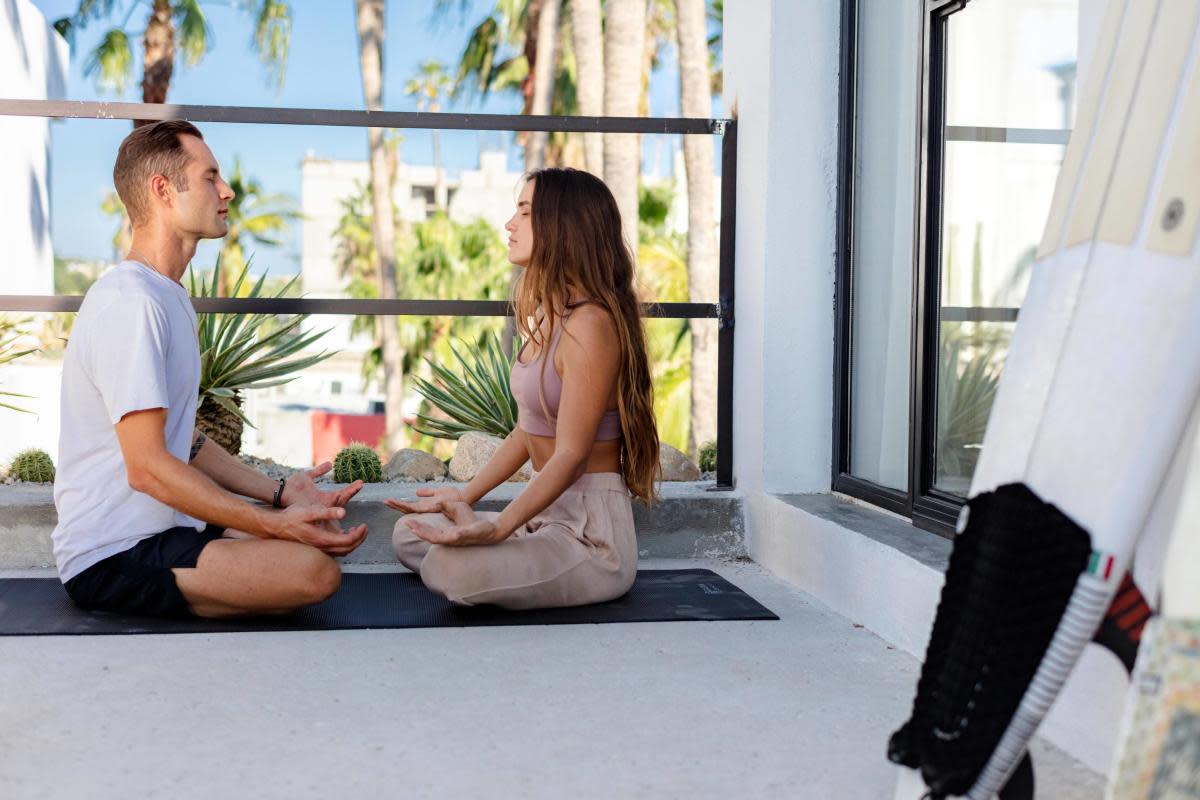 Saturdays, 8:30 am
Early risers can start the weekend with an hour of complimentary gentle yoga. The outdoor group practice is for all skill levels and athletic abilities, and all participants are treated to a refreshing mimosa once the class is complete. Although the class is free, guests can bring their own mats or rent one on the premises. After working up an appetite with sun salutations, yogis can fill up on brunch favorites like avocado toast, breakfast burritos, and tres leche french toast at the on-site Drift Kitchen + Mezcal Bar.
Find more restaurants in Los Cabos.