To say that the resort scene in Cabo is booming would be a huge understatement. As each year creeps up, it seems there is a new resort doing bigger and better things than the last. While all of Cabo's resorts are equipped with incredibly attentive staff, delicious cuisine, relaxing spas, and almost everything to meet your heart's desires, we've highlighted some resorts that are bringing something unique to the table. Next time you're visiting this Mexican destination in Baja California, make sure to stay or dine at any of these four remarkable places.
Solaz, a Luxury Collection Resort
Rich with art and history, this newly opened resort came to the scene in September 2018 and is succeeding beyond measure. With 80% of its residences already bought out and an extremely rapid booking rate, this is definitely somewhere to stay at least once in your life. From the integration of native art in almost every room and common spaces, to the 400-year-old cactus in the middle of the lobby, Solaz has made an effort to maintain Baja California traditions everywhere you look. As if the integration of Mexican tradition isn't apparent enough in the architecture and interior design of the resort, there is a small museum in the centre of the resort with exceptional artefacts from the local area, such as a whale skeleton and ancient cave painting replications. You will not see something like this anywhere else in Cabo.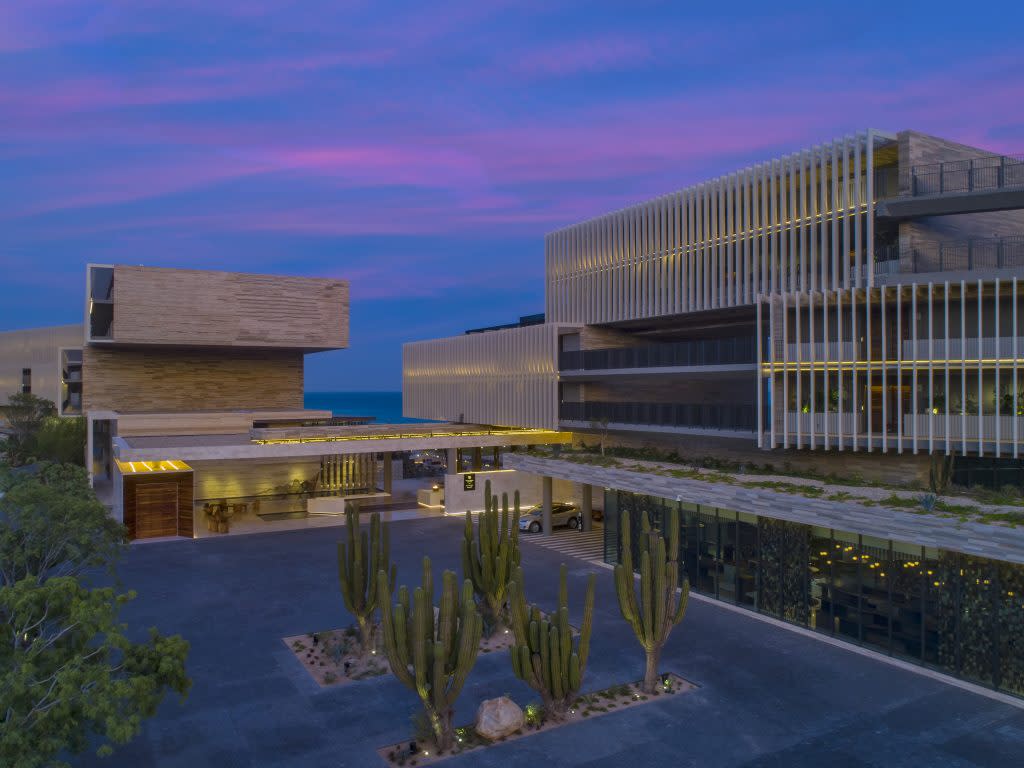 Viceroy Los Cabos
If you've ever imagined what the future will look like, head to Viceroy Los Cabos in San Jose del Cabo to see your imagination turn to reality. Between the white squared room layouts, the tech savvy room installations, and the small ceviche restaurant and bar that looks like it's floating on water, this resort looks like it belongs in the year 3000. The pathway down to the lower level pool and the beach is carved amongst a huge, yet shallow and still body of water that almost looks like glass from a distance. To observe this unique resort from above, head to the top floor for exotic cocktails and local octopus at their recently opened rooftop restaurant and bar, Cielomar.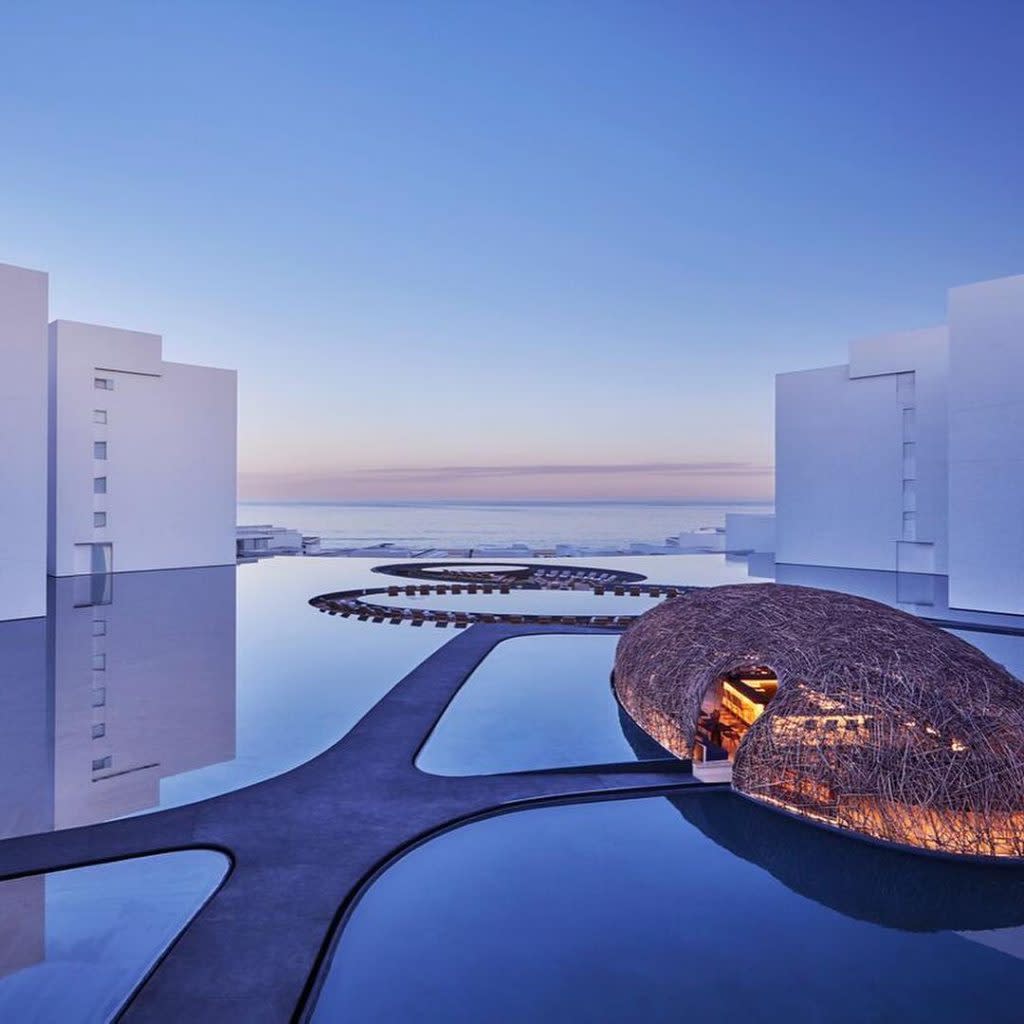 @viceroyloscabos on Instagram
Chileno Bay Resort & Residences
At Chileno Bay Resort & Residences in Tourist Corridor, it's the main restaurant, surfy vibes, and luxurious spa that steal the show. At Comal, the resort's restaurant that was named the best restaurant in all of Cabo, each table holds a candle-lit romantic ambiance. The bar – with the mixologist who was named best bartender in all of Cabo in 2018 – is beautifully carved and shaped from a large rock. And to top it off, the restaurant is situated at the waterfront, so guests can dine while hearing the relaxing sound of the waves crashing close by. The common areas and suites are absolute paradise for those who enjoy the laid back, beach vibe look with the enormous windows looking over the ocean, the white and blue colour schemes, and the little stuffed animal whales that are presented to guests on their beds upon arrival. And in the spa, Chileno Bay has been number one from the beginning with the first ever Himalayan salt room. Their multi-room spa consists of massage areas, fitness classes, various relaxation pools, as well as other healing forms that utilize Baja California traditions.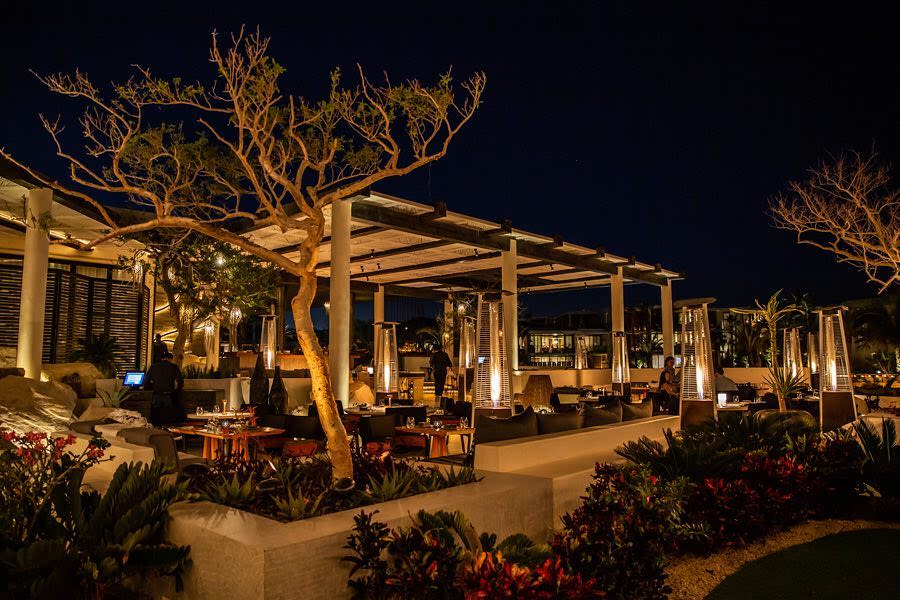 @comalcabo on Instagram
Esperanza, Auberge Resorts Collection
And last, but most definitely not least, is Esperanza in Cabo San Lucas. Esperanza is one of the resorts belonging to Auberge Resorts Collection, a company very well is known for crafting some of the best accommodation experiences in the world. At Esperanza, your room's back patio is complete with a couch that backs onto the beach and your bed is closed off with white surrounding curtains. Each room is complete with rustic furniture giving a hint of old fashion with the modern luxury presented in other ways such as the built-in flat screen TV. In terms of the exterior design, Esperanza's buildings are in rock formation to match the slanted rock overlooking the ocean that the resort is literally built into. And let's not forget about Cocina del Mar, Esperanza's 4.7 starred seafood restaurant that is carefully constructed into the lower levels of the large rock that leads down into the ocean. Wherever you choose to hang out at the Esperanza property, you will not be let down.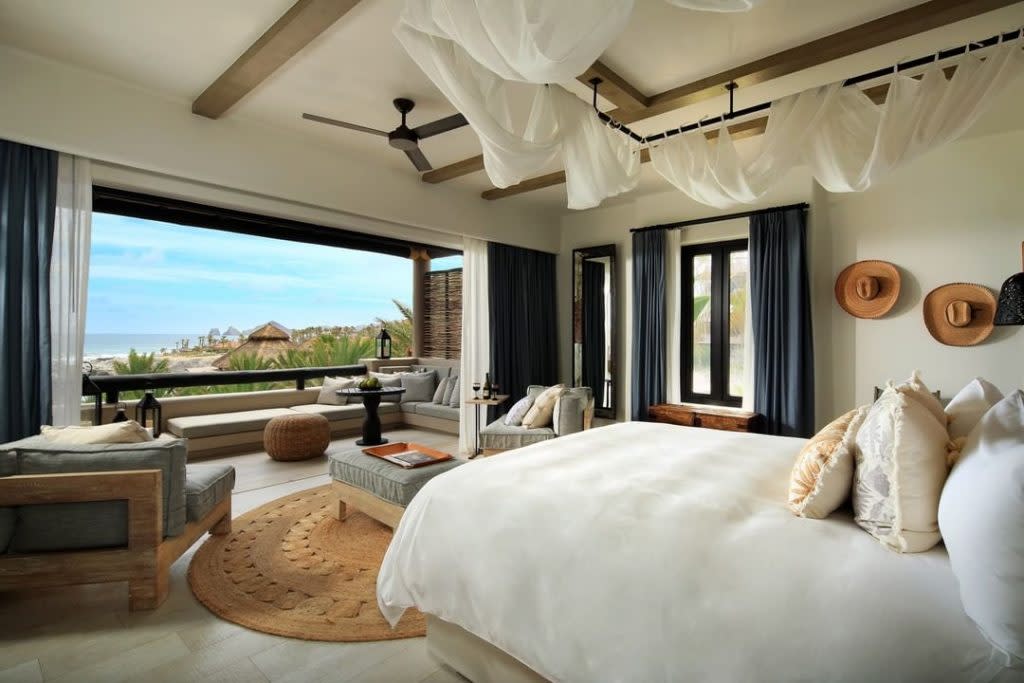 @esperanzaresort on Instagram