Los Cabos, known for its quiet beaches and upscale resorts, unveils a thrilling side that draws the daring to its shores. This alluring haven transcends the ordinary, offering an array of heart-pounding experiences and pulse-quickening events that cater to adrenaline enthusiasts. Beyond its idyllic façade, Los Cabos emerges as a dynamic playground, ready to satiate any high-octane explorer.
In Los Cabos, the spirit of adventure takes center stage with a medley of electrifying experiences that promise to leave visitors exhilarated and yearning for more. The destination is home to electrifying competitions that challenge the limits of human endurance to hair-raising escapades, redefining the meaning of excitement for both participants and spectators.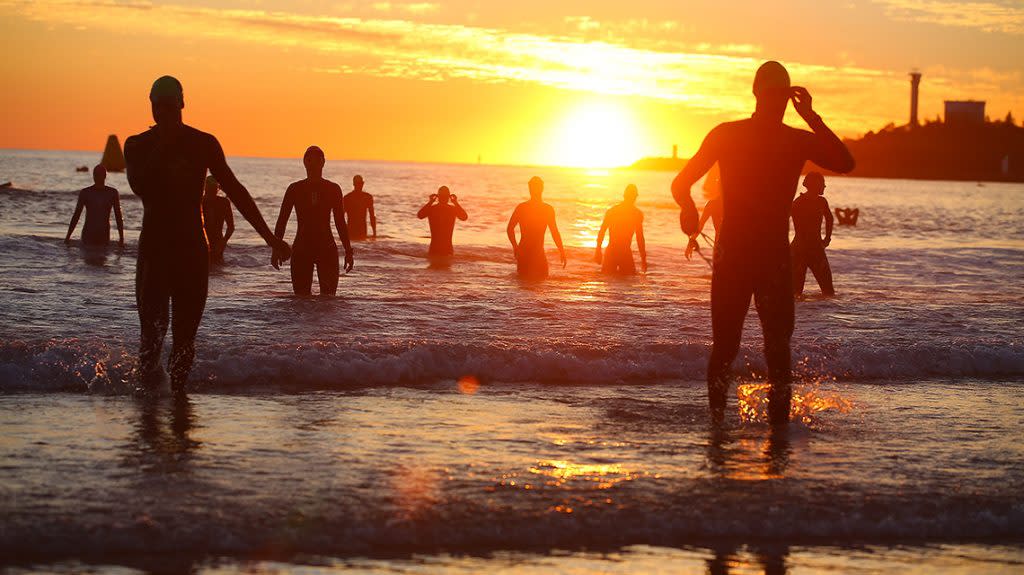 Ironman 70.3
Each November, Los Cabos goes through an annual transformation into an arena of triumph and perseverance. The Ironman 70.3, spanning a total of 70.3 miles along the Baja California Sur countryside, is the crucible for athletes determined to push their boundaries. Against the backdrop of the crystalline Sea of Cortes, participants embark on a grueling journey encompassing a 1.2-mile open water swim, a 56-mile bike ride through breathtaking panoramas, and a 13.1-mile coastal run. More than a mere test of endurance; the race is a testament to the indomitable human spirit.
Sportfishing Extravaganzas
Year-round, Los Cabos is renowned as a sportfishing utopia, captivating angling enthusiasts with its unparalleled offerings. As the Bisbee's Black & Blue Marlin Tournament unfolds, it's not just about catching marlins; it's about the pursuit of glory and the thrill of the chase. Participants engage in a symphony of skill and strategy, battling majestic creatures for extraordinary accolades. While the tournament showcases the elite, even novices can partake in the thrill through guided fishing charters provided by local luminaries like Pisces Sportfishing, offering a taste of the fishing fervor that permeates the region.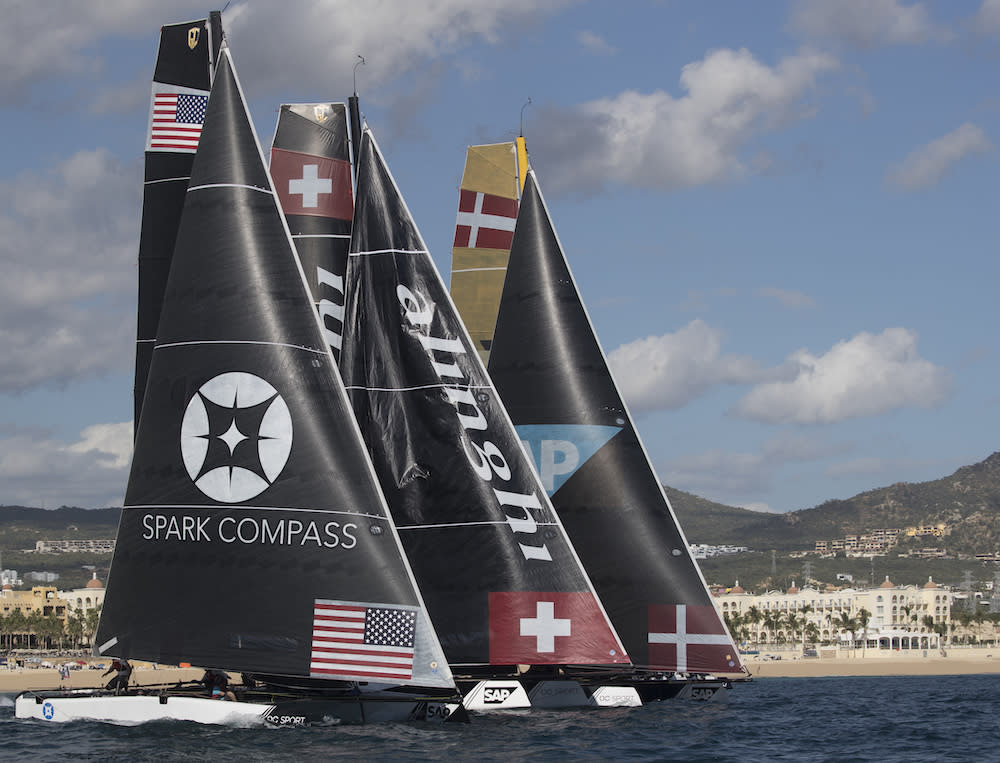 Extreme Sailing Series
Spanning the globe, from the Middle East and Europe to the Americas, the Extreme Sailing Series establishes itself as a pulse-pounding sailing competition. Notably, a captivating segment of the series unfolds in Los Cabos. Dispel any notion of leisurely sailboats – get ready to be captivated. The GC32 catamarans engaged in this series attain astonishing speeds, nearly touching 70 kilometers per hour. As they surge forward, their colossal hydrofoils raise them above the water's surface, delivering awe-inspiring visuals of high-speed, adrenaline-infused aquatic spectacles. The climactic juncture materializes during the ultimate race of this World Series, as contenders fiercely vie for triumph with everything teetering on the edge.
Those who are not experienced adventurers can still join the fun with a wide selection of activities for thrill-seekers of all calibers. Local tour operators have curated excursions that define the pulse of this coastal haven, taking visitors onto the water and into the sky to experience Los Cabos at a faster pace.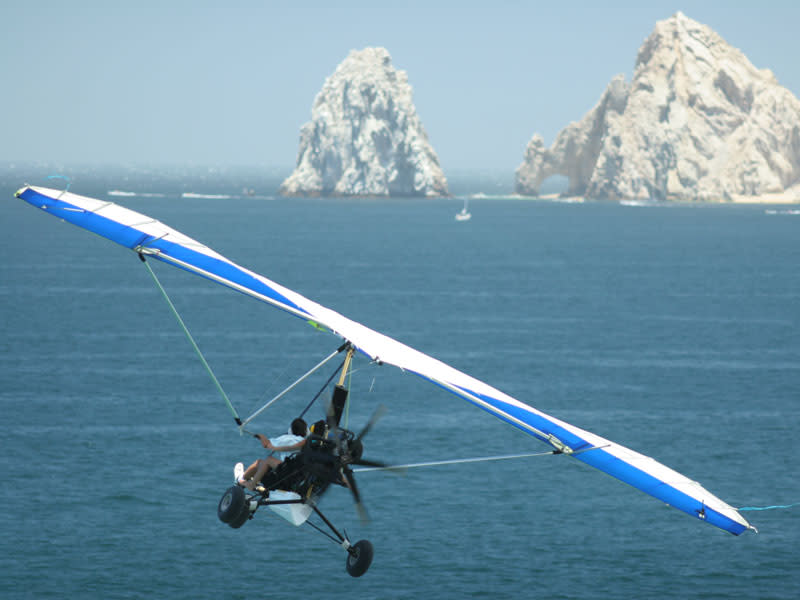 Parasailing
Tour operators like Cabo Sky Tours offer a unique chance for thrill seekers to take to the skies through parasailing. Partnering with expert guides, adventurers get a bird's eye view of the Los Cabos coastline that transforms their perspective of the landscape. As visitors soar on high-flying parasailing journeys above the blue waters, they experience a fusion of tranquility and excitement with each ascent guided by the wind, immersing themselves in the serene beauty of this remarkable coastal escape.
Desert Racing
Wild Open welcomes daredevils to seize the wheel and embrace the thrill of desert racing, as they become the architects of their adrenaline-fueled escapades. Far surpassing the conventional boundaries of a racing school or a guided leisurely tour, the Wide Open experience introduces an exclusive fleet of open-wheel tour cars that seamlessly blend the performance and safety of modern desert racers with a comfort level accessible to all. Here, seasoned guides expertly navigate guests through the entire expedition, ensuring a seamless journey from start to finish.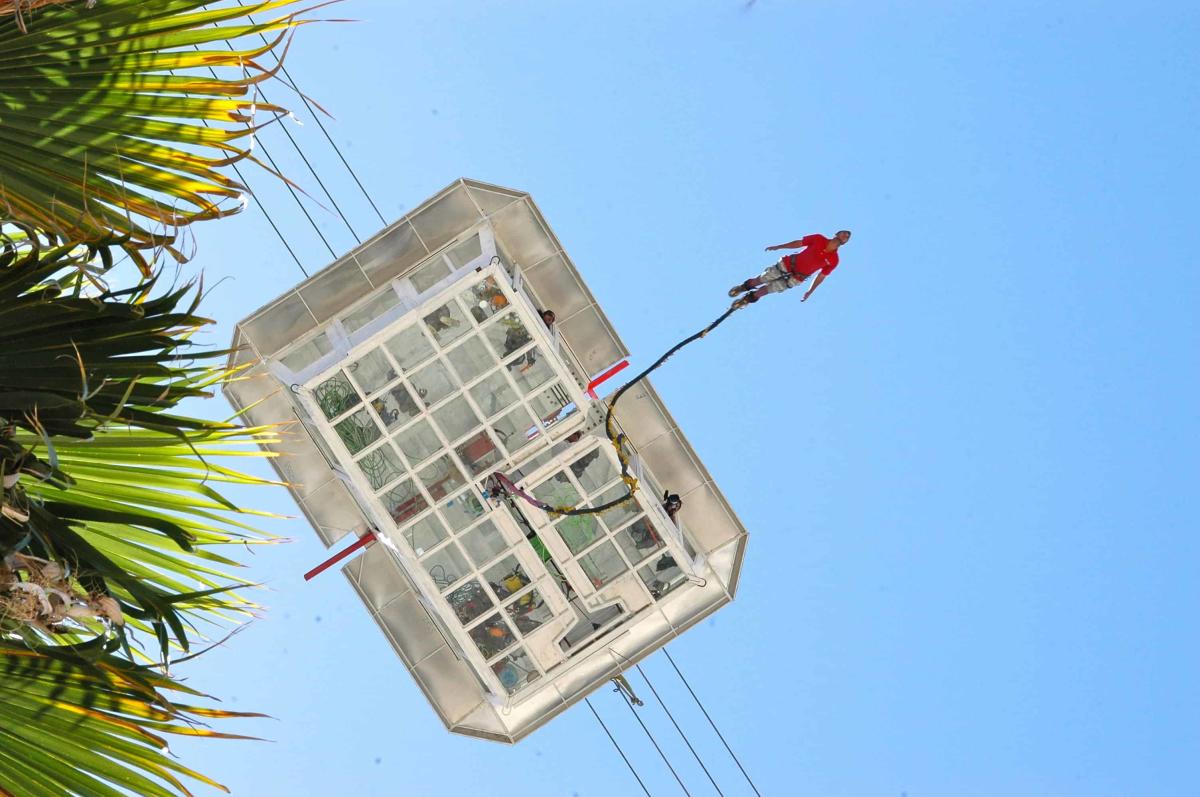 Bungee Jumping
Adrenaline thrives in Los Cabos under the guidance of local experts like Wild Canyon. These seasoned pros have redefined bungee jumping, shaping experiences that blur limits and etch memories. With unwavering safety focus and top-tier gear, each jump becomes a surge of adrenaline and courage. From gearing up to the thrilling plunge, these operators turn the ordinary into the extraordinary, leaving travelers with an unforgettable achievement in paradise.
Surfing
For those drawn to the call of the waves, Los Cabos presents exhilarating surf breaks led by local guides like High Tide Sea Expeditions. With their expertise, water enthusiasts can conquer the mighty Pacific Ocean swells that pound the shores of Los Cabos. For both novices eager to catch their first wave and experienced surfers in pursuit of the ultimate thrill, these experts ensure an intimate connection with the ocean's power. Every wave becomes a driving force, propelling individuals closer to the epicenter of adventure, nurturing an encounter that captures the very soul of wave-riding within this dynamic coastal sanctuary.
Irresistible for both the seasoned adventurers and the curious wanderers, Los Cabos extends an invitation to discover its heart-pounding allure. Whether visiting with the goal of conquering a superhuman challenge or soaring into the unknown on a thrilling new adventure, thrillseekers will leave with racing pulses and a trove of stories to tell back home.
Find more exhilarating inspiration to pick up the pace of a Los Cabos vacation.