Los Cabos has long been celebrated for its grandiose, oceanfront wedding extravaganzas but contemporary couples have created a trend of hosting smaller ceremonies and intimate receptions when saying "I do." By cutting down their guest lists, couples hope to infuse their day with personal touches that are more sustainable and just as impactful as blowout celebrations. As a premier wedding destination, Los Cabos blooms with small-scale venues set against a backdrop of natural beauty to celebrate each duo's unique love story. Check out some of our favorite venues ideal for a memorable party: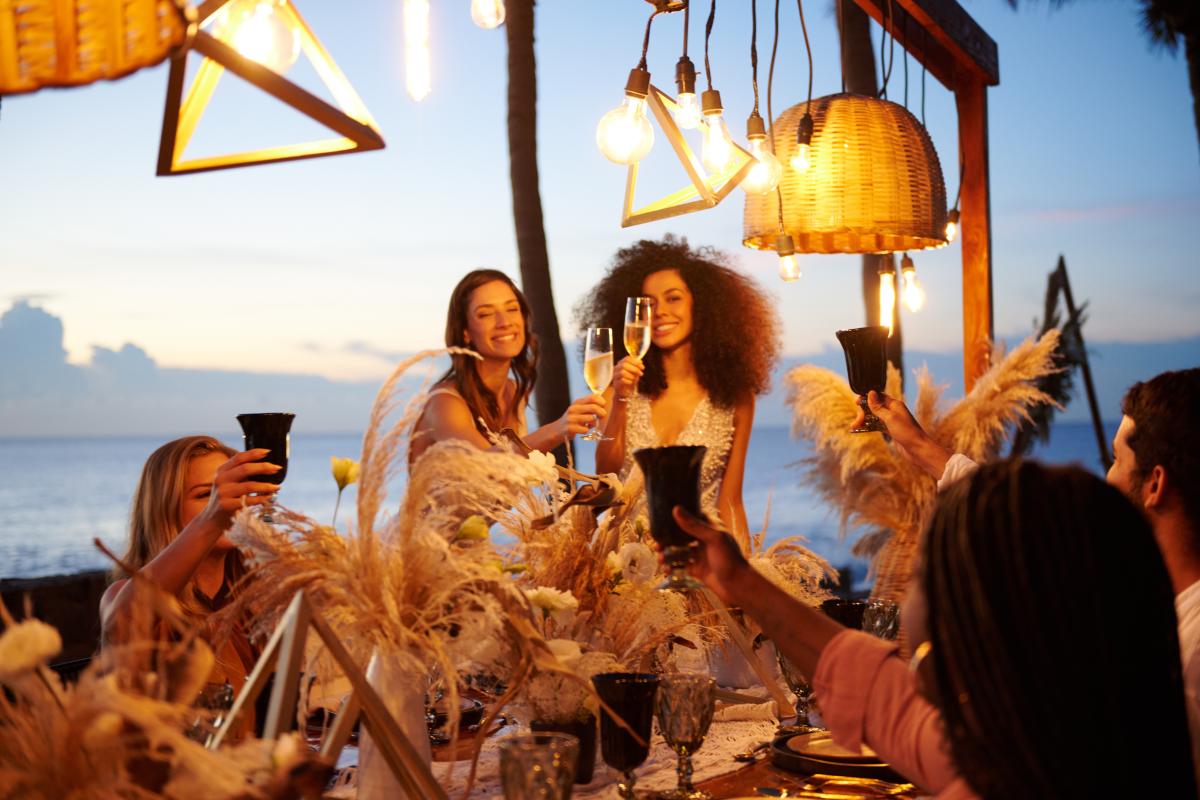 Private Villas
Say "I do" in an elegant villa perched on a hillside overlooking the sparkling Sea of Cortes. Los Cabos offers a plethora of luxurious private villas that can accommodate both ceremonies and receptions. 
A luxurious beachfront villa, Villa Serena is an exquisite choice for intimate weddings. The property offers direct access to the pristine beach and elegant indoor and outdoor spaces for celebrations.
Casa Dorada Los Cabos Resort & Spa is a beachfront resort with a range of private villa accommodations perfect for small weddings where vows can be exchanged with the Sea of Cortes as the backdrop.
Villa La Estancia Beach Resort & Spa Los Cabos is an ideal venue for small weddings due to its exquisite Hacienda-style suites, private balconies with ocean views, and lush gardens, all set in a relaxed, scenic beachfront location, offering a unique blend of luxury and tranquility.
Villa La Valencia Beach Resort & Spa is perfect for intimate weddings, with spacious suites, a family-friendly atmosphere, and an extensive array of pools and activities. Its expansive beach and modern comforts make it suitable for couples and families alike, allowing for diverse wedding experiences.
Villa Del Arco Beach Resort & Spa stands out as a top choice for weddings in Los Cabos, offering value-added packages, picturesque ceremony and reception locations, luxurious accommodations, and the expertise of professional wedding planners. It's an exceptional option for couples seeking a magical and hassle-free wedding experience in Cabo San Lucas.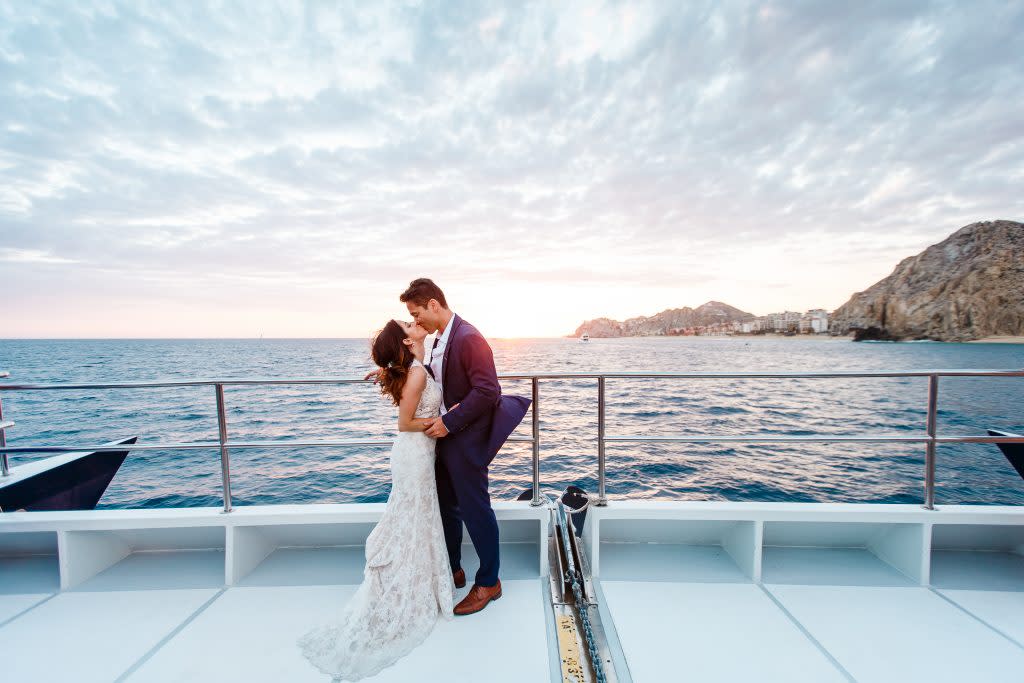 Boat Bliss
Couples seeking an extraordinary nautical wedding experience need look no further than Los Cabos. With a choice of luxury yachts or charming sailboats, they can exchange vows amidst sea breezes and breathtaking coastal vistas. It's an intimate, oceanfront celebration like no other.
For an exceptionally unique destination wedding venue, consider chartering a sailboat or yacht for a sunset cruise. Perfect for smaller weddings (50 guests or less), these luxury boat offers stunning wedding photo opportunities against the backdrop of the Cabo arch. Customize the onboard decor to create a uniquely beautiful wedding space. 
Sunrider Tours boats provide an ideal setting for small weddings, where guests can experience the perfect blend of sophisticated style, timeless elegance, and breathtaking views. Cruising the Pacific Ocean and the Sea of Cortes on these exclusive luxury boat charters offers a unique opportunity for privacy and intimacy, with a dedicated crew and staff ensuring every detail is meticulously attended to.
Another enticing option is Animalon by the Sea, Cabo's first floating restaurant. This venue offers an intimate wedding setting and a delightful reception dinner on the water, promising an unforgettable experience for the couple and their guests.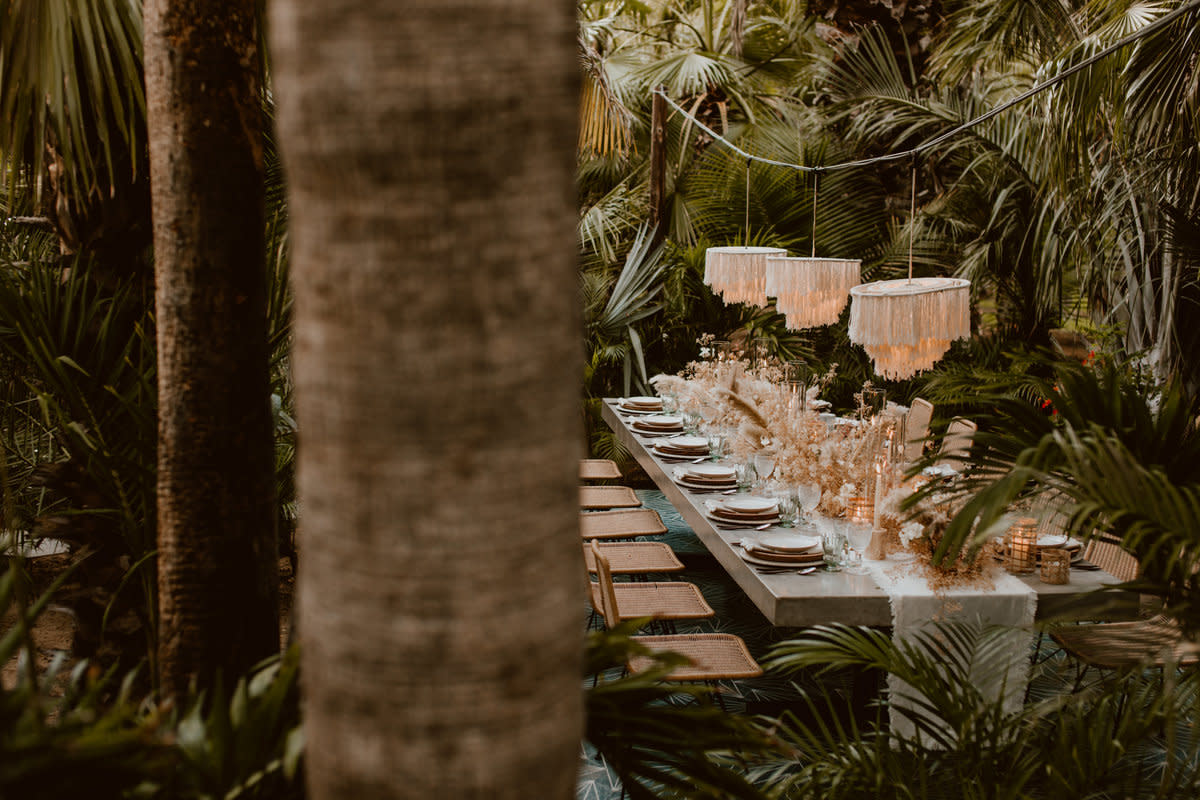 Farm-to-Table
The rich landscape of Los Cabos is home to sweeping farmland that makes a beautiful setting for intimate weddings. 
Acre offers a rustic yet festive event space with an open-air tiled dance floor nestled in a mango orchard. From intimate ceremonies to grand celebrations, it accommodates all. Don't miss the opportunity to book a room block in their treehouse hotel, where guests wake up to the soothing sounds of nature.
Flora Farms provides private event areas amidst lush gardens and a farm. Their event menus are crafted with fresh, field-to-table ingredients. Various outdoor spaces, including a barn in the Mango Grove, an herb garden amphitheater, a lakeside lawn, and a charming potting shed, cater to different celebrations.
Located in San José del Cabo, Los Tamarindos is a unique farm-to-table venue. It's a bit off the beaten path compared to others but offers a distinct charm of its own with a ceremony venue enshrined in mango trees and a brick terrace ideal for dancing. For a truly intimate experience, small weddings can be held at the candlelit 265-foot-long field table that delivers a magical farm-to-table experience.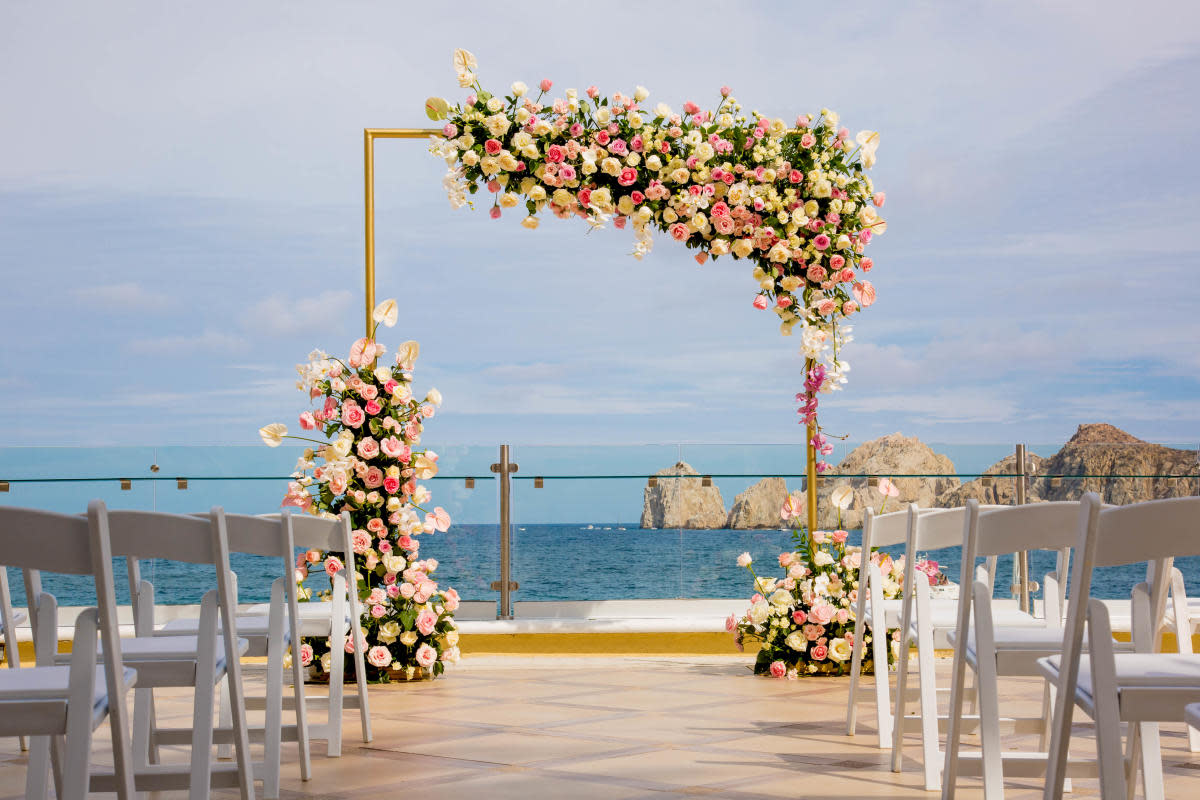 Vows with a View
No matter how short or long the guest list, attendees with be captivated by the stunning surroundings at these intimate wedding venues:
Sunset Monalisa is celebrated for its Mexican fine dining under Chef Jacob Ramos in Los Cabos. Perfect for small weddings, they host up to 100 ceremonies annually on their sunset terraces, ensuring exclusivity with one bride per day. Enjoy Mediterranean cuisine with stunning sunsets.
The Cape, a Thompson Hotel, offers intimate weddings in its coastal location. With panoramic Sea of Cortes views, it features a rooftop terrace with a glass-enclosed chapel and a glass-bottomed pool. A dedicated wedding team ensures a personalized experience.
Esperanza, an Auberge Resorts Collection gem, offers luxury cliffside weddings. Oceanfront villas provide intimate ceremony spaces, and the Bride and Groom's Terraces feature private plunge pools. Cocina del Mar serves Mexican-Mediterranean cuisine under the stars.
Cabo Surf Hotel & Spa on Acapulquito Beach offers beachfront weddings. Its intimate size allows personalized celebrations with rustic-chic décor and a farm-to-table restaurant for a taste of Baja.
Perched atop a picturesque hill in the heart of the Baja Californian desert, Monte Cardón is an enchanting choice for intimate weddings, boasting stunning views of the Sea of Cortes and Sierra de la Laguna mountains as a backdrop. Surrounded by olive groves and lemon orchards, this meticulously designed estate blends Baja's natural charm with slow food and curated wines.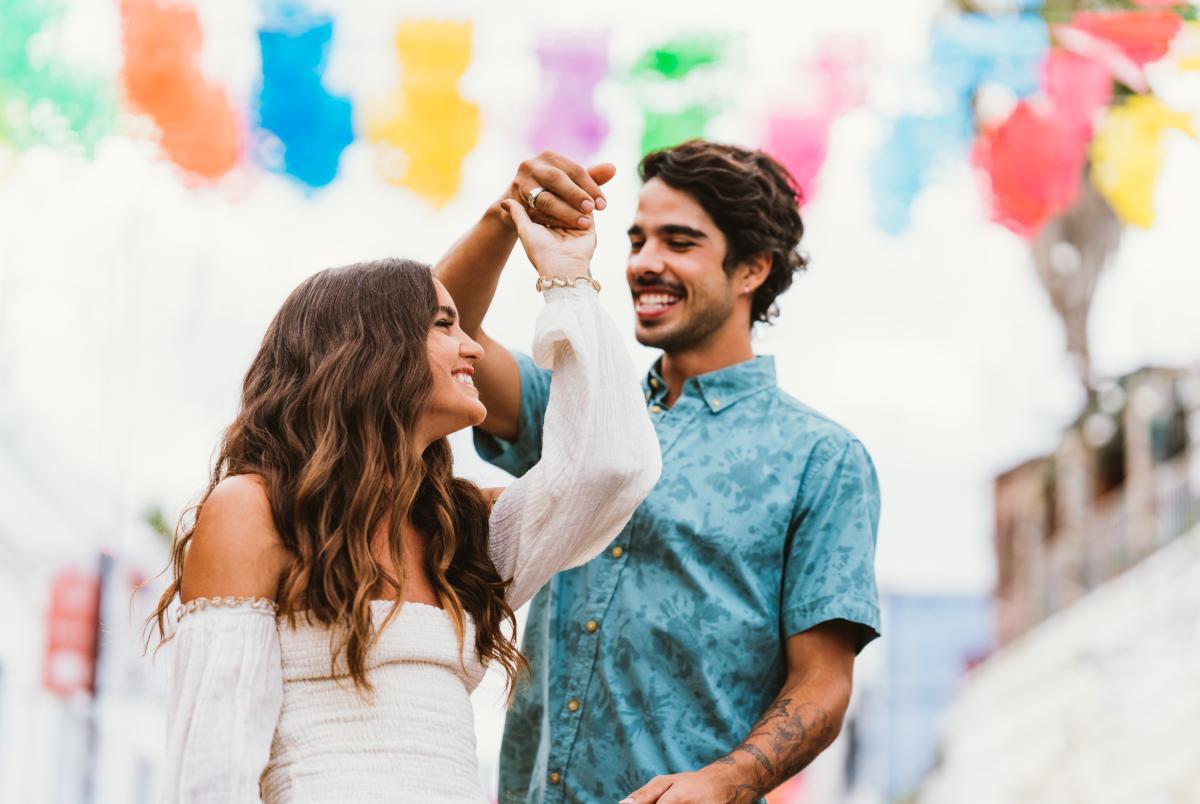 Artistic Allure
Hosting a wedding celebration at one of the art galleries in Los Cabos adds a touch of cultural charm, creating unforgettable memories for you and your guests.
Galería Corsica: Known for its contemporary Mexican art, Galería Corsica offers an artistic backdrop for small, creative weddings. The gallery's vibrant collection and stylish ambiance create a unique atmosphere for couples looking for an artsy celebration.
Ivan Guaderrama Art Gallery: This gallery is a fusion of art, music, and culture, providing a dynamic setting for intimate weddings. Couples can exchange vows surrounded by colorful and imaginative artwork, adding a touch of creativity to their special day.
Galería de Ida Victoria: With its focus on contemporary art by Mexican and international artists, Galería de Ida Victoria offers a sophisticated and elegant space for small weddings. The gallery's chic and minimalistic design provides a blank canvas for couples to personalize their event.
Golden Cactus Gallery: Situated in San José del Cabo's art district, this gallery showcases a diverse range of art styles and mediums. Its charming courtyard and art-filled interiors make it a cozy and artistic venue for intimate weddings.
As the wedding industry experiences a renaissance post-pandemic, intimate destination weddings in Los Cabos offer couples the chance to create a celebration that authentically reflects their love story. Embrace the charm of small-scale destination weddings and let the magic of this enchanting destination make your special day truly unforgettable.
Learn more about hosting a destination wedding in Los Cabos.