Ladies are on the move, with 91% of American women planning all-female getaways this year, and 60% embarking on multiple group trips in 2023. For those planning their own legendary girls' trip, Los Cabos offers an array of female-focused, group-friendly experiences and amenities that will make a girls' getaway unforgettable.
Adventures Await
Los Cabos offers a plethora of thrilling adventures that allow groups to let loose, have fun, and create unforgettable memories. Whether it's surfing or snorkeling with Cabo Adventures, horseback riding with Cactus Tours, or hiking to Fox Canyon with High Tide Los Cabos, there's no shortage of adrenaline-pumping activities for your crew to bond over.
Groups of travelers who prefer a more relaxing way to explore Los Cabos can book a private yacht cruise with Cabo Sails. These eco-friendly tours take visitors around the iconic Arch and along the shoreline, as cocktails are served and the sun slips behind the horizon.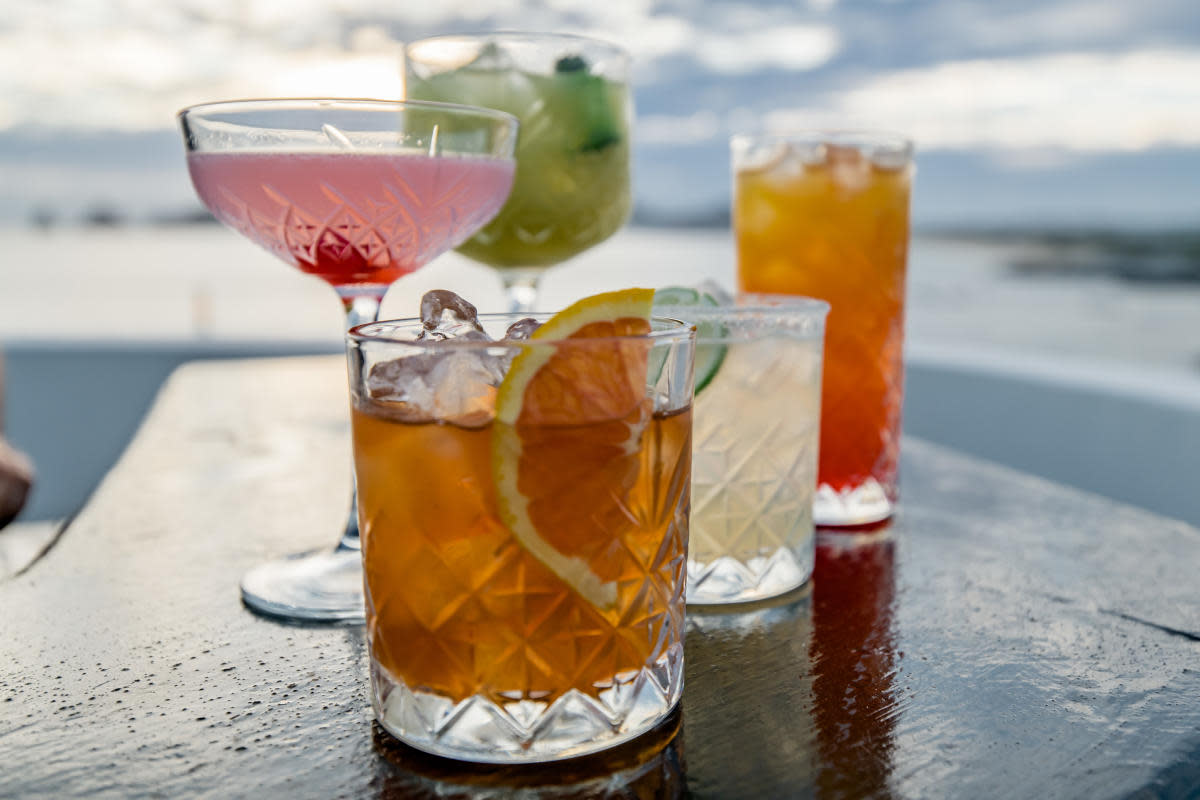 Nightlife Like No Other
Boasting an unparalleled nightlife scene, Los Cabos caters to diverse tastes and preferences, even after dark. For those seeking an unforgettable night out on the town, Cabo San Lucas offers an array of nightclubs pulsating with energy well into the early hours, like El Squid Roe, an iconic multi-level venue, that promises non-stop dancing and lively music.
Those looking for a more intimate ambiance with breathtaking views, venture to the cocktail bars perched along the marina. The Cape, a Thompson Hotel, boasts its sleek rooftop lounge, offering craft cocktails and panoramic vistas of the shimmering coastline.
Groups craving a more eclectic and local experience should head to the charming streets of San Jose del Cabo beckon. La Lupita, a trendy hotspot, boasts an extensive collection of Mezcal and live music, providing the perfect backdrop for a memorable night with friends.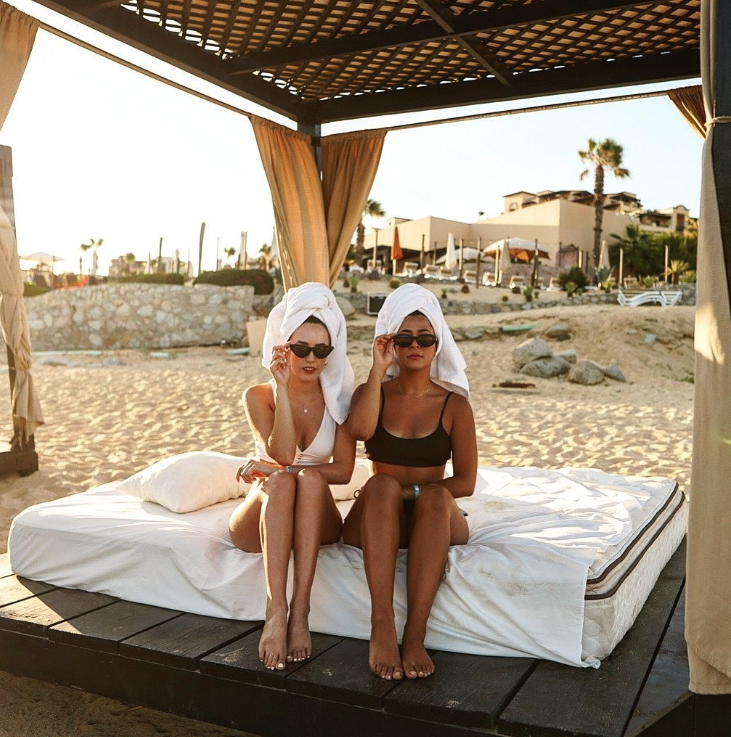 Indulge in Ultimate Relaxation
No girls' trip is complete without a day of pampering and many of the luxury resorts in Los Cabos are home to spas offering indulgent treatments and lavish amenities.
The Spa at Esperanza offers a host of wellness activities like detoxifying group workout classes in the fitness center or on the beach. Afterward, rejuvenating spa services infused with indigenous ingredients such as agave and sea salt tendered in private beachfront casitas.
A favorite of visiting celebrities like Gwyneth Paltrow & Jennifer Aniston, the One&Only Spa is a haven for healing treatments set on the five-star, ultra-private beachfront property. Together, friends can experience authentic Mexican rituals, wellness therapies, and world-class face and body services surrounded by stunning desert botanicals.
Flora Farms Spa presents a unique twist on relaxation with organic treatments offered amid the organic farm's lush, fragrant gardens. The secluded sanctuary creates a wholesome refuge for bridal parties and close friends with group treatment packages that harness the power of plants grown on-site.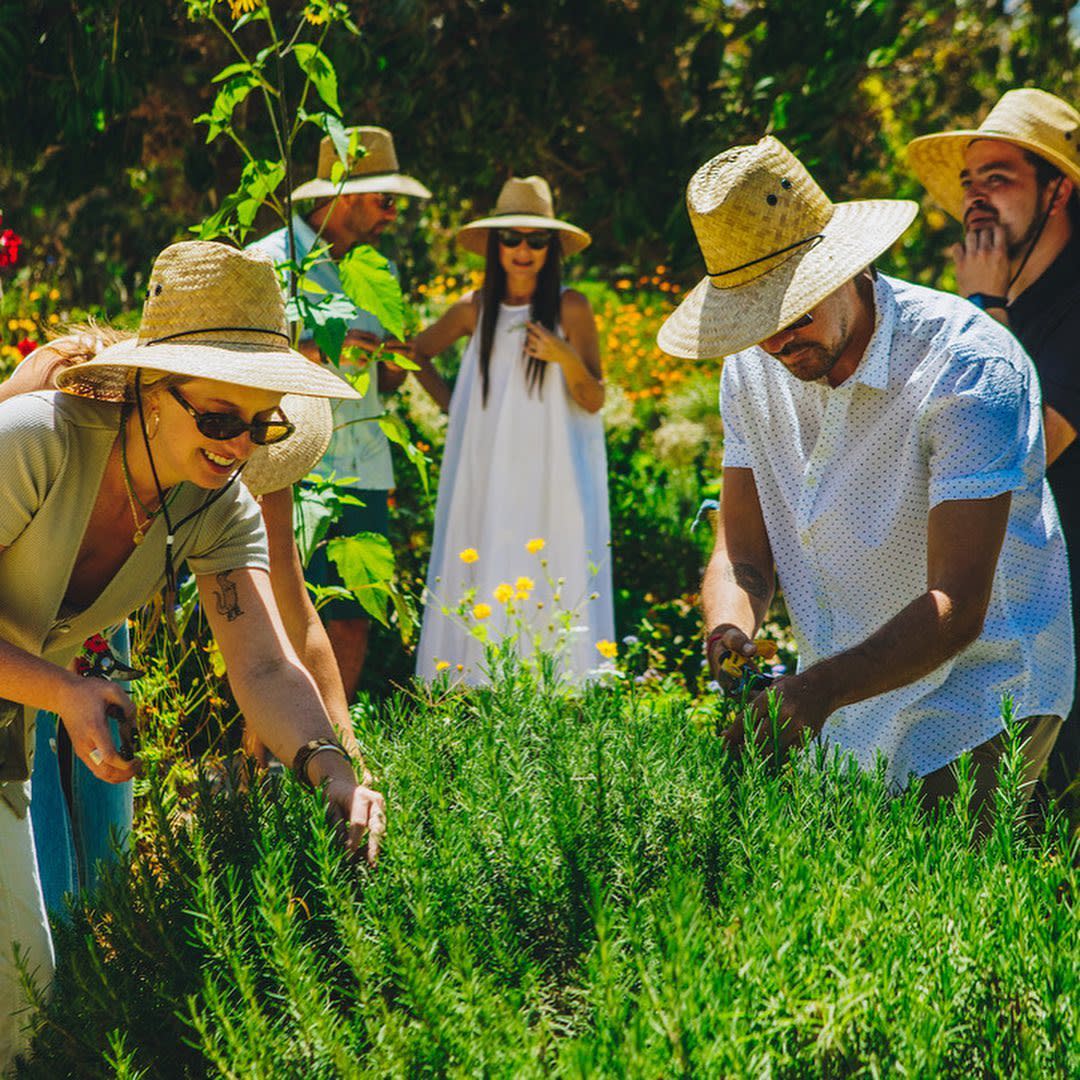 A Gastronomic Delight
Travelers on a girls' getaway or bachelorette bash to indulge in the pinnacle of gourmet experiences while in Los Cabos. Along the dramatic coastline, exquisite gastronomy takes center stage at romantic waterfront restaurants like Sunset Monalisa, where guests can indulge in Mediterranean-inspired cuisine while relishing breathtaking sunsets over the Sea of Cortes. 
Meanwhile, the iconic Cocina del Mar at Esperanza, Auberge Resorts Collection, enchants guests with its oceanfront terraces and a menu celebrating the flavors of Mexico's Baja region.
The renowned Manta at The Cape, a Thompson Hotel, tantalizes palates with inventive Pan-Pacific fare and craft cocktails, making it the perfect spot for toasts to the bride-to-be
Restaurants like Flora Farms Kitchen and Los Tamarindos host fantastic cooking classes where friends can learn to prepare traditional regional recipes before indulging in their handmade culinary delights.
Splurge on Stylish Souvenirs  
Combining shopping with luxury, a visit to Almarte Boutique at the Waldorf Astoria is a must. This high-end boutique offers a curated selection of designer fashion, jewelry, and unique local finds, providing an upscale shopping experience amidst the resort's elegance.
To encapsulate the essence of Baja California and carry a piece of it home, fashion-forward travelers on a girls' getaway should include a visit to the Shoppes at Palmilla in their itinerary. Nestled within the lush and picturesque surroundings of Palmilla, this upscale shopping enclave beckons with its collection of boutiques, art galleries, and souvenir shops.
With over 75 vendors showcasing a diverse array of handcrafted treasures, Plaza Artesanos is a fantastic choice for a day of shopping in San Jose del Cabo. From authentic Mexican art and intricately designed jewelry to hand-stitched dresses and a myriad of unique gifts and souvenirs, this bustling marketplace is a treasure trove of artisanal delights and a must-visit destination for those seeking local craftsmanship during their getaway.
From thrilling adventures and exciting nightlife to indulgent spa days and gourmet meals, Los Cabos has everything necessary for an unforgettable girls' gateway. Start planning today to make new memories and celebrate friendship in our sun-soaked paradise.