Los Cabos is known for its incredible cuisine, chefs, and cocktails. Our vibrant culture and colorful way of life is tasted in every sip and every bite of the cuisine that we create. Bring some of these unique, delicious flavors into your home with our virtual #CaboAtHome social series, until we can dine together in person once again.
The spirit of Los Cabos is a resilient one. From the rough conditions of the desert, the beauty of our land and strength of our people was formed. Now we invite you to use this time to connect to Los Cabos through a variety of activities and virtual experiences that remind you of your resiliency and the spirit of The Baja Way. 
 
A good meal can bring us closer together and transport us beyond borders. By cooking and enjoying our food we can better understand and appreciate our culture. Here are 30 ways to dive deep into the culture of Los Cabos through our incredible food and drinks.
 
Cooking
1. Kids' cooking class with a chef who has kids at home
2. Live cooking stream from Sunset Mona Lisa
3. 1:1 private cooking class contest
4. At-home cooking video with chef Alex Branch
5. At-home pastor tacos cooking video with Ubaldo from Tamarindos
6. At-home Sashimi cooking video with Nick San 
7. At-home guacamole preparation video with chef Enrique Silva from Tamarindos 
8. Ceviche recipe from Chilenos
9. Inspirational Pinterest recipe boards using recipes from local restaurants such as the One and Only and The Cape 
10. Instagram Story takeover and Q&A with Angel Carbajal 
11. Healthy, non-alcoholic smoothie recipe  
Cocktails 
12. Beer tasting flight video with Baja Brewing
13. Mezcal tasting with mixologist Daniel Quezada from The Cape 
14. Enter to win a Baja beer giveaway
15. At-home happy hour cocktail preparation with mixologist Osvaldo from Chileno Bay
16. 5 creative ways to mix up your margaritas 
17. Enter to win a 1:1 private happy hour with mixologist Osvaldo from Chileno Bay
18. Cocktail recipe using seasonal fruit from One and Only 
19. Heat things up with these spicy cocktails from our partners
20. Virtual tour of Baja Brewing brewery
 
Connections
21. Educational video series describing the history behind some iconic Los Cabos dishes
22. Learn around our local Los Cabos farms
23. Video tour of the Acre farm 
24. History of Flora Farms 
25. Overview of the farm-to-table process in Los Cabos
26. See a pet, share a pet! Learn about the animals you can find at Acre Farms
27. Tips for cooking with children at home
28. Family-friendly dishes from Los Cabos that children will love
29. Mocktail recipes for families to enjoy on their next virtual family happy hour
30. Local Los Cabos liquors to add to your at-home bar
We hope these flavorful Los Cabos experiences inspire you during this time. For even more ways to experience Los Cabos at home, follow us on our social channels. 
With hands firmly placed over our hearts, we await your return.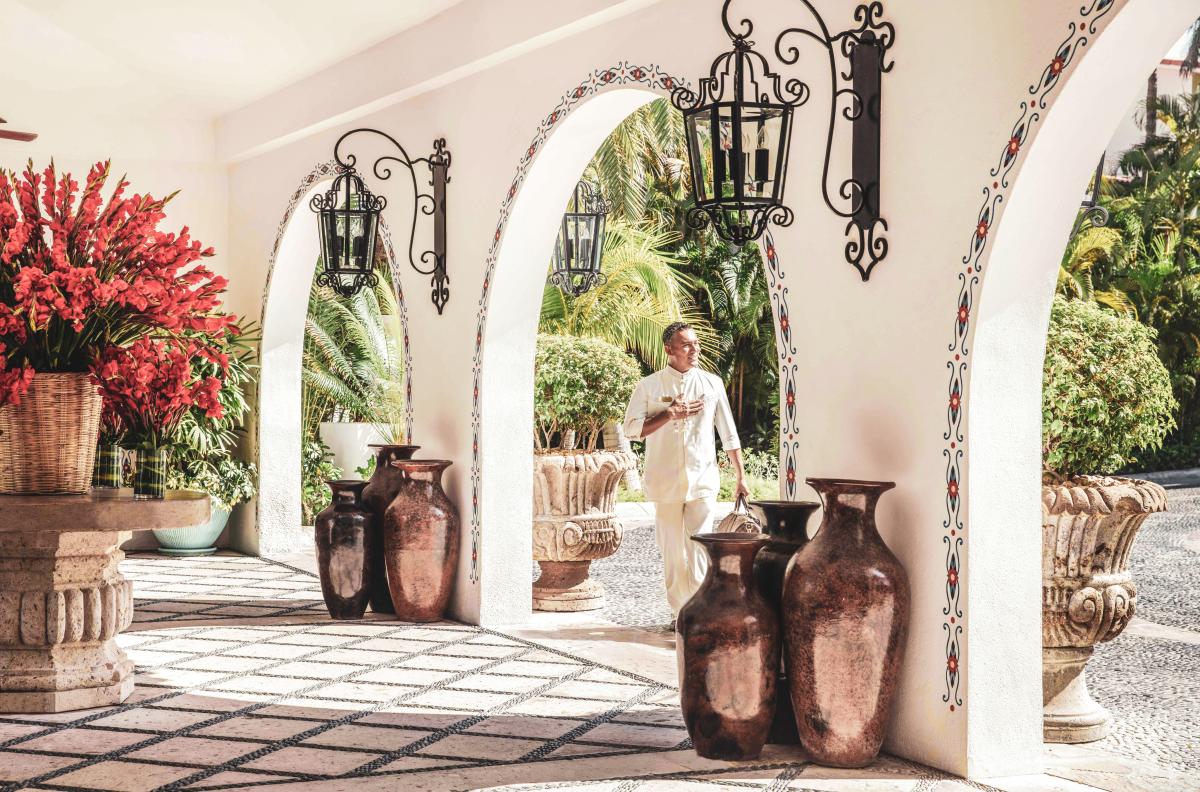 Photo credit: One & Only Palmilla