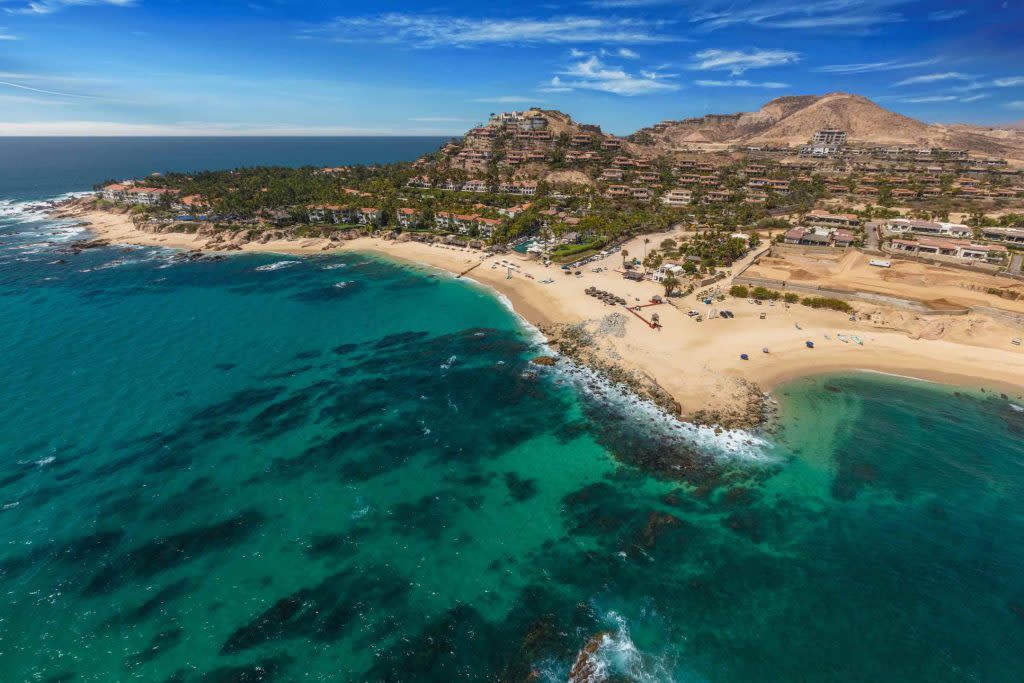 If swimming is good for you, then it's really good for you in Los Cabos. Perched at the tip of the thousand-mile-long Baja Peninsula, Los Cabos feels like it's the edge of the known world. In fact, it feels worlds away from the everyday, even though it's quite easy to reach for modern explorers. And when they get there, they want to dive into the sparkling blue-green waters that mingle where the Sea of Cortez meets the Pacific Ocean. Thankfully, there are a number of beautiful Baja beaches where you can safely achieve true aquatic nirvana. Here are just a few of our swimmable favorites.
Safety first All Mexican beaches are public, but not all have lifeguards. The beaches listed here are all swimmable, but you should always swim with a buddy and pay close attention to which warning flag is flying that day. Just think of a stoplight to help you remember the following meanings:
Green – Go. Water conditions are safe for swimming.
Yellow – Slow down. Swim with caution.
Red – Stop. Conditions are dangerous.
Black – Not safe to swim; do not go into the water.
Lover's Beach Just a short boat ride away from Cabo San Lucas, Lover's Beach is one of the area's most iconic stretches of sand, nestled between impressive rock formations at Land's End. 
Chileno Bay Beach Located in the main tourist corridor, Chileno Bay Beach is a Blue Flag–certified beach, meaning there are lifeguards to watch over the swimmers. 
Santa Maria Beach Accessible from the tourist corridor, Santa Maria Beach is hugged by cactus-covered cliffs, lending a bit of desert beauty to this Blue Flag beach. 
Palmilla Beach This long stretch of white-sand beach is safe for swimming, with a Blue Flag proudly flying high. 
Medano Beach Soft sands, clear waters, with hotels and restaurants nearby, Medano Beach is one of Cabo's safest (and prettiest).
Which of these beaches will be your favorite? We guarantee that it will be hard to choose, so it's perfectly acceptable if there's a five-way tie. Simply put, that's The Baja Way.