Travel connoisseurs and content creators Phoebe Lee and Matthew Turk visited Los Cabos in November 2019 to create the perfect travel guide for their YouTube and Instagram channels titled Little Grey Box. Along the way they discovered the best spots to eat and drink, where to stay, and what the "must-do" activities were. Here's a look into their insights, tips and tricks!
"Sun-drenched, pristine stretches of coastline and brilliant blue sky set the scene for a Los Cabos getaway. A beautiful destination offering the ultimate in relaxation, you'll find an abundance of incredible bars, restaurants, and cafes. Fill your days with fun adventure activities or simply bliss out by the pool, sipping cocktails and reading a good book. Whether you're seeking solace in the sunshine or a week of activities and adventure, Cabo's got you covered! To help you #TravelWell, here's our ULTIMATE guide to visiting Los Cabos.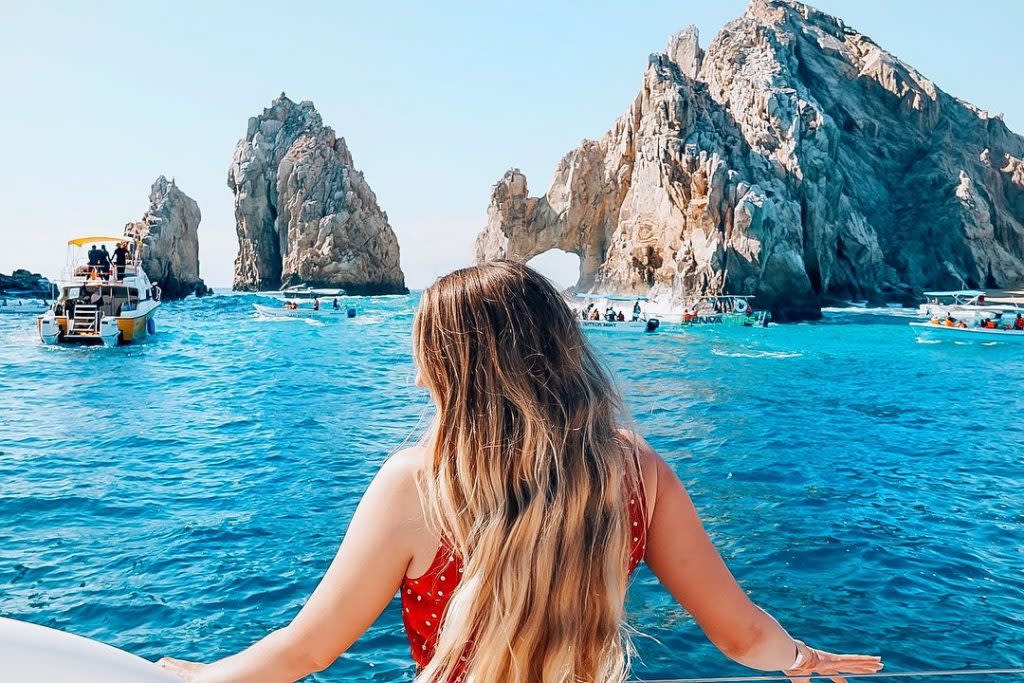 Where is Los Cabos?
Los Cabos is located in Mexico at the southern tip of the Baja California Peninsula. There are two main towns, Cabo San Lucas and San José del Cabo (don't worry, it gets less confusing when you read it and say it a few more times). You may, however, hear people refer to Los Cabos simply as, Cabo! The towns are 45-minute drive apart, linked by a 22 mile stretch of beach-front resorts spread along a major road.
Cabo San Lucas is a known party spot where you'll find an abundance of bars, night clubs, restaurants, water-based and beach activities, entertainment and more. San José del Cabo is a much quieter spot featuring colonial buildings, beaches and the gorgeous historic district including galleries and the like.
How to get to Los Cabos
To get to Los Cabos we flew to Los Angeles and caught a connecting flight from LAX to SJD (Cabo San Lucas, Mexico), arriving at Los Cabos International Airport. The flight time from LAX to Los Cabos is around 2 1/2 hours.
If you're coming from Australia, like us, there are daily flights to Los Angeles and one great tip is to break your flights up like we did! We flew from Brisbane to Los Angeles, arriving at around 6 am and checking into Sheraton Gateway Los Angeles Hotel. On arrival at the hotel, we paid a little extra to upgrade, giving us immediate room access and club lounge access too. It was money well spent as we maximised our time at the hotel and didn't need to spend any money on food, thanks to the club lounge. The hotel also operates a free shuttle to/from the airport. For us, it was money well spent!
We spent the whole day catching up on sleep, resting and getting over any tiredness we may have had. That way, when we caught our flight the next day, we were fresh and ready to go! This is a great way to ensure you arrive at your destination having already overcome most of the jet lag. Though, of course, if you are flying from somewhere closer or just want to get to Los Cabos ASAP, you can arrange to catch your next flight right away or simply book connecting flights. 
Pro Tip: If you're catching a connecting flight in Los Angeles, you must collect your luggage at LAX, go through customs/border control then give your bags back to the airline/airport staff. There should be signs to follow and if you're unsure, ask the on-ground staff for help.
Is it safe to visit Los Cabos?
Our visit to Los Cabos was our first time visiting Mexico so we had no idea what it would be like and one thing that kept coming up was the question of safety. All we can do is share our experience and we had no problems with safety during our stay! As with anywhere, we travel to in the world we were careful to follow basic safety rules. We kept our bags and valuables close at all times, using the hotel room safe to store passports and extra cash and didn't get super drunk and wander off alone late at night, etc.
8 Must-know tips for visiting Los Cabos
Here are a few essential, know-before-you-go tips for visiting Los Cabos:
The local currency is the Mexican peso. We used local ATMs to withdraw pesos after we arrived and also found US dollars were accepted in some places.
It's a good idea to have a currency conversion app on your phone so you can quickly and easily understand the conversion rate if you aren't experienced with it. We use XE Currency as it's easy, free and works offline.
Los Cabos has a tipping culture, especially for tour operators and hospitality workers so make sure you have some spare pesos on you to tip at bars and restaurants. If you aren't familiar with tipping, downloading a free app like Tip Calculator may be useful.
As Australians, we were not required to get a visa to enter Mexico at the time of our visit in November 2019
We were, however, required to get an Electronic System for Travel Authorisation (ESTA) to transit through the United States while going through LAX. Be sure to look into all visa requirements for Mexico and the USA prior to your departure. Australians can find up-to-date visa information on the Smart Traveller website here.
Everyone we met was incredibly welcoming and made us feel so at home. The service was top-notch and the staff at hotels, restaurants, and activities were all very helpful!
Be sure to learn a few key phrases in Spanish before you depart for your trip. Knowing how to say hello, goodbye and thank you goes a long way. While we didn't run into any language issues, we did have Google Translate on our phones with the Spanish language downloaded and ready to go, just in case we needed to use it or wanted to learn a few words as we went. It was really helpful!
Each restaurant we visited was very attentive when it came to food allergies. Prior to placing an order, our servers seemed to always ask if we had any dietary restrictions, allergies, etc. This is great if you have specific allergies! So, don't worry, you should be able to find food that works for you!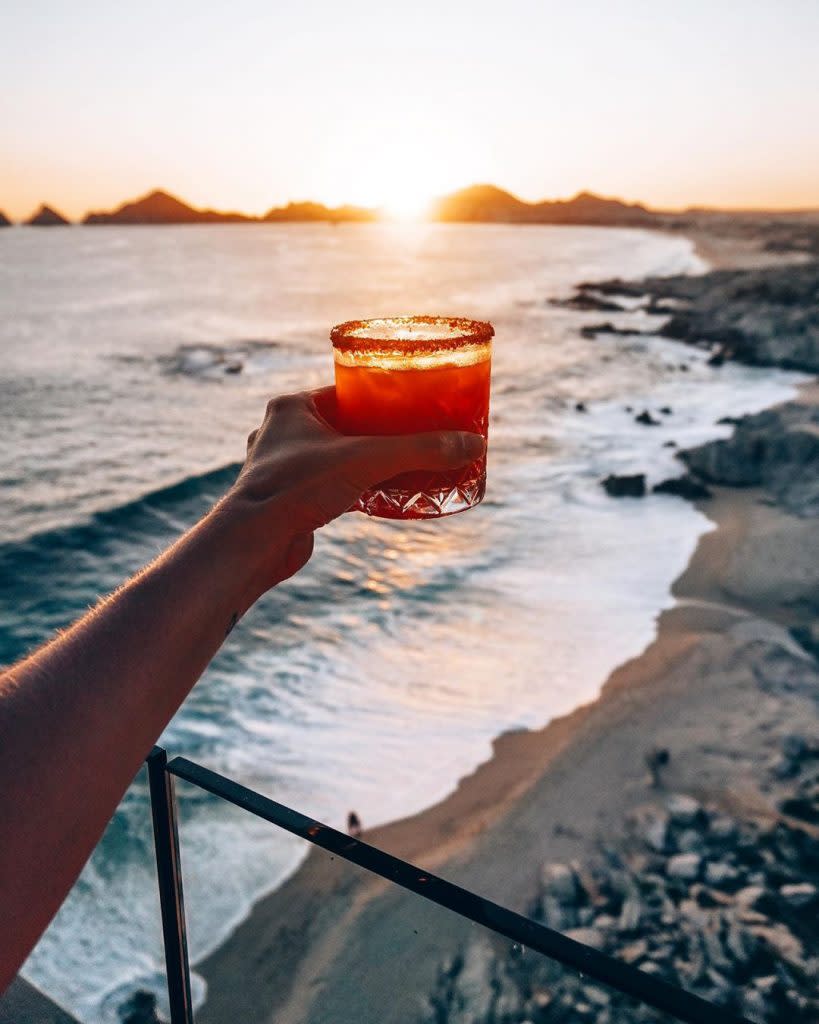 The best time to visit Los Cabos
We visited Los Cabos in late November and found the weather to be mostly gorgeous! Aside from one or two days of unseasonably wild rain, we experienced nothing but sun-drenched days and perfect temperatures. It was lovely and warm during the day but not overly hot and sweaty.
The best time to visit is considered to be from November through to June with December through to mid-April being the best time to spot whales and whale sharks. August to October are typically going to be the warmest months with temperatures getting up to 36°C, something Aussies should have no trouble handling.
For surfers, like Matt, the best time of year to visit should be June through to August. Savvy travellers keen to scoop up a bargain might like to consider visiting in August through to October which is typically the low season, meaning fewer tourists and cheaper hotel rates. But, with around 350 days of sunshine per year, you can't really go wrong in Cabo!
Where to stay in Los Cabos
During our visit to Cabo, we got to experience hosted stays at three different resorts/hotels and each one offered something different. Here's a look at all three, listed in the same order at which we stayed at them.
Marquis Los Cabos Resort & Spa
Marquis Los Cabos Resort & Spa is the adults-only Cabo resort straight out of your Mexican holiday fantasies or at least it's straight out of mine! From the moment we arrived we were blown away by how grand the resort is and, located right on the beach, the incredible views it offered us. We were able to sit on the balcony of our room to watch the stunning sunset turn the sky brilliant shades of pastel pink, purple, and orange.
Viceroy Los Cabos
Viceroy Los Cabos is a luxurious beachfront resort serving up incredible food and a high-end, modern experience! Both Matt and I kinda lost the ability to speak for a moment when we first arrived and saw the stunning hotel design. It's the kind of thing you see on Instagram or in luxury travel magazines so when you see it in real life, it kind of takes a second to realise it's real life!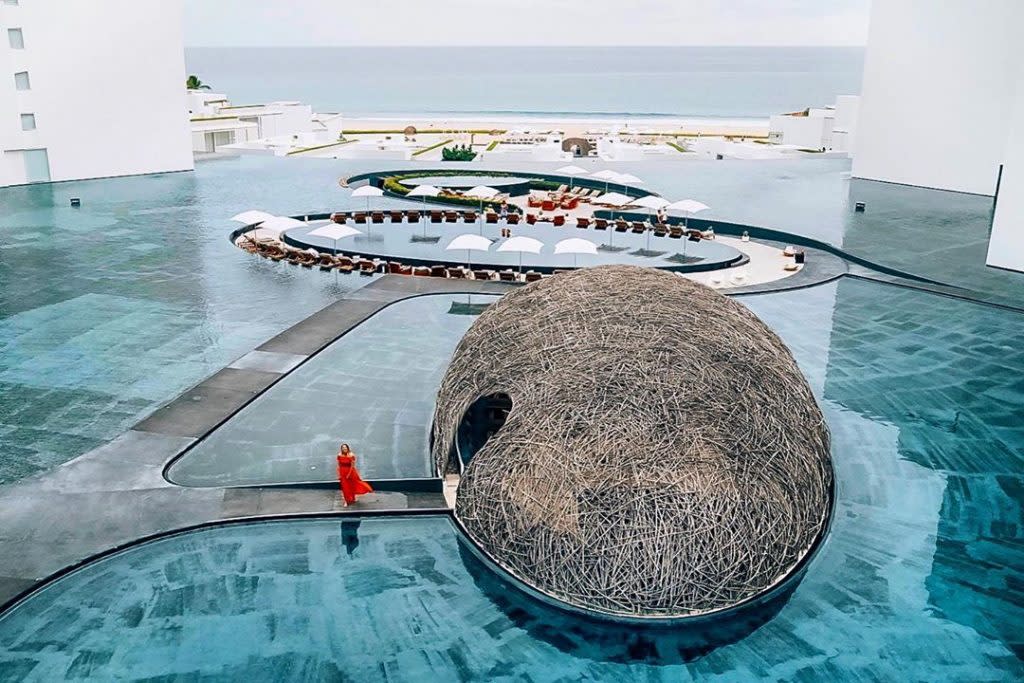 Hotel El Ganzo
Hotel El Ganzo is a waterfront, boutique hotel with a welcoming, artistic vibe! The hotel has a really cool story celebrating diversity, creativity, artistry, and sustainability. Artworks of all shapes, sizes, and mediums adorn the interior and exterior of the hotel, from unique sculptures and intricate creations to bold, bright paintings adorning the walls. You'll even find some of the rooms playing host to artworks and there's a secret, underground recording studio frequented by a range of talented musicians (including famous people!)
6 of the BEST things to do in Los Cabos
There's no shortage of wonderful activities to pack your Cabo itinerary with! Here are just a few of the best things to do in Los Cabos:
Pro Tip: Most of our activities were organised via Flight Centre. Be sure to check them out for help booking a whole range of activities beyond what's listed above! Find Flight Centre here.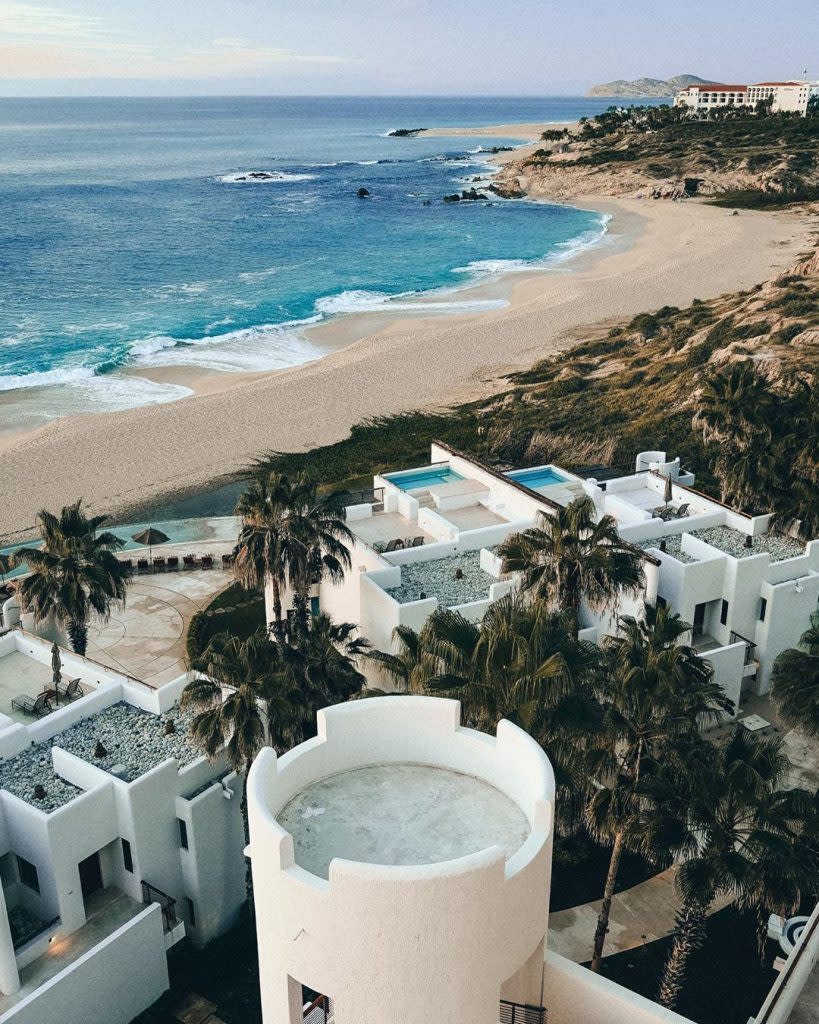 4 of the BEST places to eat and drink in Los Cabos
You'll be spoilt for choice when it comes to eating out in Cabo! Here are just a few of the best places to eat and drink in Los Cabos: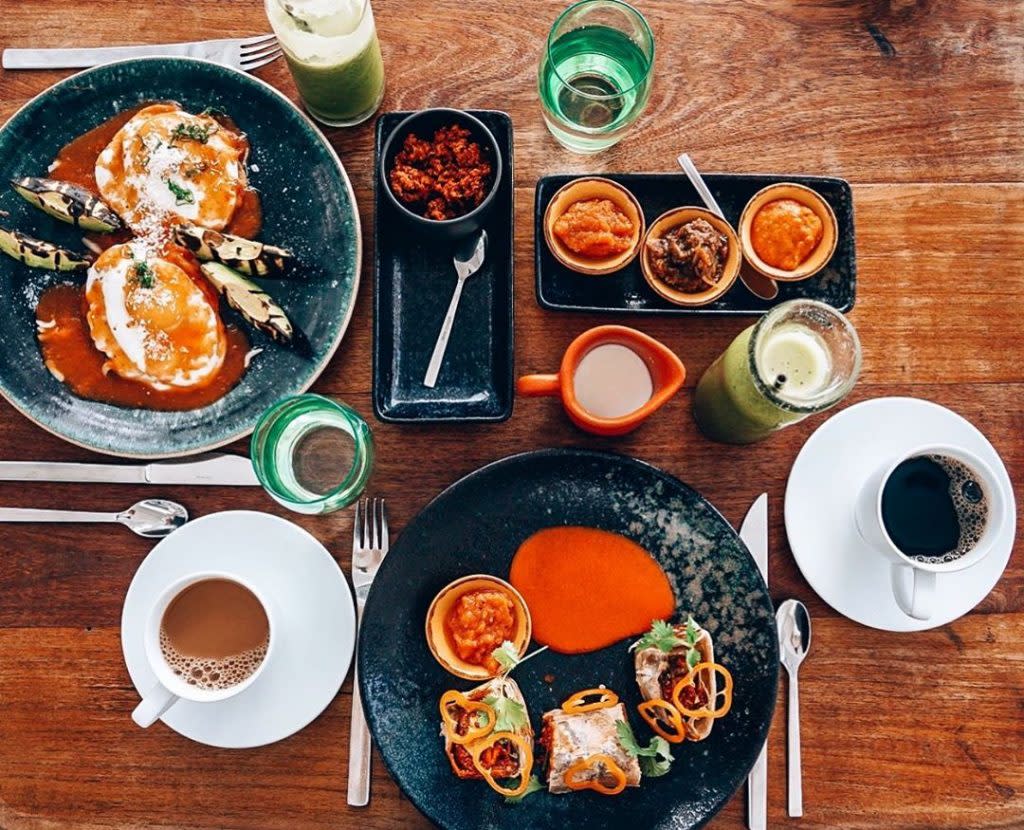 How to get around
When it comes to getting around Cabo, you have a few different options. Hotels and resorts often have shuttle services running between the hotel and airport as well as key spots like the downtown area, for example. Check before booking and, if it's something important to you, make sure you find a hotel that offers this service.
If you feel comfortable driving overseas, you may like to look into hiring a car. This option will give you the absolute freedom to go where you please when you please but does come with more costs. Alternatively, you may like to simply use Uber for a cheap and reliable method of transport and use this link for AU$10 off your first ride! What's great about Uber is the ability to ensure set fare rates and pay via the app, to ensure a scam free situation.
Lastly, you can also organise your very own private transport for the duration of your trip. We spoke with a local tour guide who said he meets tourists on his tours and offers his driving services if they ask for help. There are also other companies set-up who offer this service too so be sure to find the option that's best for you.
What to pack
Visiting Los Cabos for the first time? Here's a look at what you need to pack for your trip:
We found it appropriate to be a bit more dressy in Cabo, as opposed to the more relaxed outfits we might usually wear in Thailand, for example. Be sure to pack a few 'nice' outfit options for dinner and drinks at classy restaurants and bars.
We also found we needed activewear for activities like horse riding and trekking to Fox Canyon. Closed-in footwear is also a good idea!
Be sure to pack your swimmers, sun-smart gear (hat, sunglasses, sunscreen, etc) and clothes you can easily and comfortably wear over your swimmers, like a kaftan or shorts.
For the most part, I wore comfy summer dresses with sneakers or sandals. Matt mostly wore shorts with either a light t-shirt or cotton/linen shirt with collar and rolled-up sleeves for evenings.
I found my skin and hair to be quite dry, probably due to the amount of time I spent in the water. I'd recommend packing your favourite, super-hydrating moisturiser for your face and one for your body as well as leave-in hair hydration too."
Reposted with the permission of Little Grey Box, a source of travel inspiration and information for adventurous souls.