Starting in December, witness majestic humpback whales and other species play in the waters off of Los Cabos on an unforgettable whale watching experience.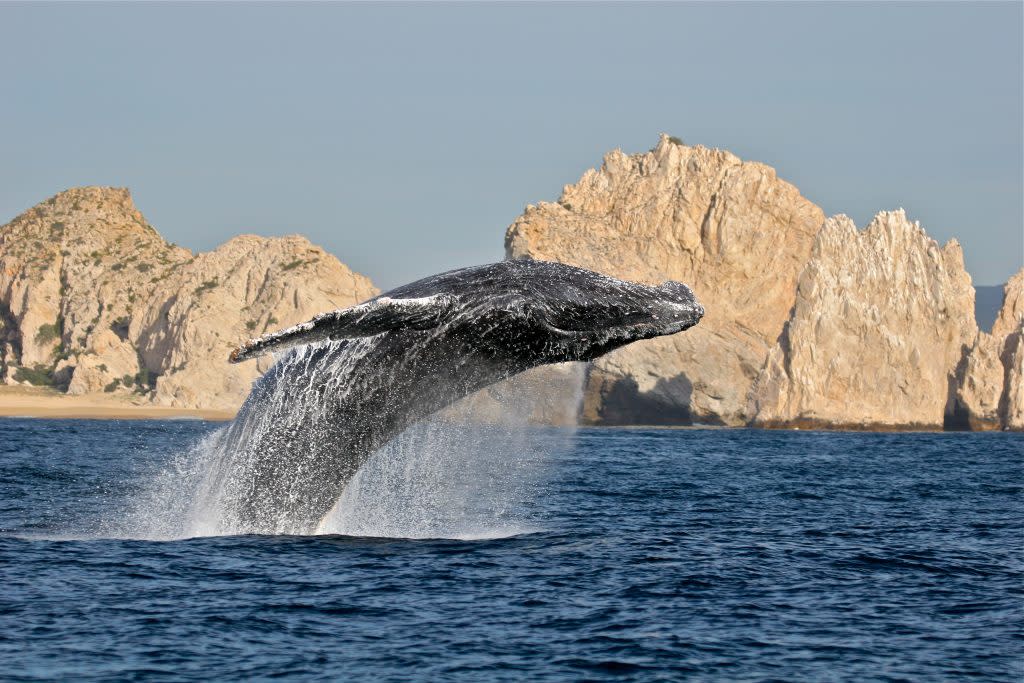 Oscar Ortiz
Imagine watching a humpback whale soar out of the Pacific Ocean with the silhouette of El Arco in the background. Or picture yourself drifting in the turquoise-tinged Sea of Cortez awaiting the arrival of a curious whale shark. 
In Los Cabos, the Pacific Ocean mingles with the Sea of Cortez, harboring a variety of aquatic animals that flourish beneath the surface, including humpback whales, gray whales and whale sharks. Whale watching experiences begin in Los Cabos on December 15 and while it's likely you'll spot one or more of these magnificent creatures from November to April, January through March is best. 
Head to the Cabo San Lucas Marina to select the right whale watching tour for you, or your hotel or resort can easily arrange a whale watching tour that fits your needs. There are a variety of tours to choose from, whether you're looking for a group or private tour, a zodiac boat or a catamaran, and times throughout the day that work with any schedule.
Just a two-hour drive from Cabo San Lucas, the peaceful city of La Paz is the gateway to spotting and swimming with whale sharks as they glide through the turquoise water of the Sea of Cortez. From October to February, the balmy sea water attracts the largest fish in the world to flock to La Paz and you can experience a once-in-a-lifetime chance to swim with these gentle creatures on a tour from Cabos San Lucas or by staying in charming La Paz.
 Los Cabos is a place where good things naturally come together, like nature's greatest wonders and unforgettable experiences. Toast to an epic day of whale watching with a mezcal margarita and a fiery Baja sunset, and soak up the The Baja Way.