Each year on September 16th, electrifying energy fills the air in Los Cabos. The rhythmic beats of mariachi music, the aroma of sizzling street food, and the mingling laughter of locals and visitors signal the arrival of Mexican Independence Day celebrations in this enchanting destination.
Los Cabos invites visitors to experience this cultural extravaganza that combines history, tradition, and unforgettable moments found only in this unique destination nestled between the majestic Sea of Cortes and the rugged beauty of the Baja Peninsula.
Read on to learn more about traditional Mexican Independence Day celebrations and how visitors can join in the festivities.
Embracing the Spirit of Independence
Los Cabos comes alive with vibrant colors and sounds, honoring Mexico's liberation from colonial rule. From Cabo San Lucas to San José del Cabo, a captivating array of festivities awaits visitors. Mexican Independence Day in Los Cabos is a testament to the nation's rich heritage. Join the vibrant parades, marvel at folkloric dances with swirling skirts and contagious rhythms, and immerse yourself in the local traditions for an unforgettable experience.
Guests of Villa La Valencia can create their very own piñata before enjoying the thrill of breaking it open.
Throughout the month Villa La Valencia hosts three nights of traditional Mexican games, music, and food, exclusively for guests of the hotel.
DJ Kobe takes the stage at Breathless Cabo San Lucas Resort & Spa for a two-day, adults-only beach party.
Zadún, a Ritz Carlton Reserve, hosts a dinner of traditional Mexican cuisine paired with live Mariachi music, mezcal, and tequila. 
Villa del Palmar Beach Resort & Spa welcomes guests to an evening of folk dancing, Mariachi music, and a buffet at Tortugas Terrace.
Kids of all ages are welcomed to Esperanza, an Auberge Resort, for a celebration of Mexican culture including games, crafts, and cuisine. 
In partnership with Jose Cuervo, Solaz Los Cabos Signature Suites' Noche del Grito will celebrate Mexican culture through cuisine and live music while Cabo Nauta Kids Club will keep the little ones entertained with games and activities inspired by the festivities.
Savor the Flavors
A celebration of this magnitude would be incomplete without indulging in the flavors of Mexico. Los Cabos is renowned for its culinary prowess, and during Independence Day, the streets transform into a gastronomic wonderland. Visitors can follow the aromas wafting from food stalls and carts, allowing their taste buds to explore an array of mouthwatering delights. From piping-hot tacos al pastor to rich and spicy mole, every bite is a voyage into Mexico's diverse culinary landscape.
All month, Villa La Estancia Beach Resort & Spa invites guests to enjoy a tasting menu of Mexico's finest flavors.
Any time this month, stop in to sample Comal's special Chiles en nogada dish, meat-stuffed poblano chiles bathed in a walnut cream sauce and garnished with pomegranate seeds and parsley.
Esperanza, an Auberge Resort, welcomes visitors and locals alike to a traditional Mexican cooking class followed by a family-style lunch with wine and beer.
Corazón Cabo Resort & Spa toasts the holiday with a buffet of authentic Mexican dishes, unlimited margaritas, and a live DJ at Rooftop 360.
Evenings at Hotel El Ganzo are the perfect time to stop by the property's taco truck, serving traditional and vegetarian options.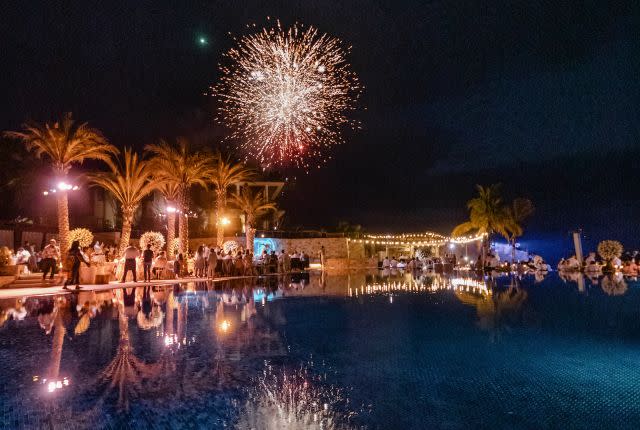 Unforgettable Fireworks Extravaganza
As the sun sets over the vast expanse of the Pacific Ocean, the skies above Los Cabos light up with a brilliant fireworks spectacle. From beachfront vantage points to luxurious rooftop bars, travelers can find their perfect spot to witness this dazzling pyrotechnics display. The explosions of color and light reflect upon the calm waters, creating an awe-inspiring and magical scene.
Guests can gather at the resort's MUSE Terrace for a stunning view of the fireworks in addition to mariachi music, a mechanical bull, and live performances.
Beyond the Celebration
In Los Cabos, the spotlight may be stolen by Mexican Independence Day, but this destination provides a plethora of activities and attractions throughout the year. The captivating underwater world of the Sea of Cortes, known as the "Aquarium of the World," can be explored through scuba diving or snorkeling. Visitors have the option to embark on thrilling ATV adventures across the rugged desert terrain or simply indulge in the sun-kissed beaches along the coastline. Los Cabos promises to be an alluring getaway that transcends the celebration of independence, catering to the diverse desires of its visitors.
In Los Cabos, the celebrations of Mexican Independence Day combine the historical significance of our past with the dynamic spirit of our present. All are welcome to join the festivities and celebrate our country's independence and culture with us. Viva México!
Learn more about upcoming holidays and special events in Los Cabos.