Go beyond the beach to explore Los Cabos on land.
From the moment you spot desert dunes rising before the ocean waves, you'll understand why Los Cabos is such a special place to explore on land. Wide, sandy shores; rugged desert roads and a majestic mountain range offer plenty of space to get out and fall in love with these unique landscapes.
Get moving!
Pick your favorite way to travel and let the experts at Cactus Tours take care of the details. Kick up dust along secluded roads on an ATV, ride alongside the water's edge on horseback or even ride a camel. Feel the exhilaration of speeding along Migriño Beach on your own ATV with the Pacific Ocean and majestic cliffs as your backdrop. Go side by side on an off-roading adventure that takes you from sand dunes to desert trails in one thrilling excursion where you're always in control of the wheel. An expert guide teaches you everything you need to know and shares local insights about the desert, and every outing ends with a tequila tasting.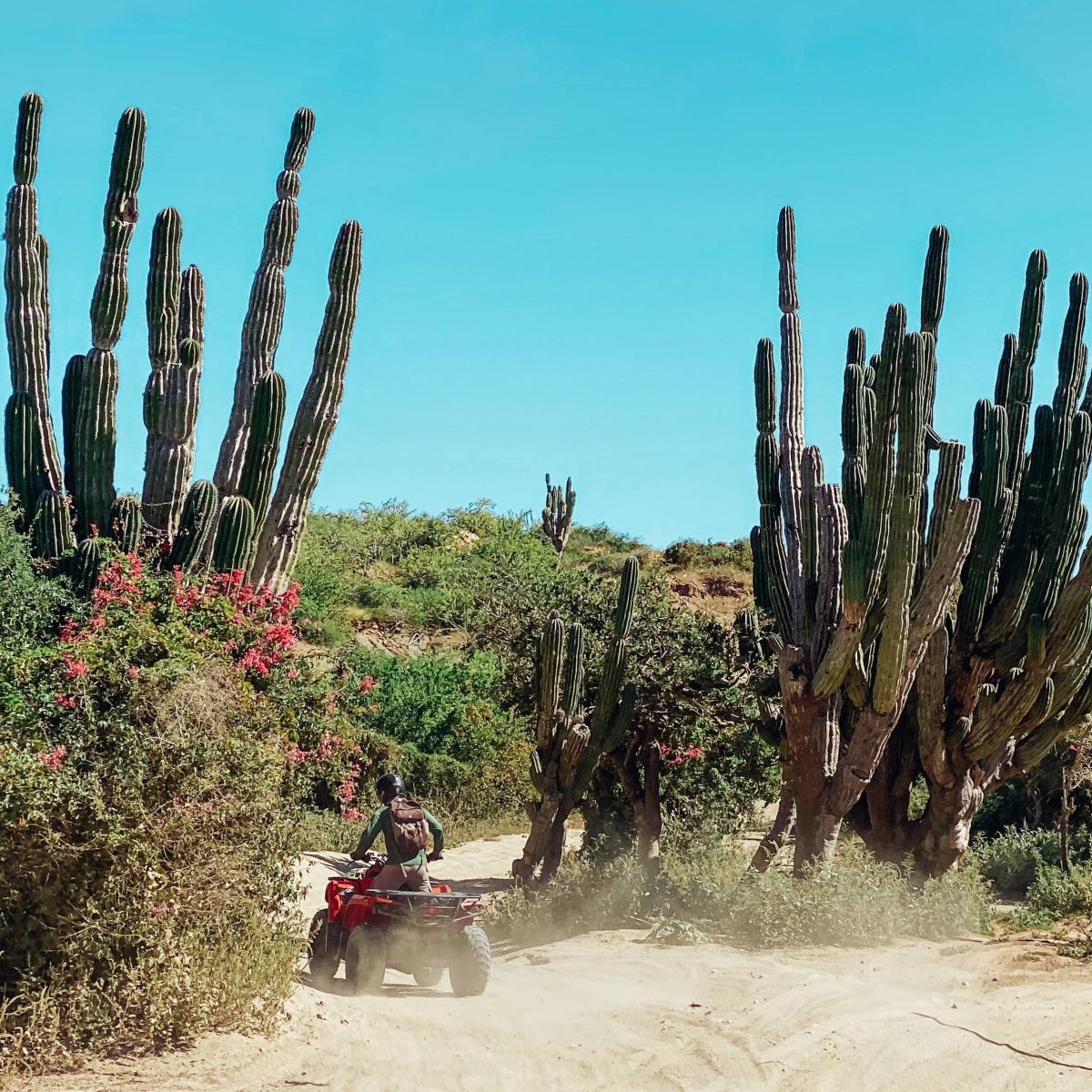 Up in the mountains
Rising 6,000 feet against the horizon at the end of the peninsula, the Sierra de la Laguna mountain range is a magnificent sight that will draw you closer. A true oasis, this UNESCO protected biosphere is home to an enormously diverse landscape of mountain terrain, deep canyons, vast pine-oak forests, thermal springs and freshwater pools. Experience this natural wonder on a guided hiking excursion or go mountain biking along dusty desert trails.
 
An enchanting retreat
On the outskirts of Los Cabos lies the Pueblo Mágico (magic town) of Todos Santos. A scenic drive reveals wide-open views of the Sierra de la Laguna mountains, leading you to a town that's full of charm. Colonial-style architecture lines cobblestone roads, and you'll find locally historic hotels as well as more modern additions to the area. Go shopping for local handicrafts and fashion, enjoy an al fresco meal of authentic Mexican cuisine (as well as unexpectedly delicious Italian fare at Cafe Santa Fe), and join world-class surfers who come here to conquer iconic waves.
As you plan your trip to Los Cabos, be sure to extend your journey to go beyond the beaches and see what else you can experience on land.