Los Cabos, Mexico (October 10, 2023) – Today, tournament officials formally presented the 17th edition of the World Wide Technology Championship, Mexico's pioneering PGA TOUR event, which sits just 20 days away.  The historic event begins a new chapter in 2023 as it heads to Los Cabos for the first time, where it will be contested on the Tiger Woods designed El Cardonal course at Diamante Cabo San Lucas in Baja California Sur from October 30 through November 5.
The PGA TOUR, which showcases the world's greatest golfers, will gather a field of 132 players competing in a 72-hole, stroke-play event for a total purse of $8.2 million and 500 FedExCup points.  All four rounds will be televised globally through the PGA TOUR's extensive worldwide television distribution network, including Golf Channel in the United States and Golf Channel Latin America in Mexico and throughout Latin America.  Internationally, PGA TOUR coverage is available across more than 200 countries and territories in 26 languages via 44 broadcast and digital partners.
2023 marks World Wide Technology's third year as Title Sponsor.  This year, they join forces with the new official host venue Diamante and the Los Cabos region to carry on the tournament's legacy as a pioneer for golf in Mexico and Latin America.  Additionally, the event will continue to highlight and celebrate Mexican hospitality and the growth of golf in Mexico.  The stunning landscape of the Los Cabos region takes center stage as the host for Mexico's premier professional golf tournament.
Today, in a media press conference in Mexico City, the 2022 champion Russell Henley joined tournament organizers to formally launch the 2023 edition of the tournament.
The World Wide Technology Championship proudly showcases top golf talent while highlighting leadership, technology innovation, and diversity to create a positive impact on local communities in Mexico and around the world.
"World Wide Technology's goal is to make this tournament the number one destination on the PGA TOUR and the move to Los Cabos is a perfect match. Diamante's world-class golf courses and capabilities as a resort are an ideal fit for the type of experience we want our customers, partners, and all fans to enjoy. Los Cabos is booming, and we're thrilled to enjoy and contribute to the momentum of the region as one of the world's top tourism destinations. We had two great
champions in our first two years as title sponsor, with Viktor Hovland in 2021 and Russell Henley in 2022, as both are excellent global representatives for the game of golf and the PGA TOUR. We look forward to another outstanding champion in 2023," said Matt Horner, Executive Vice President of World Wide Technology.
Diamante is a private residential resort nestled along the Pacific coastline of Cabo San Lucas.  Featuring two championship courses, including El Cardonal, Diamante offers a complete golf experience for residents and visitors.  As the tournament's new official host venue, El Cardonal will pose a stout challenge for the PGA TOUR's best.  The first course ever designed by Tiger Woods, El Cardonal was influenced by the old-style courses of Southern California where he grew up playing.
"We are thrilled to welcome the PGA TOUR'S prestigious World Wide Technology Championship to Diamante for its inaugural Cabo appearance in November," said Ken Jowdy, CEO of Legacy Properties and developer of Diamante.  "This world-class event promises to have a substantial impact on the Los Cabos region, and the added exposure will provide a unique opportunity to showcase the area's beauty and signature hospitality to all those attending."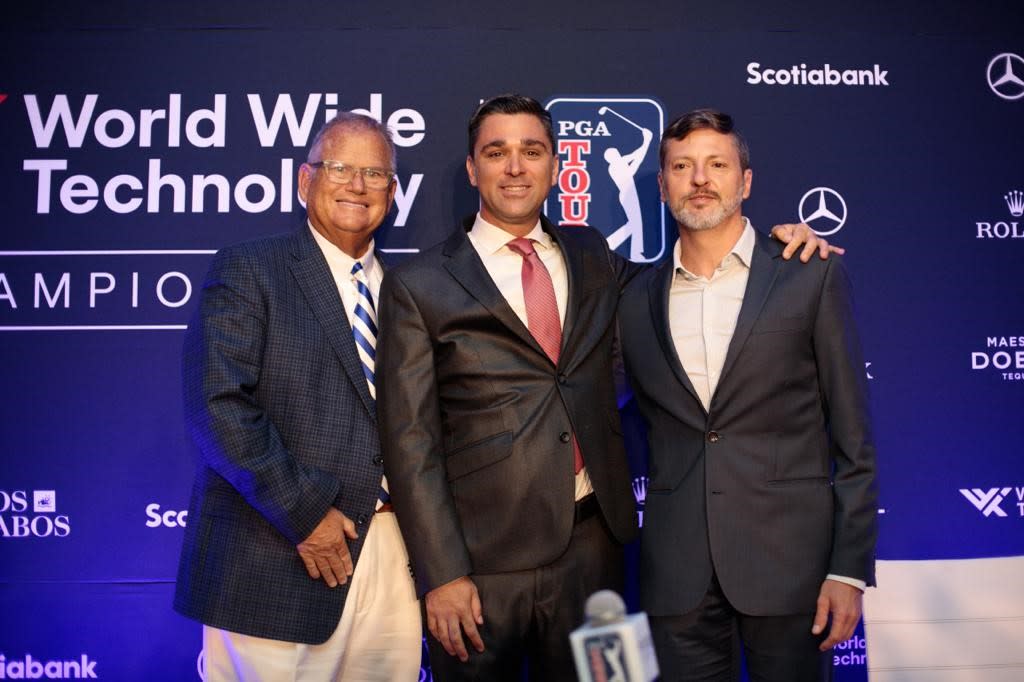 Los Cabos is the number one golf destination in Mexico, where natural wonders coexist with luxurious resorts, azure waters meet rugged desert and mountain landscapes, and vibrant culture intertwines with world-class amenities and gastronomy.
Hosting the PGA TOUR tournament in Los Cabos marks a significant milestone for our destination and serves as a testament to the world-class competitiveness of our golf courses on a global scale. Los Cabos is renowned as the golfing hub of Latin America, boasting an impressive array of 18 golf courses set against the stunning backdrop of the desert, mountains, and the sea. We firmly believe that the PGA TOUR will not only help us showcase the exceptional golf experiences we offer but also highlight the extraordinary beauty and warm hospitality that Los Cabos extends to a worldwide audience. This provides us with an unparalleled opportunity to shine on the international stage, attracting a growing number of golf enthusiasts and travelers," said Rodrigo Esponda, Director of the Los Cabos Tourism Board.
Once again, the World Wide Technology Championship will provide the best spectator experience on the PGA TOUR, allowing fans to experience world-class golf and warm Mexican hospitality.  In addition to the professional competition, spectators will experience Baja's best culinary options at the 19th hole—the tournament's fan village.  A number of leading local restaurants will participate and provide a taste of Cabo for fans to enjoy.
"We have been overwhelmed by the amazing reception from the community in Los Cabos and look forward to delivering an incredible event," Tournament Director Joe Mazzeo said.  "Beyond the world-class golf, spectators will be able to enjoy amazing food and dining options as well as live music every day following play.  The combination of World Wide Technology's leadership, Diamante's hospitality and the beautiful landscape of Los Cabos is the perfect recipe for a truly special and memorable week."
For more information on the World Wide Technology Championship, please visit www.WWTChampionship.com or through social media Facebook: WWTChampionship Instagram: @WWTChampionship X: @WWTChampionship
#WWTChampionship #WorldWideTechnology