Santa Clara, CA and Los Cabos, Mexico – October 26, 2023 – Today, the San Francisco 49ers and the Los Cabos Tourism Board, in a multi-year collaboration, are announcing the region as the Preferred Travel Destination of the San Francisco 49ers and a Global Marketing Rights partner in Mexico. The partnership intersects sports and destination marketing to bring Los Cabos' luxury offerings to 49ers fans around the world. To date, one of the destination's top tourism markets is the San Francisco Bay Area.
This collaboration signifies a landmark moment in the world of sports and tourism partnerships. By uniting the San Francisco 49ers' legacy of excellence with Los Cabos' world-class destination offerings, the partners are poised to create an unforgettable experience for both audiences.
This comprehensive partnership includes executing targeted marketing strategies to engage Los Cabos' primary audiences, unveiling unique promotions to attract travelers to the destination, and bolstering its visibility across the Bay Area via strategic promotional efforts. The partnership will "kickoff" during the October 29th game between the San Francisco 49ers and Cincinnati Bengals, during which Los Cabos will be showcased via in-stadium digital signage and across 49ers digital, social and media assets. Moving forward, Los Cabos will be providing unique contests and promotions for the 49ers Faithful to visit Los Cabos. As a Global Marketing Rights partner in Mexico, the collaboration will also be promoted via radio, television and social media culminating in a first-ever youth football clinic in the Los Cabos community.
"Los Cabos is one of the most mesmerizing and awe-inspiring destinations in the world, and this partnership will bring the 49ers Faithful closer to all of its incomparable adventures, resorts, entertainment, restaurants and beaches," said Ryan Connors, Senior Director, San Francisco 49ers. "Furthermore, this association enables us to bring our wellness and youth football programming to the region, as we continue to engage and build fans in Mexico."
"We are thrilled to embark on this exciting journey with the San Francisco 49ers, whose team is at a level of all-time peak performance and whose fans bring an incredible liveliness to the game," said Rodrigo Esponda, Managing Director of Los Cabos Tourism Board. "As we enter into the magic that is a 49ers' game day, we invite fans to dive into the beauty we share about the destination from our award-winning resorts, relaxing spas, championship golf courses, authentic cuisine, and more, all placed in a beautiful setting where desert, sea and mountains meet."
The campaign aims to increase recognition for Los Cabos as an exclusive world-class destination that provides a diverse array of tourism products and services and continues to attract visitors  from the Bay Area. The Bay Area is already a main source of U.S. tourism to Los Cabos, with 27% of total passengers arriving from San Francisco on international flights. Travelers can find several daily three-hour direct flight options from San Francisco to Los Cabos.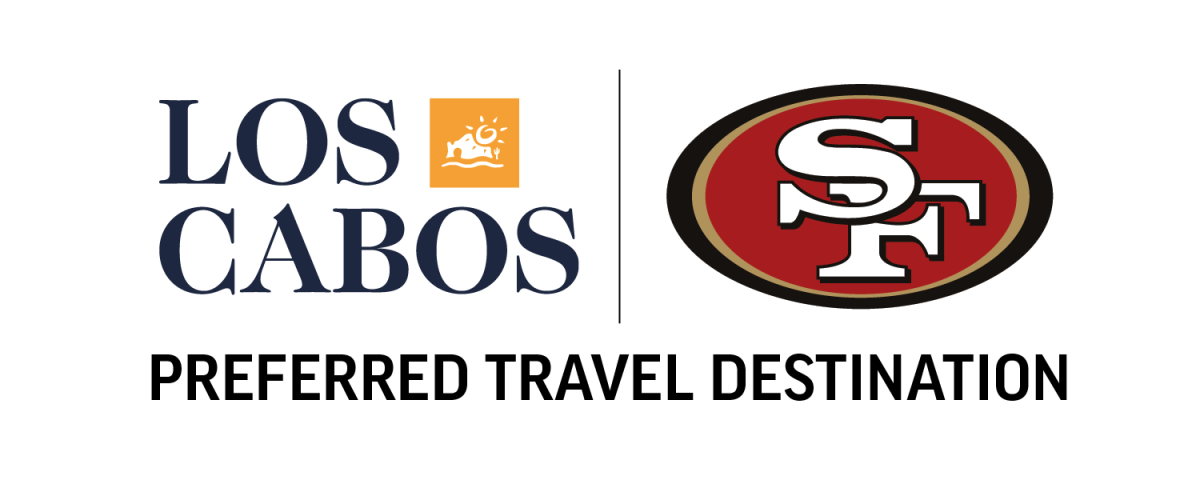 ---
About San Francisco 49ers
The San Francisco 49ers, owned by Denise and John York, currently play in the NFC West division and have won five Super Bowl trophies including Super Bowl XVI, XIX, XXIII, XXIV and XXIX. The franchise also has seven conference championships and 20 divisional championships and was the first major league professional sports team to be based in San Francisco over 75 years ago. Please visit 49ers.com and follow the 49ers on Facebook and Twitter @49ers.
About Los Cabos
Los Cabos, located at the tip of the 1,000-mile-long Baja California Peninsula, is one of the world's most diverse tourism destinations. Boasting a dramatic desert backdrop nestled between the Sierra de la Laguna Mountain range and coastlines of the Pacific Ocean and Sea of Cortez, Los Cabos is home to award-winning resorts, dynamic wellness experiences and exquisite culinary offerings often regarded by many as some of the finest tourism offerings available anywhere. A growing list of championship golf courses, rejuvenating spas and world-renowned sport fishing tournaments add to the destination's unmatched appeal. For more information, images and videos from Los Cabos, please visit visitloscabos.travel and follow us on Facebook, Instagram, Twitter, or YouTube.