Exclusive, bespoke and undeniably beautiful, Los Cabos is the ultimate destination in Mexico for discerning travelers looking for a private and lavish escape.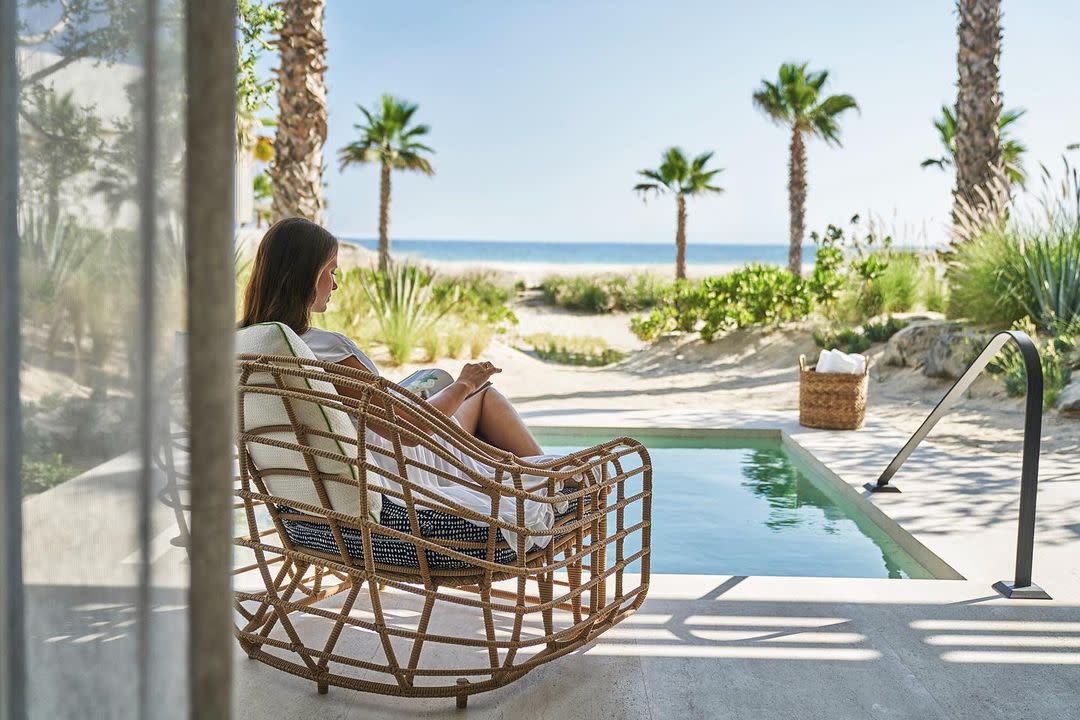 Photo Credit: @fsloscabos
The allure of Los Cabos starts with the rugged beauty that stretches from the cactus-studded desert to the sparkling waters of the Pacific Ocean and Sea of Cortez. What once began as a luxury hideaway for the Hollywood elite, Los Cabos is now poised as one of Mexico's most exclusive destinations for those looking to jet set on a luxurious getaway.
 
Luxury starts upon arrival.  
Los Cabos has two international airports, Cabo San Lucas International Airport, Mexico's only international private airport, and Los Cabos International Airport that accommodates private jets and charter companies arriving from various destinations. Los Cabos International Airport is located about 20 minutes from San José del Cabo and Cabo San Lucas International Airport is 15 minutes away from Cabo San Lucas, each offering private drivers for hire. Los Cabos businesses also offer private security, transportation and discreet customer service for high-exposure public profiles. Once you land in Los Cabos, a vacation that can't be replicated anywhere else begins.
Curated experiences designed for tasteful travelers.  
Sophistication and natural adventures make for world-class, personalized activities in Los Cabos. For an exhilarating change of perspective, board a private helicopter for stunning 360-degree views of El Arco and the rugged Baja Peninsula beaches before flying over the Cabo San Lucas marina and sprawling resorts that hug the coastline.
 
One of the best ways to explore the sun-kissed beaches along the coast and enjoy the warm weather is by chartering a private yacht. Sail from one sunny locale to the next, while enjoying an open bar, personal chef and attentive crew to attend your requests. If you are visiting from November to April, there's a good chance you might see humpback or gray whales.
Secluded retreats for a private escape. 
The most sought-after luxury hotels and private residences is only growing in Los Cabos. In fact, Los Cabos has the most luxury rooms per square feet of any destination in Mexico. Recognized names like Waldorf Astoria Los Cabos Pedregal, the Montage Los Cabos and The Cape are at the top of the list of world-class hotels and resorts in Los Cabos. Each property flaunts its own character, but luxurious amenities, personalized service and immaculate design are the central themes for these renowned hotels.
Or, choose from the selection of opulent villas and suites so large they feel like your own private residence. Four Seasons Resort Los Cabos at Costa PalmasTM offers a three-bedroom oceanfront villa that effortlessly brings the outdoors in with open-air spaces, an expansive terrace and three plunge pools. The villa also comes with a private chef and a Four Seasons Personal Assistant . Well-appointed private homes and mansions are also available throughout Los Cabos and often have oceanfront views, infinity pools and can accompany a large number of guests.
Fresh, innovative cuisine created by world-renowned chefs.
The intriguing and ever-changing cuisine of Los Cabos put the destination on the international culinary stage. Distinctive dining choices include world-recognized restaurants like Nobu and various restaurants around the region spearheaded by award-winning chefs. Los Cabos also perfected farm-to-table dining, inviting you to get a taste of the region's finest ingredients at well-appointed restaurants. If you're looking for a gastronomy event exclusive to only you and your guests, Los Cabos' elite personal chefs offer private dining experiences, custom menus and unrivaled cuisine for high-profile visitors.
 
Los Cabos has its own definition of luxury. It is a destination poised for travelers and high-profile figures looking for a private, personalized escape full of sunshine, curated experiences and world-renowned hotels and restaurants.