Get ready for the adventure of a lifetime.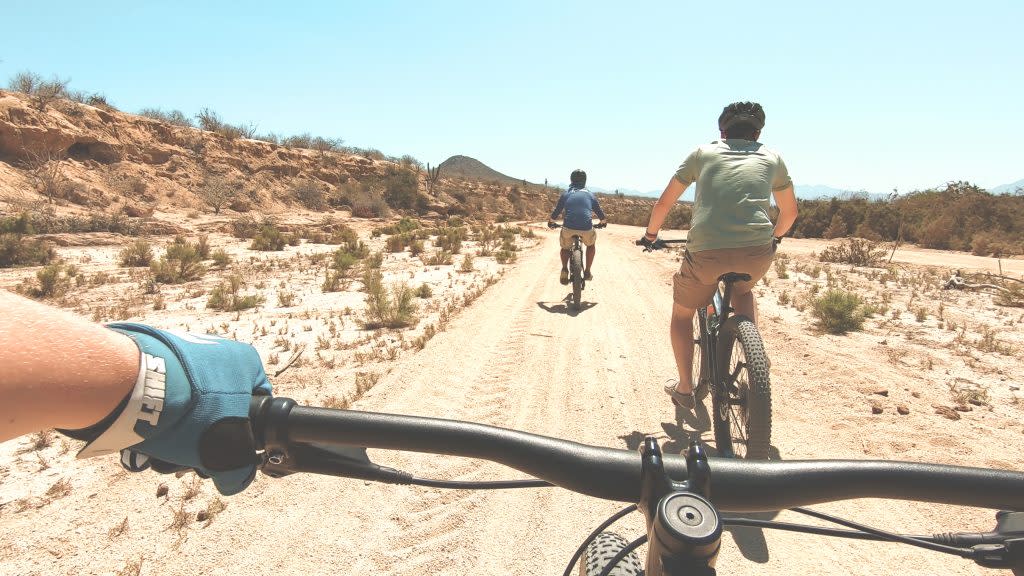 Some say the world looks better when you're on two wheels. So just imagine looking out at Los Cabos' inspiring desert-meets-the-sea landscape from the seat of a mountain bike. Stunning. And at the end of the day, retire to a luxurious glamping tent under the stars. This is what we like to call "Blamping." And it's gaining popularity in Baja California Sur, especially for those seeking a distinctive travel experience of the more adventurous variety. Here's what you can expect from this memorable excursion. 
This experience stretches out over three action-packed days, beginning with arranged transportation for you and your equipment from your Los Cabos hotel. Kick off the journey with a scenic road trip, with stops to rest, explore and sample delicious local cuisine in Todos Santos and El Triunfo.
Soon you'll arrive at Rancho Cacachilas, a working ranch outfitted with world-class trails groomed for biking, hiking and trail running. Upon arrival, you're welcomed with fresh juices made from desert fruits of the region. Settle into your luxury tent, taking in views of the Sierra Cacachilas and the sparkling Sea of Cortez. Get a good night's rest, because the next day is all about hitting the trails.
On day two, wake up to a nutritious breakfast of fruits, grains, cheeses and breads to help fuel your day. Properly fortified, you're ready to take to the trails winding their way through colorful hills and dryland forests. There's a trail for every ability, and the expert staff will help you choose the best one for you.
When you've completed your ride, relax with friends in the ranch's small pool or community room, and come together with other riders for a meal of farm-to-table fare. After dinner, retire to your tent under a blanket of glittering stars.
The trip winds down with a leisurely drive back to Los Cabos, but not before a special pitstop in El Triunfo for a historical walking tour. To complete your experience, enjoy a special mezcal sunset cocktail at El Mirador, toasting to your adventures with a beautiful Baja sunset as your backdrop. What a ride!