Discover Day of the Dead festivities in Los Cabos.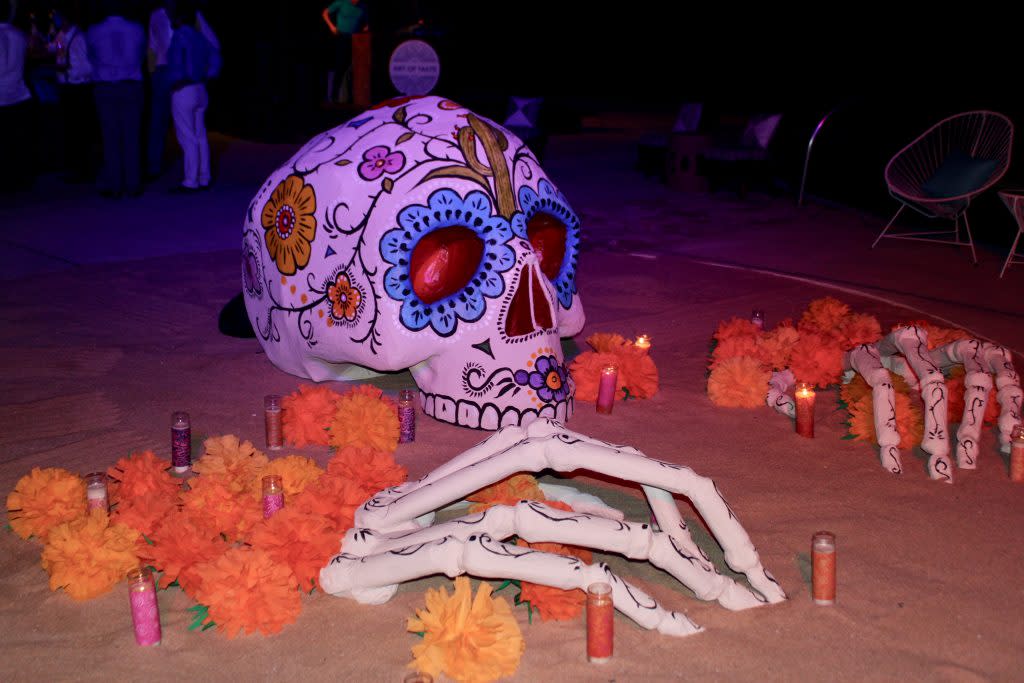 Dia de los Muertos is celebrated around the world, but the holiday is most strongly identified with Mexico. You probably recognize the symbol of calacas (skeletons) and calaveras (skulls) that are splashed with vivid colors, whether they are decorated for parade masks, candy or as dolls. But do you know the history of Dia de los Muertos and how the celebrations honor the dead? 
Dia de los Muertos is a two-day holiday that celebrates loved ones who have passed away, rather than mourning them. Lively festivities, colorful flowers like bright yellow marigolds decorate ofrendas (offerings) and loved ones' favorite foods and drinks are all a part of honoring each person and the activities they enjoyed in life. The celebrations are also to encourage the dead to be awakened from their eternal sleep, so that they can also take part in the festivities with their loved ones in spirit. 
Los Cabos is the perfect place to experience the colors, festivities and traditions of Dia de los Muertos. Its iconic setting — where the desert meets the sea — provides a stunning backdrop to any Day of the Dead celebration, whether it's a parade through the charming streets of San Jose del Cabo or a festive dinner overlooking El Arco.
If you are traveling to Los Cabos for Dia de los Muertos, check out the Secrets of the Catrinas festival from October 31 - November 2 in San José del Cabo. The 3-day program allows visitors to participate in traditional Dia de los Muertos activities through art installations, performances, and workshops, such as a pan de muerto cooking class on November 1. 
Local art galleries, restaurants, and shops will set up alteres made of flowers, candles, and food outside their doors to honor deceased family members and loved ones. At Plaza Mijares, you will find 9-foot-tall Catrina statues, created by local artist Alfredo Sosa. The skeleton women tower over you and your family, creating the perfect photo opportunity. 
More details about the festivities will be shared soon! Please follow us on Facebook, Twitter, and Instagram to receive the latest updates for this important celebration.