By Sr. Cabo Golf
Los Cabos is hot. Not just the weather, which is reliably sunny and pleasant, but the golf scene. Over the past 25 years, the infusion of world-class golf in and around Cabo's 20-mile coastal corridor has given avid players a very good reason to visit Mexico's most vibrant destination.
Situated at the tip of the Baja Peninsula, Los Cabos boasts an extraordinary mountain-desert-ocean environment where the game's top designers have crafted some of the world's finest courses. Only here do verdant fairways drop from cactus-studded foothills to golden beaches and the deep blue sea.
Jack Nicklaus, the "Golden Amigo," should take a bow. Nicklaus, who first visited Cabo San Lucas in the mid-1960s to troll for trophy marlin, put Los Cabos on the international golf map with his designs at Palmilla in 1992 and the Ocean Course at Cabo del Sol in 1994 (see below). He's since returned to build four additional layouts, single-handedly catapulting Los Cabos into the golf vacation stratosphere.
Quivira Golf Club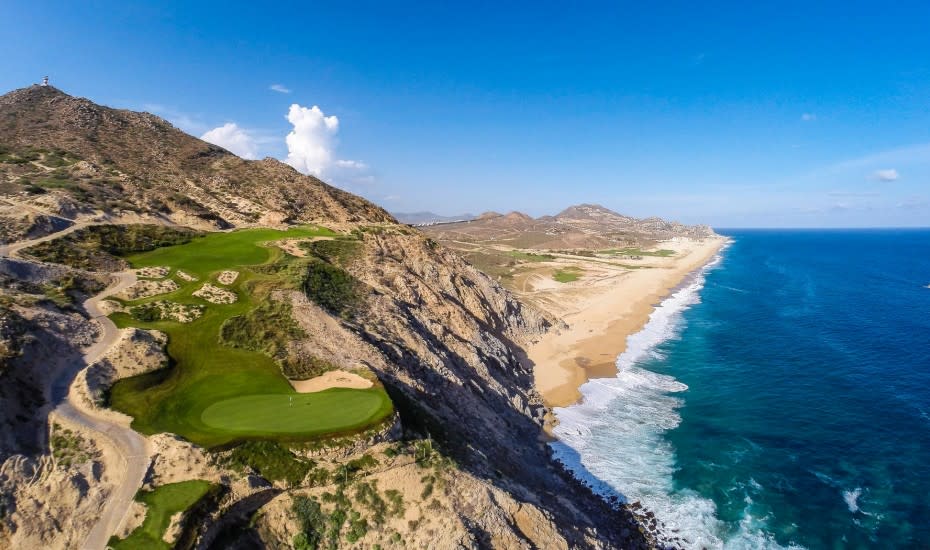 Handed a dazzling site at the tip of the Baja Peninsula marked by huge windswept dunes, sheer granite cliffs and rolling desert foothills, Jack Nicklaus used every tool in his kit to build a course that ranks among the most eclectic and exotic he has designed to date.  In addition to its spectacular views and breathtaking drops from tee to fairway, Quivira, unveiled in 2014, offers more oceanfront exposure than any other course in Los Cabos. All 18 holes feature panoramic vistas of the Pacific and, in the winter months, views of breaching whales.
Following a major makeover to repair damage caused by Tropical Storm Lidia, Quivira reopened last fall with several enhancements designed to improve visual framing and strategic options. Selected turf areas on the 7,085-yard layout were restored and replanted, notably at the dramatic par-4 fifth hole, which traces the edge of vertical cliffs 275 feet above the sea. Nicklaus Design team consultants lowered the fairway and eliminated the bunker along the left side to produce a wide plateau on which players can land their tee shots. In addition, a rough cut on all perimeter areas now help to collect balls and keep them in play.
As per Jack's original sketch for the hole, a bunker cut into the hillside at the far end of the fairway now serves as an ideal aiming point from the tee. "From the first time I saw this extraordinary site, I knew this would be an amazing location for a short par 4," Nicklaus stated. "The restoration maintains the character of the hole as one of most visually stunning par 4's in the world."
Puerto Los Cabos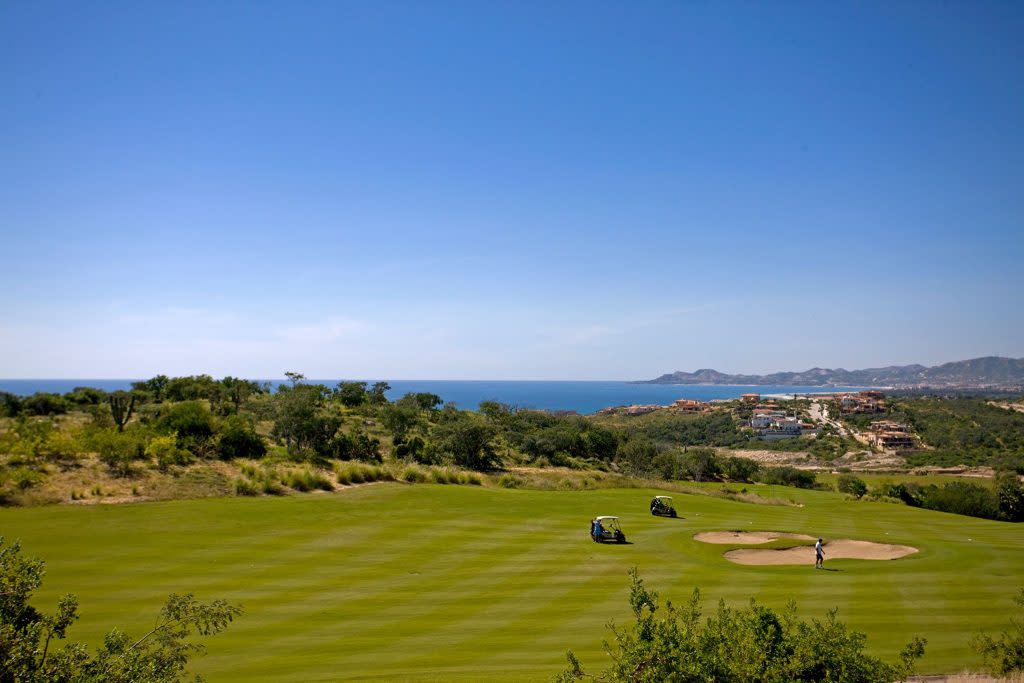 A sprawling resort community situated on the East Cape a short drive from San Jose del Cabo, Puerto Los Cabos has functioned as a hybrid venue for 10 years, with nine-hole courses designed by Jack Nicklaus and Greg Norman. Until now.
As per the original blueprint, Nicklaus has returned to build a second nine at Puerto Los Cabos. Opened for limited play last month and scheduled to open for resort play in early February, the new holes emulate the original design style. Well-contoured greens, large sculpted bunkers and sharp elevation changes mark the new additions, a couple of which swing past the Secrets Puerto Los Cabos Golf & Spa Resort. The opening stretch, routed at sea level and swept by gentle breezes, are designed to get players off to a good start, but the picturesque closing stretch—holes 6 through 9—ascend to higher ground and present a formidable challenge.  Nicklaus reversed the direction of the former 10th hole to create the new par-5 ninth, it's wide, hummocky fairway tumbling downhill to a green defended by a pond. Jack also built a new 10th hole, this one a sturdy 541-yard par 5 that skirts an arroyo and climbs to a tabletop green.
Puerto Los Cabos also has a sparkling new clubhouse opened last October, an excellent snack bar with shaded outdoor seating, and a fleet of new platinum-colored golf carts with USB ports (personal music!) and Visage GPS monitors.
Cabo del Sol
A premier 36-hole resort complex, Cabo del Sol is anchored by a spacious Spanish Mission revival clubhouse with open-air verandas, landscaped terraces—and one of the best Sunday Brunch spreads in Los Cabos. New Visage GPS units in the golf carts provide accurate to-the-pin yardages daily, while course maintenance and beverage cart service on the club's two layouts has been enhanced.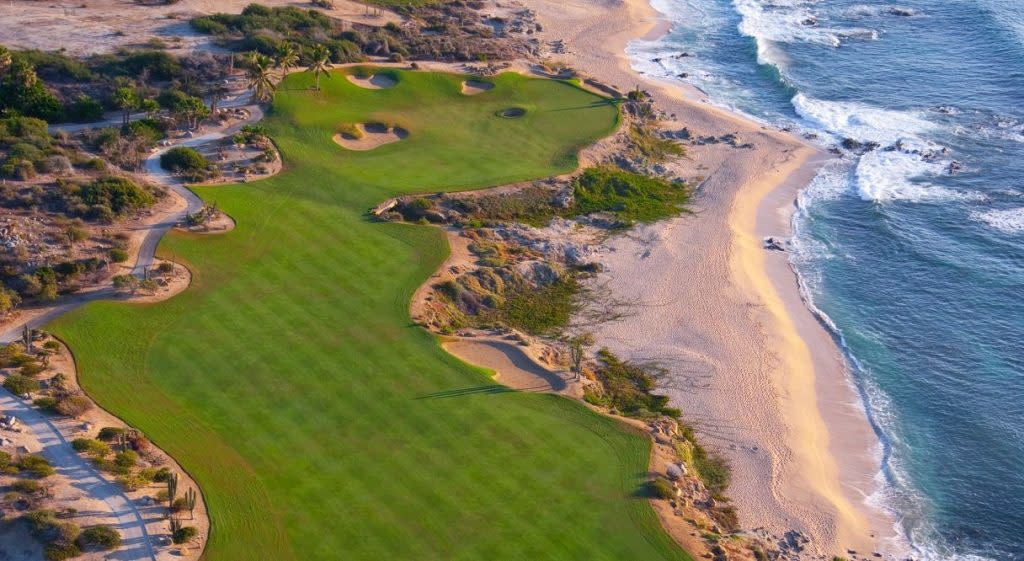 Debuted in 1994 and the centerpiece of Cabo del Sol's 1,800-acre resort community, the Ocean Course is a seaside masterpiece worth crossing a continent to play. Intent on producing the 'Pebble Beach of the Baja,' designer Jack Nicklaus, who described the site as "the best piece of golf property I've ever seen," routed holes across gently sloping land creased by broad sandy arroyos and set below tall rugged mountains. Seven holes touch a coastline rimmed by craggy granite outcrops and sun-drenched beaches. From the tips at 7,111 yards, do-or-die shots must be played across inlets of the sea, though forward tees put most of the danger out of harm's way for duffers. Under the guidance of Nicklaus Design, the club last year completed a major bunker restoration that brought the layout's strategic elements into sharper focus.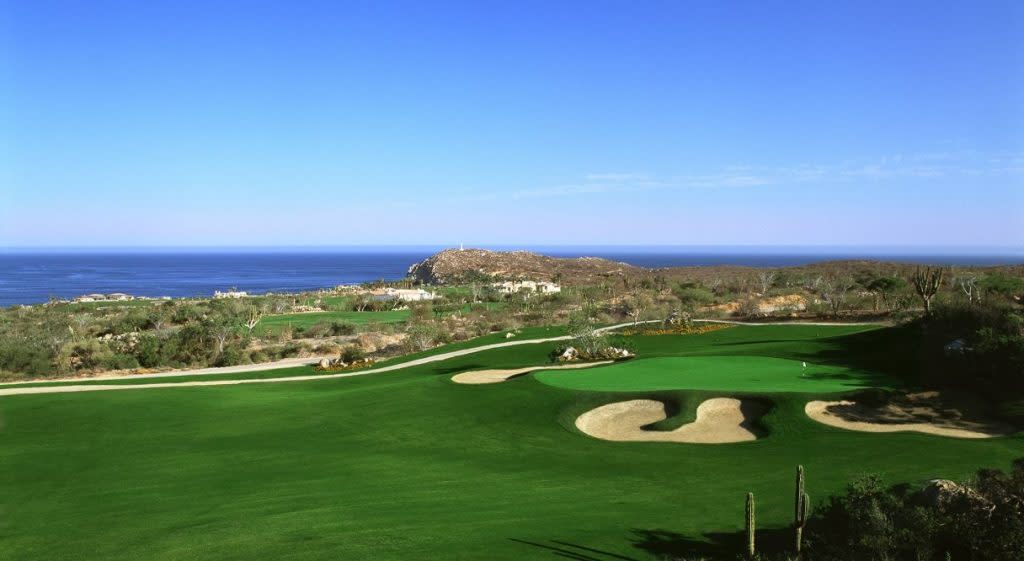 Routed in mountain foothills high above the marquee layout is the Desert Course at Cabo del Sol, Tom Weiskopf's first design effort in Mexico. All 18 holes on this superb layout serve up panoramic views of the turquoise-blue Sea of Cortes. Shoehorning holes into rugged desert terrain crisscrossed by canyon-like arroyos, Weiskopf produced a versatile layout, creating broad fairways framed by granite rock outcrops and a dense cactus forest. Semi-blind drives, daunting approach shots, and fantastic pace and variety have kept players coming back for more. With its clever blend of long and short holes, the Desert Course presents a memorable test. And a tasty one, too: the revived palapa at the turn now serves one of the best hot dogs in Cabo (apply the diced jalapeno peppers for an added kick!).
Palmilla Golf Club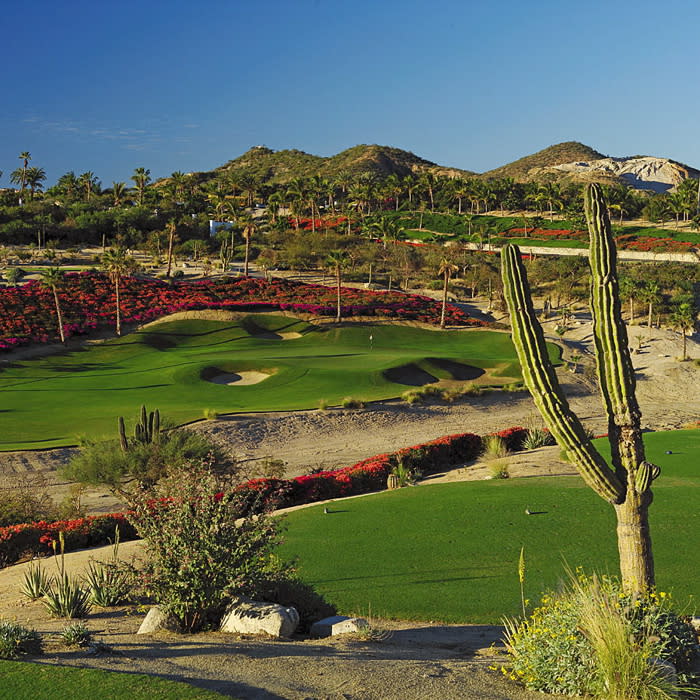 The first Jack Nicklaus Signature course in Latin America, Palmilla's Mountain and Arroyo nines set the stage for top-shelf golf in Los Cabos when the core 18 opened in 1992. Treated to a $3.5 refurbishment three years ago, the layout is better now than when it was new.  Additionally, a greenside bunker renovation was recently completed on the Mountain nine, with the second two nines slated to get the same treatment this summer.
The golf club is located five minutes from One&Only Palmilla, a legendary hideaway built in 1956 by the son of a former president of Mexico. This ultra-luxe beachfront property, a favorite of Hollywood A-listers, reigns as the grand dame of Cabo's 5-star hotels. The hotel's food and beverage director and bar manager are currently working with the golf club to upgrade its food and cocktail menus.
Dropped into in a box-shaped canyon, Palmilla was the first course in the hemisphere to partake of the region's unique mountain, desert and ocean ecosystem. Routed around cactus-covered hills, boulder-strewn arroyos and vast waste bunkers, the layout's wide fairways and open-entry greens accommodate players of lesser attainment. The Ocean nine, added in 1999, features a 600-foot elevation change from the first tee to the sixth green, carrying players from the mountains to the sea.
Soon to Open: Rancho San Lucas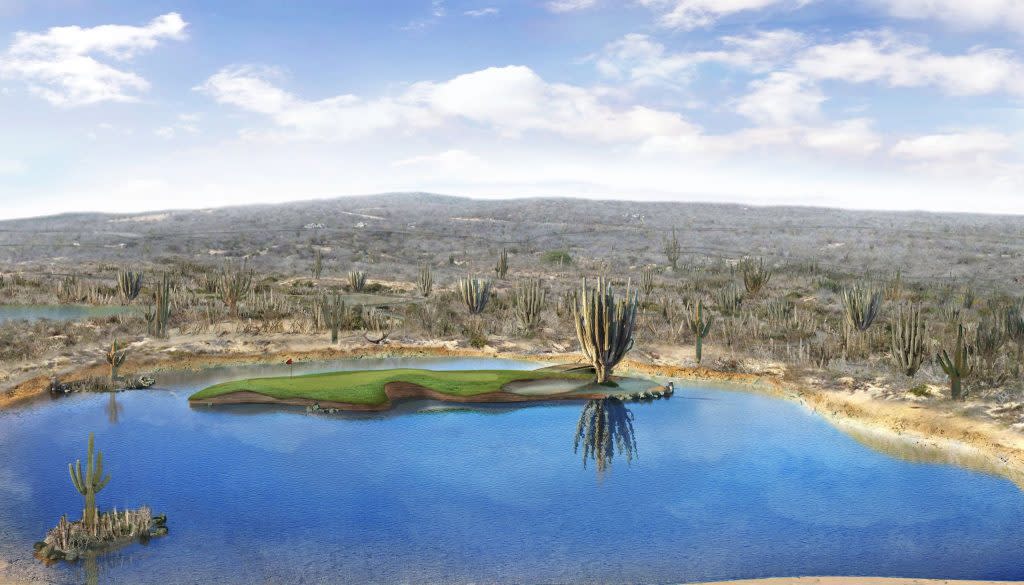 Greg Norman is busy building a new 'least-disturbance' 18-hole course at Rancho San Lucas, a highly-anticipated 734-acre resort and real estate development set back from a secluded stretch of the Pacific Ocean due north of Diamante. Anchored by a newly opened Grand Solmar resort hotel, the upper portion of the course is being laid into a thick desert forest on sloping terrain creased by arroyos, with the remainder of the holes carved into enormous rolling dunes near the sea. All 18 holes feature an ocean view. Several holes on the breezy layout are expected to be playable by November, with a grand opening of the completed 18 planned for winter 2019. "The golf course has a little bit of everything Cabo is famous for," said Brad Wheatley, director of golf. "There's cactus, dunes, rocks and arroyos" on a stunning oceanfront site backdropped by mountains.