Looking for a lively evening drink or interested in sampling cocktails from rooftop bar to the next? No matter what suits your fancy, Los Cabos' nightlife has something for everyone with exceptional views to match.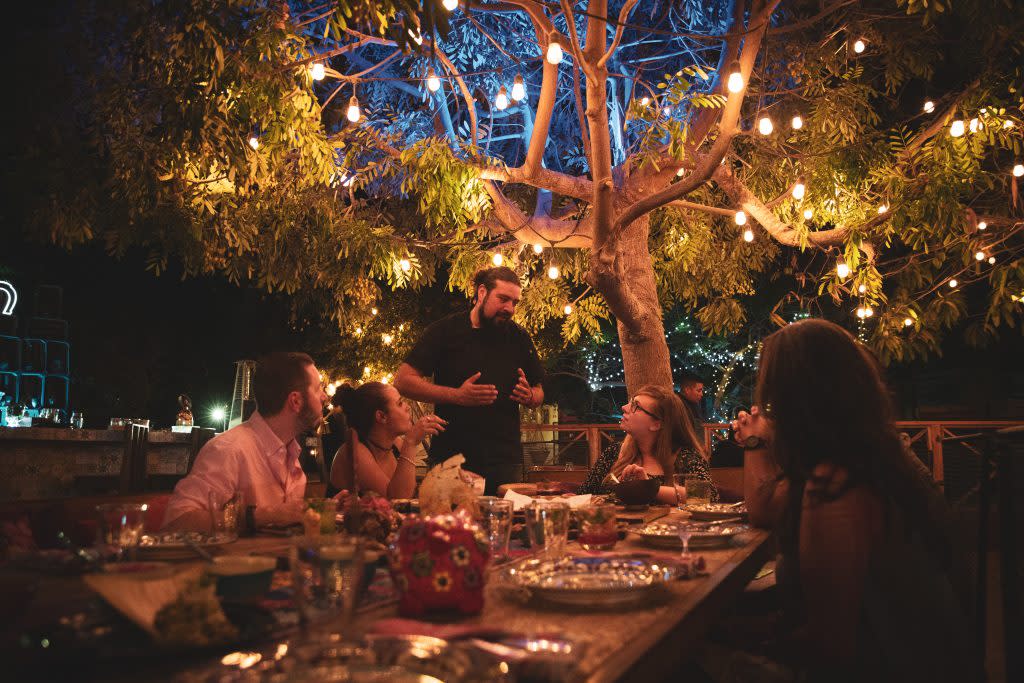 When the sun sets in Los Cabos, rooftop bars, local breweries and chic beach clubs become the next thing on your itinerary. Experience the laid-back and welcoming atmosphere at these iconic nightlife destinations in Los Cabos and say "cheers" to your Baja adventure.
Where the Sky Meets the Sea
Sophisticated yet relaxed, Cielomar at the Viceroy Los Cabos is a hideaway that boasts uninterrupted views of the ocean and delicious handcrafted cocktails. Try the Faba Star cocktail, which blends an intriguing mix of gin, elderflower and citrus.
Next Level Rooftop Views
The renowned hotel The Cape has raised the bar with its unrivaled rooftop bar, aptly named The Rooftop. Al fresco dining, plush chairs and stunning views of El Arco await at this chic retreat. Mixologist Hector Ramirez shakes up delicious craft cocktails, including mezcal-infused concoctions and sunset-themed drinks.
Reminisce on a Bygone Era
The Dalton Gin Bar stirs up sentiments from the past with elegant gin drinks and romantic décor. Located on a rooftop in San Jose del Cabo's charming downtown, a sip of an expertly crafted gin cocktail will whisk you away to another time. Say cheers with any of the unique selection of cocktails created by Osvaldo Vasquez, like the Daltonico, a delicious creation infused with Campari, St. Germain, orange juice, sparkling water and raspberry powder.
Drink in the Sunshine
Embrace the welcoming spirit at Bar Esquina, where live music and a vibrant atmosphere bring together locals and visitors alike. Inventive cocktails and a hybrid of Mexican and Mediterranean cuisine are the highlights of the menu, so make sure to order a healthy amount of appetizers and tequila cocktails.
Brews The Baja Way
The idea of Baja Brewing Company came to fruition in 2008, and today it is a can't-miss spot in Los Cabos. As the first microbrewery in the area, Baja Brewing Company makes a range of beers that can be enjoyed in the local taproom in San Jose del Cabo, in the Cabo Villas and in the Cabo Marina. The beer here has won national and international awards, and they also have an adorable donkey as their logo.
Day or night, there's always something to do in Los Cabos. Whether you're seeking a romantic date for two or want to discover the local vibe, these nightlife spots are excellent places to start for your evening adventures.