You've heard all about Cabo's reputation as a world-class golf destination. About the fact it's the undisputed 'Golf Capital of Latin America.' That it's home to three courses on Golf Digest's elite roster of the "World's 100 Greatest Golf Courses."
For the novice or beginner, these sorts of accolades can be daunting. Maybe you're a once-in-a-while player on a family trip. Maybe your spouse or one of your kids would like to give the sport a try.
Here are a couple of easy entry points and affordable options to consider on your next Cabo vacation.
The destination's original golf facility is Vidanta Golf, a pleasant 9-hole layout in San Jose del Cabo conceived in the mid-1980s by FONATUR, a government tourism agency. The goal at the time was to broaden the appeal of what was then a sleepy fishing getaway.
Designed for enjoyment and an ideal choice for a casual outing, the golf course, routed on gently rolling terrain, is a compact layout set within a resort and residential development. High points on the course serve up fine views of the Sea of Cortes and tall peaks in the Sierra de la Laguna Mountains.
There are 32 bunkers, undulating greens and a rock-walled lagoon to negotiate, but overall, Vidanta Golf offers the gentlest test in town. Players can select tee markers that match their ability level. There are four sets of tees, ranging from 3,153 to 2,464 yards. Par is 35. 
Located five minutes from downtown San Jose del Cabo, Vidanta Golf offers excellent value. Through October 15, the 9-hole rate is $59, which includes unlimited food and beverages during the round, shared golf cart and access to the club's practice area. Nine holes can be completed in two hours, which leaves the rest of the day for other fun activities. The 18-hole rate is $75 after 12 noon.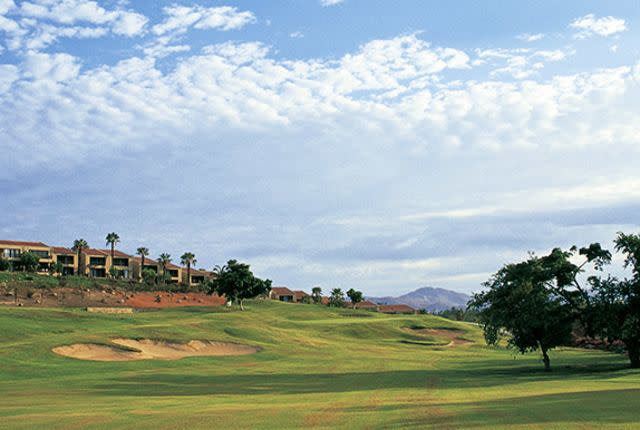 Those who prefer to walk are welcome to stroll the fairways in the afternoon, an option not available at other Cabo courses. Pull carts can be rented.
Rental clubs ($25 for nine holes, $40 for 18 holes) are available, as are golf shoes. Visiting solo? Singles are accepted and may be paired upon request.
When the round is done, players can tally up their scores on the clubhouse verandah and enjoy one of the club's signature cocktails.
Tee times: https://www.vidanta.com/en/web/los-cabos/golf
At the opposite end of the corridor is Cabo San Lucas Country Club, the only venue in Los Cabos with views of the iconic sea arch and rock formations at Land's End. The club's original 18-hole course was laid out in 1995 by Roy Dye (brother of Pete Dye). It was later completed by Roy's son, Matt Dye. 
Previously one of the longest and most challenging courses in Los Cabos, this parkland-style layout was remodeled in 2018 to enhance playability. Now measuring 6,865 yards (par 71) from the tips, with four sets of forward tees, this public-access facility resembles courses in the desert regions of southern California, starting with the beautiful mountain views. Waste bunkers, tall cardon cactus and colorful bougainvillea girdle the gently rolling fairways. Lakes bring water into play at several holes, notably at the testing par-4 ninth and 18th holes. The Country Club is a target-style, risk-reward design that rewards prudent play, not heroics.
Agustin Piza, a Mexican designer, recently built several new holes at the club to improve sightlines. In particular, the club's back nine was shortened and its corridors widened to expand the layout's ocean views. The new and revised holes feature improved flexibility from the forward tees and better risk-reward scenarios from the back tees. The greens on the remodeled holes are large and undulating. Bunkers throughout the course were reshaped and upgraded.
Through Oct. 15, the 18-hole green fee ranges from $70 to $155, depending on the time of day. Rates include shared golf cart plus food & beverages. Rental clubs are available.
Convenient to Cabo San Lucas-area hotels as well as cruise ship arrivals, the Country Club is home to the only lighted driving range in Los Cabos. It's a perfect complement to a town renowned for its nightlife and revelry. It's also a perfect place for family and friends to hit a few balls and have a good time after dark.
The spacious facility, adjacent to the clubhouse, offers dozens of hitting stations, with flagsticks marking the target greens on the driving range. There's also short-distance target nets, a floodlit putting green and chipping green and, best of all for night owls who arrive without clubs, use of free equipment.
"With our full-service sports bar, outdoor patio and VIVA Restaurant, we're trying to create a relaxed, user-friendly atmosphere," said club manager Alfonso Terrazas. In a game that takes itself seriously, Terrazas said the idea is for golfers to have fun after dark at one of the friendliest clubs in town. Live music is featured on selected nights of the week.
There are also several food, drink and practice ball specials. For example, the Eagle, "ideal for couples," includes four quesadillas with flank steak, two domestic beers and a bag with 50 balls for $350 MX (approximately $17.50 USD).
Golf in Los Cabos is an upscale sport that attracts serious players, but Vidanta Golf and Cabo San Lucas Country Club give carefree holidaymakers a chance to have a little fun without breaking the bank.  https://cabocountry.com/