For the first time, the largest congress for professionals in the wedding industry, DWP (Destinations Wedding Planners Congress) was held in Latin America, and was hosted in the port of Los Cabos; event with which the destination's International Convention Center was reactivated.
The Congress was held from April 10 to 12, and brought together 600 specialists in planning and organizing weddings, from 65 countries, this will contribute to the consolidation of Baja California Sur internationally in the segment of meetings and conventions tourism.
"The DWP not only seeks the promotion of Los Cabos, but also of all the destinations of the entity," Ruíz Hernández said, noting that they are owners of unique natural scenarios and high-quality infrastructure.
Los Cabos International Convention Center (ICC) unveiled the highly-anticipated and newly renovated convention center, marking a new era for Los Cabos as a premiere host destination for world-class events. The grand-reopening coincides with the kickoff of the fifth annual Destination Wedding Planners Congress (DWP) which will be held at the ICC from April 10 to 12, 2018. Highly regarded as one of the wedding industry's marquee gatherings, DWP will bring together more than 600 destination wedding professionals from 65 countries to Los Cabos to experience all the destination has to offer, highlighting its excellent connectivity, quality infrastructure and its unmatched natural beauty. With more than 72,000 square feet of functional meeting space for large-scale events, the center can accommodate a capacity of 8,000 people.
Located in San Jose Del Cabo, the new ICC is a major attraction for the Meetings, Incentives, Conferences and Exhibitions (MICE) segment. As such, the center will become a key catalyst in driving national and global tourism to Los Cabos and Baja California Sur. Last year, Los Cabos tourism grew by 16 percent, hosting 3 million tourists in total – its strongest tourism performance since 2010.
"The renovation and grand reopening of this state-of-the-art convention center is a transformative moment for Los Cabos tourism as we elevate our offerings across the board to attract new travelers – business and leisure alike – to the destination," said Rodrigo Esponda, Managing Director, Los Cabos Tourism Board. "The new ICC is a testament to Los Cabos' resilience and commitment to establishing its profile as a destination of choice on the global stage. We welcome the world to Los Cabos to experience the new ICC and our destination."
In 2017, the meetings industry represented 14.3 percent of tourist arrivals to Los Cabos with more than 340,000 visitors. Statewide, meetings also accounted for 7.8 percent of Baja California Sur's GDP. As global tourism surges, Los Cabos is uniquely poised to expand its market share of Mexico's 35 million annuals visitors. Given its international dominance, projected to reach $1,245 billion in 2023[1], the MICE industry represents a strategic avenue as Los Cabos looks beyond the U.S., Canada and Mexico to sustain its impressive wave of growth.
Commemorating ICC's relaunch by hosting DWP, brings to life the vision of Los Cabos Tourism Board who edged out several national and global competing destinations to secure the sought-after event in Los Cabos for the first time.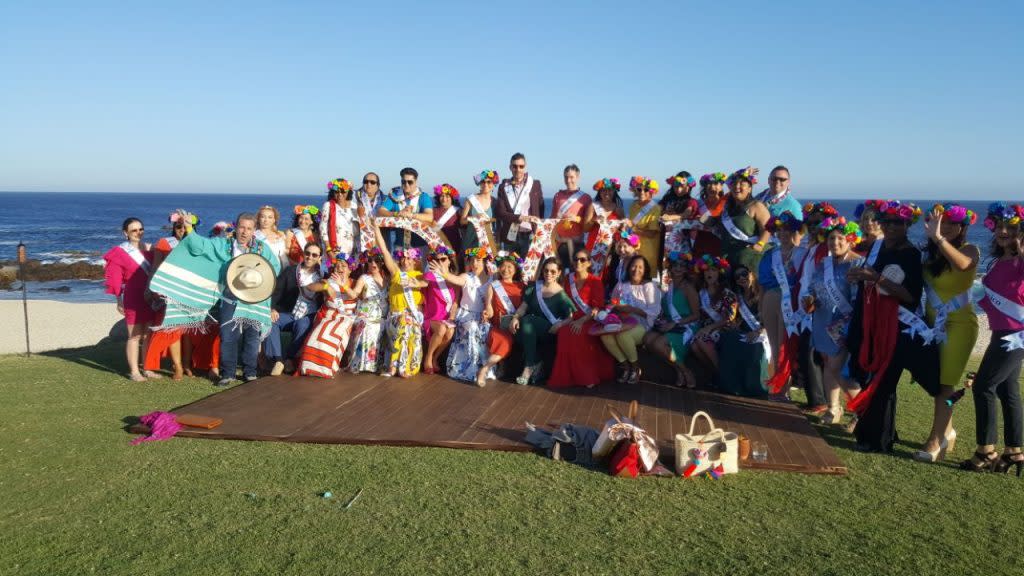 Over the last decade, the destination wedding segment has exploded by400 percent and, as a whole, Mexico receives about 23 percent of destination weddings from the United States representing a strong growth opportunity for Los Cabos. Currently, just 6 percent (144,000) of annual tourists visit the destination for wedding-related activities. DWP will be a strategic platform to generate future opportunities for Los Cabos and elevate its profile as a leading wedding destination on the global stage.
With a new $50 million airport terminal expansion project launching this year, $1 billion investment in hotel investments and 5000 new rooms slated to come online by 2023, Los Cabos is experiencing an infrastructure boom. The destination has also seen a notable increase in connectivity with more than 500 weekly flights. Built with sustainability at its core, the new ICC is a modern, LEED certified meeting facility featuring state-of-the-art technology, solar panels, water treatment and reclamation facilities and LED lighting.  The ICC will also be home to the world's largest green wall (29,000 square feet), which serves as an insulator and prevents the building from overheating in warm summer months.
Los Cabos International Convention Center (Fast Facts)
67,758 square feet meeting space
8000-person capacity
3 exhibition areas
11 breakouts
440 parking spaces
1008 solar panels producing 412,000 KW
Largest green wall (29,000 square feet)
Over 700,000 sq. feet land mass
About Los Cabos Los Cabos, located at the tip of the 1,000-mile long Baja Peninsula, is one of the world's most diverse tourism destinations. Boasting a dramatic desert backdrop nestled by coastlines of the Pacific Ocean and Sea of Cortez, Los Cabos is home to award-winning resorts and culinary offerings considered some of the finest available anywhere. A growing list of championship golf courses, rejuvenating spas, world-renowned sport fishing tournaments, and state of the art convention facilities add to the destination's unmatched appeal. For more information, images and videos from Los Cabos, please visit www.visitloscabos.travel, follow us on Twitter @LOSCABOSTOURISM and visit us on Facebook, YouTube, and Instagram.
[1] https://www.alliedmarketresearch.com/MICE-industry-market
CONTACT:
Sabel Carreon
PR Manager
+52 624 143 55 31