The Best Places to Sample Mexico's Unique Alcohols in Los Cabos
In a mixological sense, when people think of Mexico, chances are they'll likely jump straight to tequila. And while the drink is almost synonymous with drinking culture in Mexico in the minds of foreigners, it's far removed from the bigger picture of agave spirits. Both have their own flavours and drinking styles, but one thing's for certain, you're almost guaranteed to find a blend you like!
Mezcal vs Tequila
The question that might first come to mind is "what's the difference between Mezcal and tequila?" The simplest explanation is that while all tequila is Mezcal, not all Mezcal is tequila. Mezcal is a category of alcohol distilled from the juices of any agave plant, a succulent plant mostly native to Mexico. Tequila on the other hand, is specifically made from the Blue Agave plant, with higher quality tequilas made exclusively from blue agave.
Both liquors are then cooked in an oven before being crushed (traditionally under a horse-drawn rolling stone), and the juices distilled at least twice.
Additionally, Mezcal should only be produced in one of 7 designated Mexican states, and tequila from only one state, and limited other municipalities. Both drinks have been produced (and imbibed) for hundreds of years.
As with many types of other drinks, different regions produce slightly different drinks, each with their own flavour profiles, but, as a general rule, Mezcal is typically smokier, richer and sweeter than tequila.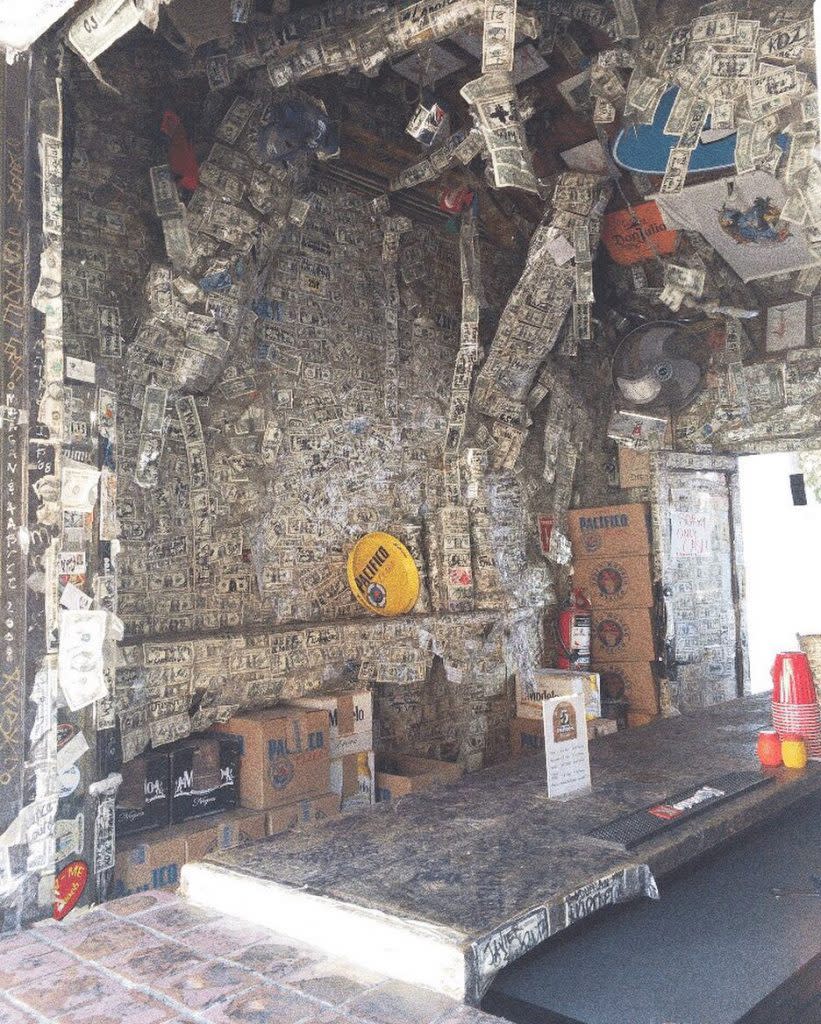 Image: Instagram - @hopeisabellaaa
Tequila in Los Cabos
Almost anywhere that serves alcohol will have a solid selection of Tequila in Los Cabos, but there are some stand-out venues with their own little quirks. Slim's Elbow Room in Cabo San Lucas claims to be the world's smallest bar, and considering tiny hole-in-the-wall space they have to work with, they could well be right! Only four patrons at a time are allowed into the bar to sip and sample, and customers are encouraged to leave a dollar (of any currency) attached to the wall, and you'll be impressed with where they've managed to fit them all!
For a little extra room, head around to the Tequila Shark bar on the waterfront of Cabo San Lucas' marina, where the great view and outstanding menu is paired with a tequila menu that's as expansive as the Pacific Ocean. If you've had a hard day on a sailing cruise to the Arch, this establishment close enough to kick off your evening beverages without walking too far.
For a more high-end tequila experience, look no further than the bar at the Tesoro rooftop Skypool, overlooking the marina. Between the warm fireside lounges and cool infinity pool, you'll definitely find a space to kick back and relax, sip and watch the sun set over the ocean.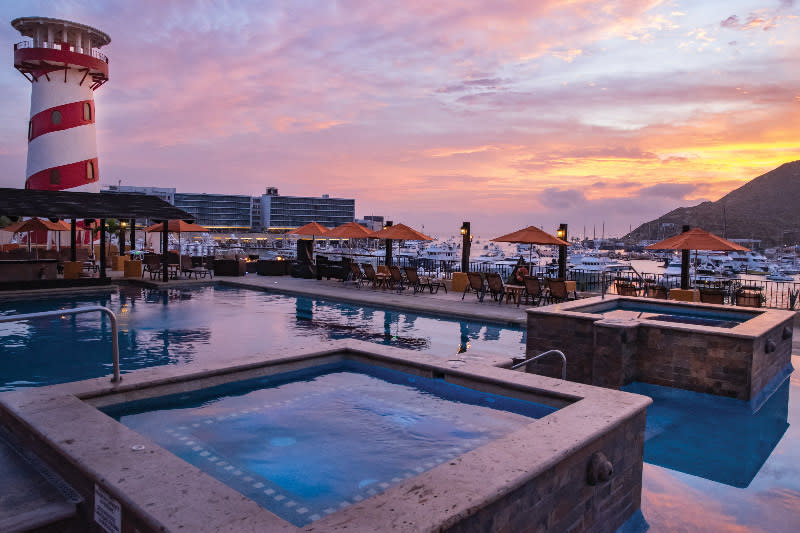 Image Courtesy of Tesoro Skypool
Mezcal in Los Cabos
While most of the party-centric venues in Los Cabos are located in Cabo San Lucas, San Jose Del Cabo brings its best to the table when it comes to Mezcal. La Lupita serves up some of the best tacos and Mezcal. These drinks can taste quite different if you're expecting something tequila-ish, but the diversity of flavours on offer will let you find something you're a fan of, no matter what you prefer. Another insider's tip is that the La Lupita Baja Scallop taco is to die for.
For a more diverse dining experience and equally impressive Mezcal menu, La Damajuana Mezcal Boutique provides some great culinary offerings like paella and regional cheeses, as well as seasonal Flamenco dancing, and a very well-stocked bar!