Staying directly on a swimmable beach isn't the only way to make the most of a beach vacation in Los Cabos. While Los Cabos is home to several hotels and resorts situated on swimmable stretches of sand, some of the most sought-after stays in Los Cabos are a brief distance from the shoreline. Explore the top resorts in Los Cabos with access to nearby swimmable beaches.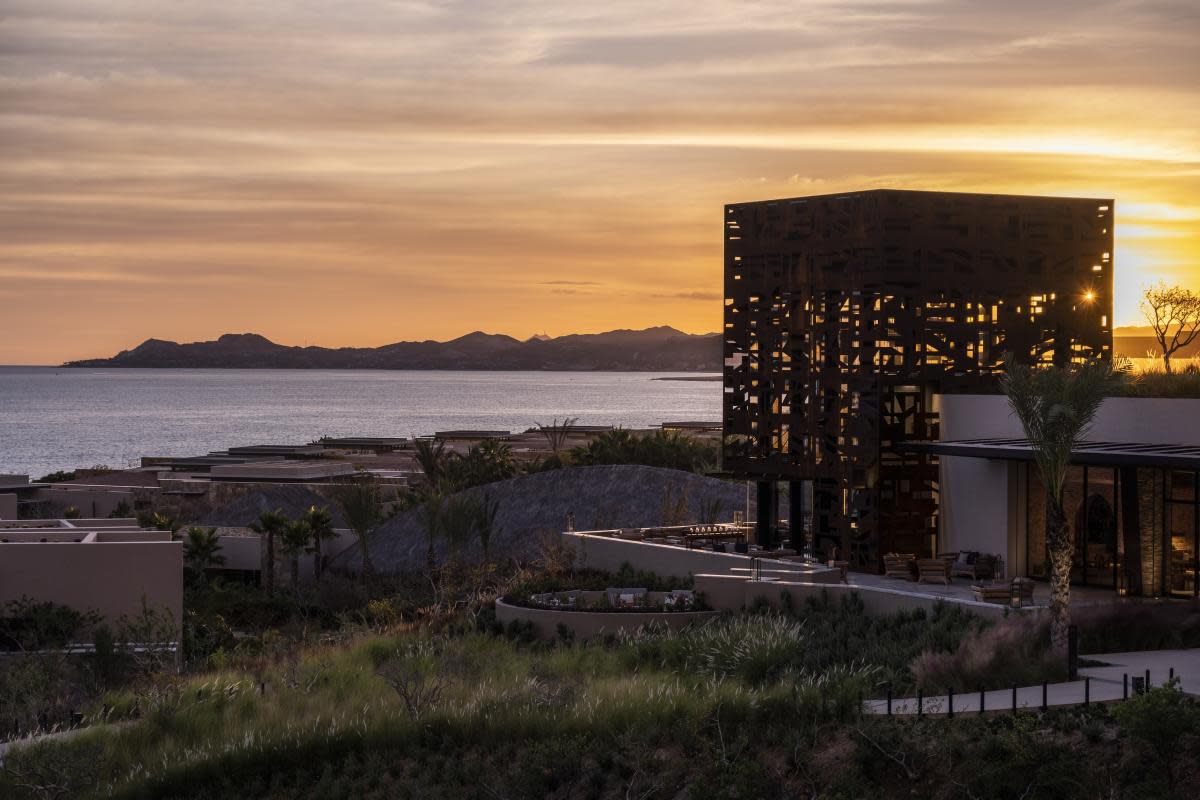 Zadún, a Ritz-Carlton Reserve, offers its discerning guests the ultimate beachfront experience with easy access to Los Cabos' swimmable beaches. Located on the picturesque coastline of San Jose del Cabo, Zadún's location provides direct access to the pristine shores of the Sea of Cortes. Guests can take a leisurely stroll along the beach or utilize the resort's complimentary shuttle service to reach the swimmable beach. The nearest beach to Zadún is La Playita, which is next to the beach club of Hotel El Ganzo. Palmilla is another good option, about 15 minutes away, due more to traffic.
One of the most popular swimmable beaches in Los Cabos, Playa Palmilla is located just a few miles away from Zadún and is a favorite spot for swimming, paddle boarding, and snorkeling. Playa Palmilla is also known for its shallow waters, making it a perfect destination for families with young children.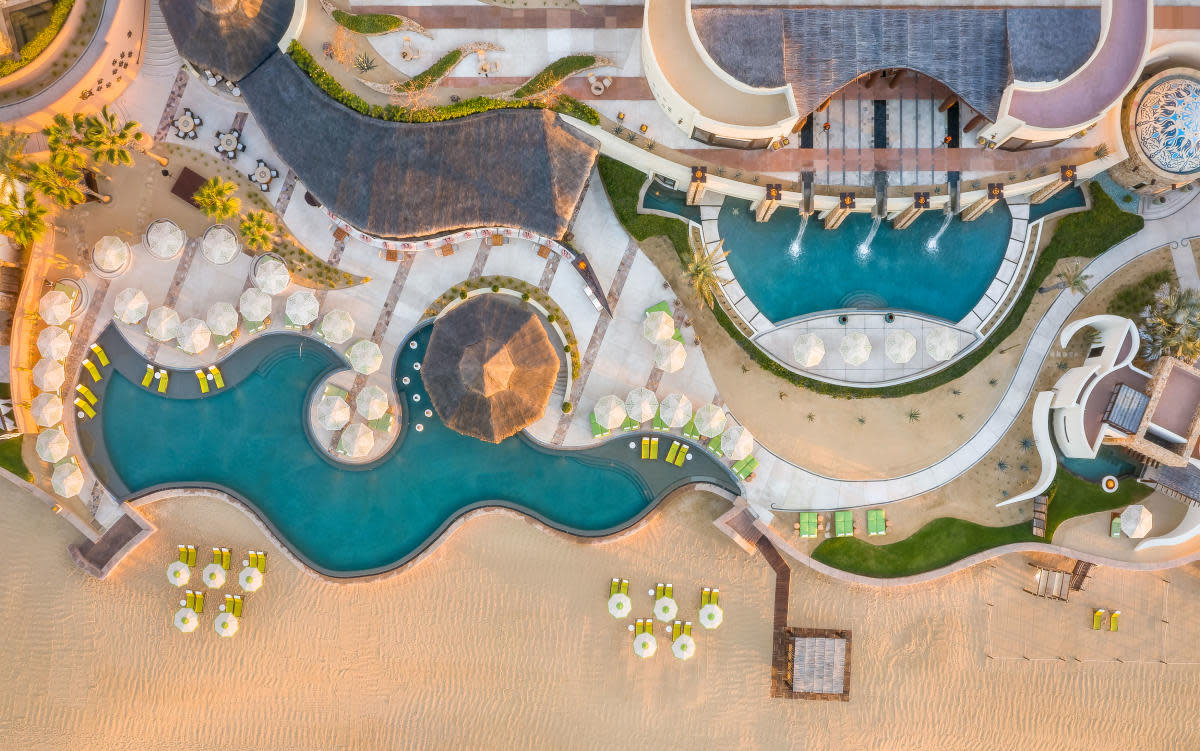 Waldorf Astoria Los Cabos Pedregal
Waldorf Astoria Los Cabos Pedregal offers its guests unparalleled access to some of the best swimmable beaches in Los Cabos. The resort boasts a prime location in Cabo San Lucas, with a private tunnel that leads directly to the swimmable beach of Playa el Médano.
This stretch of beach is known for its soft, white sand and crystal-clear waters, making it ideal for swimming, sunbathing, and water sports such as paddleboarding, kayaking, and snorkeling. The beach is also home to several beach clubs and restaurants that pair authentic Mexican cuisine with beautiful ocean views.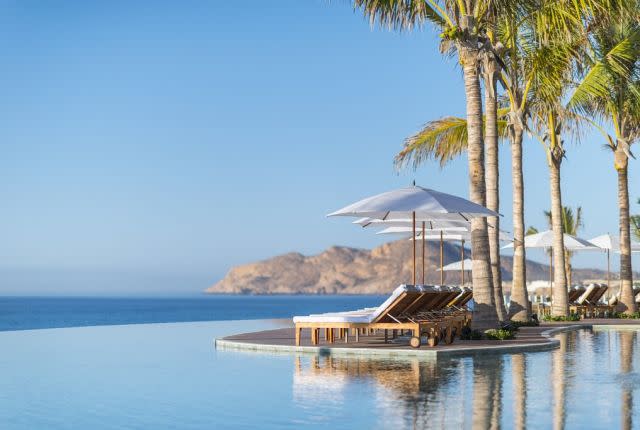 Playa El Tule is a convenient choice for anyone staying in the Tourist Corridor in search of a swimmable beach. The neighborhood is also close to Chileno, Santa Maria, and Las Viudas Beach. Grand Velas Los Cabos sits on the pristine shores of the Sea of Cortes and the resort offers direct access to a breathtaking swimmable beach. Guests can bask in the warm sunshine, sink their toes into the powdery sands, and take a refreshing dip in the crystal-clear turquoise waters. The resort itself is a haven of opulence, with elegantly designed suites that provide stunning ocean views and private terraces or plunge pools.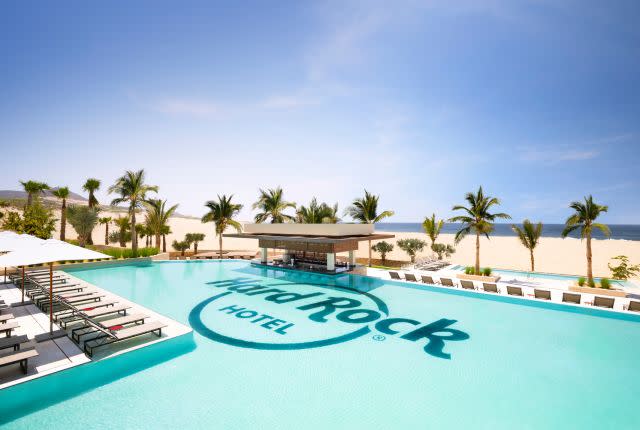 Guests of the Hard Rock Hotel Los Cabos can embark on a short road trip to the nearby Cerritos Beach and Todos Santos.  The scenic highway between Hard Rock Hotel Los Cabos and Todos Santos unveils breathtaking vistas of the rugged coastline of the Baja Peninsula. Upon reaching Todos Santos, visitors can wander through the charming seaside town's art galleries and boutique shops before exploring nearby beaches such as Playa Las Palmas and Playa Los Cerritos. These beaches offer a safer and more suitable environment for swimming, sunbathing, and enjoying various water activities than Todos Santos.
Playa Los Cerritos, located about an hour's drive from the resort, is also a paradise for surfers situated along the Pacific Coast. With its consistent waves and sandy shores, it appeals to both seasoned surfers and beginners. Accessing Cerritos Beach is convenient as the resort offers assistance in arranging transportation or renting a car.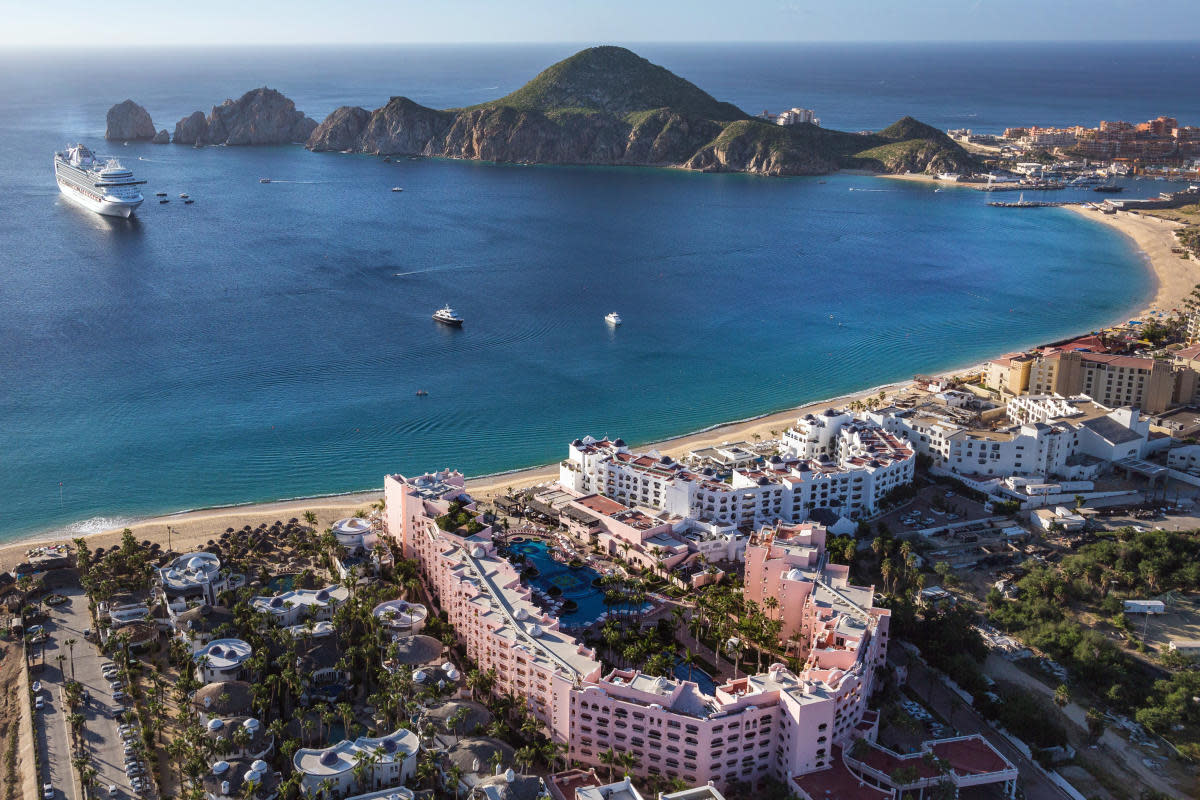 Pueblo Bonito Rosé Resort & Spa
The Pueblo Bonito Rosé Resort & Spa is an exceptional choice for a beachfront experience in Los Cabos. Situated on Medano Beach, this luxurious resort offers guests a perfect blend of tranquility and vibrant coastal activities. The swimmable beach right at its doorstep presents a paradise for sunbathing, swimming, and indulging in various water sports. With its prime location, guests can easily explore the mesmerizing underwater world through snorkeling or scuba diving adventures.
Pueblo Bonito Rosé Resort & Spa boasts easy access to Playa El Cerrito, a tranquil and secluded beach. With its peaceful ambiance, this beach offers a serene escape, ideal for romantic walks along the shore and unwinding amidst the natural beauty.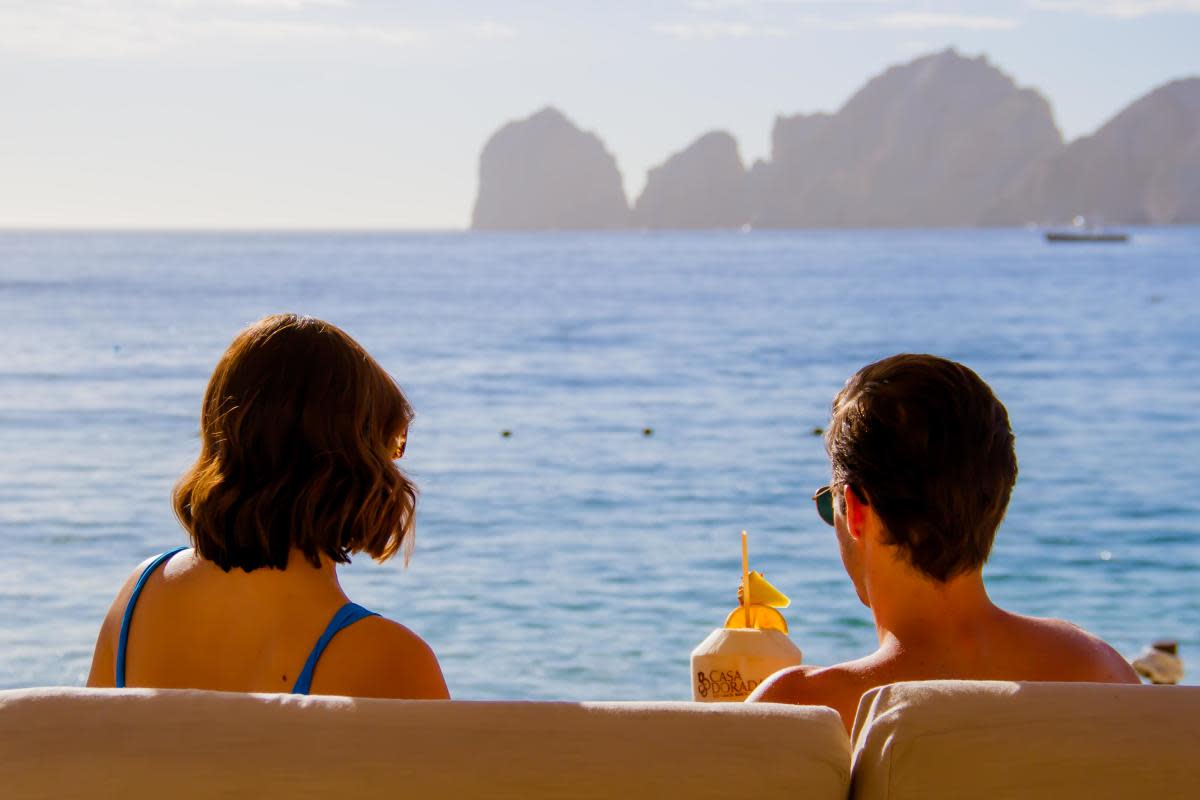 Casa Dorada Los Cabos Resort & Spa
Casa Dorada boasts a prime location on Medano Beach, offering direct access to the swimmable Medano Beach where guests can relax on pristine sands and enjoy the crystal-clear waters. With luxurious accommodations, world-class amenities, and breathtaking views of Land's End, Casa Dorado ensures an unforgettable stay.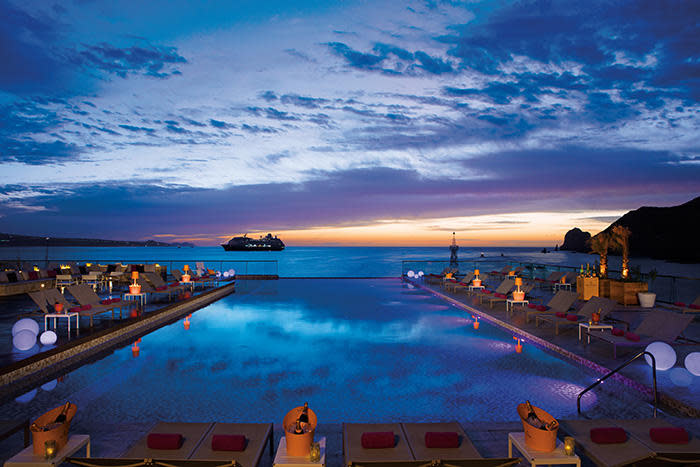 Breathless Cabo San Lucas Resort & Spa
Also located in the beautiful Medano Beach area, Breathless Resort is another excellent option for those seeking a swimmable beach getaway. The resort's prime beachfront location allows guests to enjoy direct access to the beach, where they can unwind on the sandy shores or take advantage of the various water sports available. With its modern and vibrant atmosphere, stylish accommodations, and an abundance of entertainment options, Breathless Resort caters to travelers seeking a lively beach vacation.
Learn more about the swimmable beaches in Los Cabos.