Some of the world's best whale watching tours happen in Los Cabos! Every year the humpback whales migrate thousands of miles from the frigid Bering Sea off of Alaska's coast to the warm, protected waters of the Baja Peninsula. This journey is the longest known mammal migration in the world and draws nature and whale watching enthusiasts.
Whether you're a snorkeler, observer or a passionate photographer, you will fall in love with the marine life that is spotted at Los Cabos every year.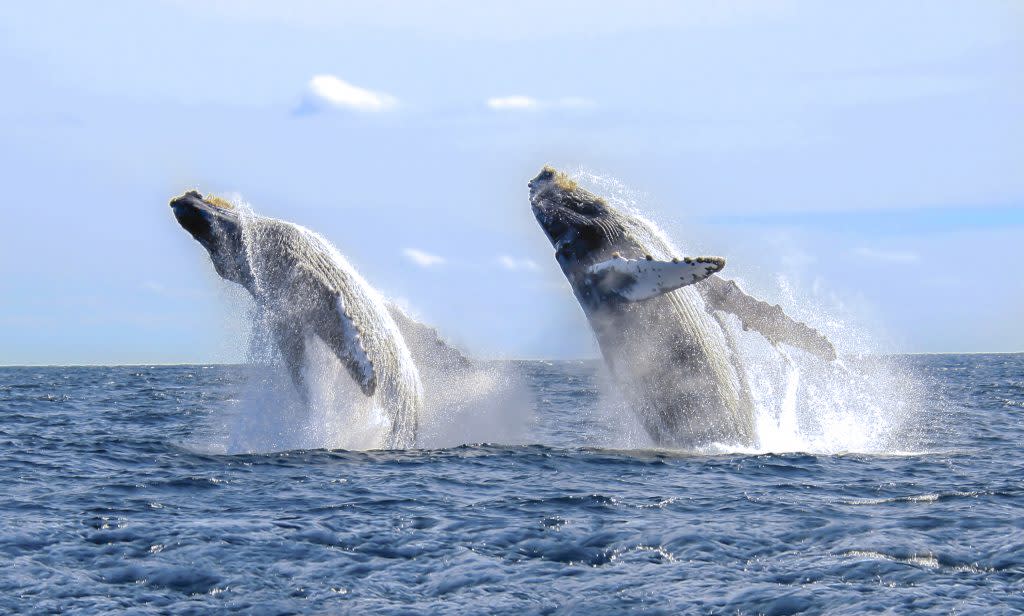 Humpback whales migrate to Cabo San Lucas around winter season, having the most mating activity during that time, therefore, a lot of incredible sightings. They will provide you with unique encounters that will take your breath away.
Imagine yourself on a high-speed inflatable boat spotting Humpback Whales and other amazing creatures like dolphins and rays, while breaching into the Ocean next to our local tour experts. Hear and discover the meaning of their songs with our hydrophones, along with our Marine Mammal Specialist. What a story to tell once you are back home, right?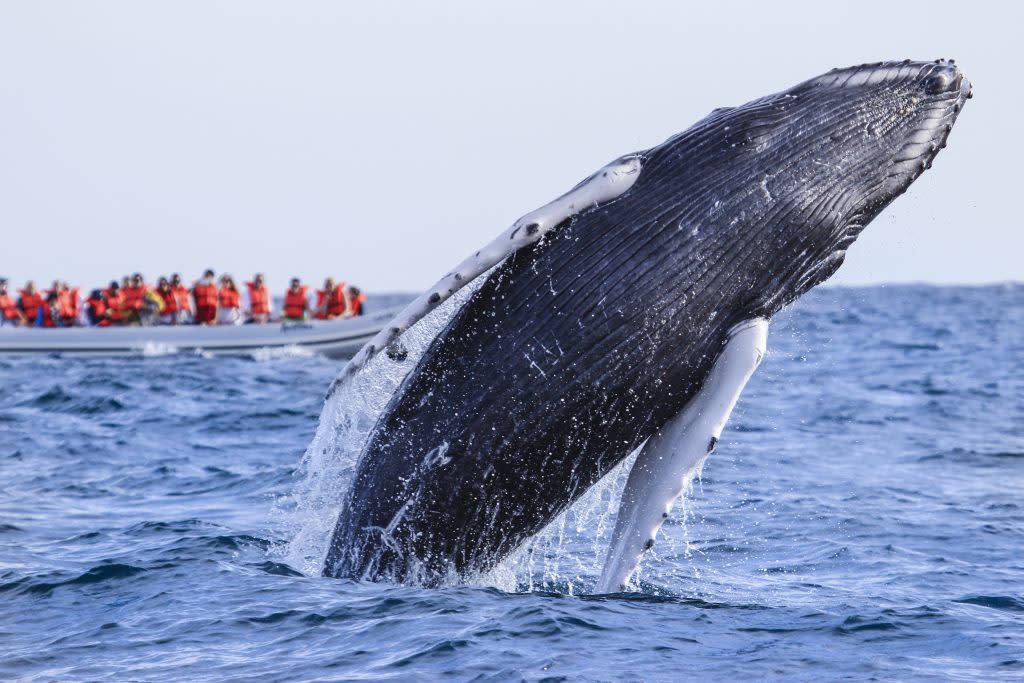 Watch these enormous mammals splash into the water from a very close and safe spot. You might end up wet too, but the sighting and the pictures will be worth it!
Make sure you book on time! Humpback Whales only visit for a short period of time (December- March).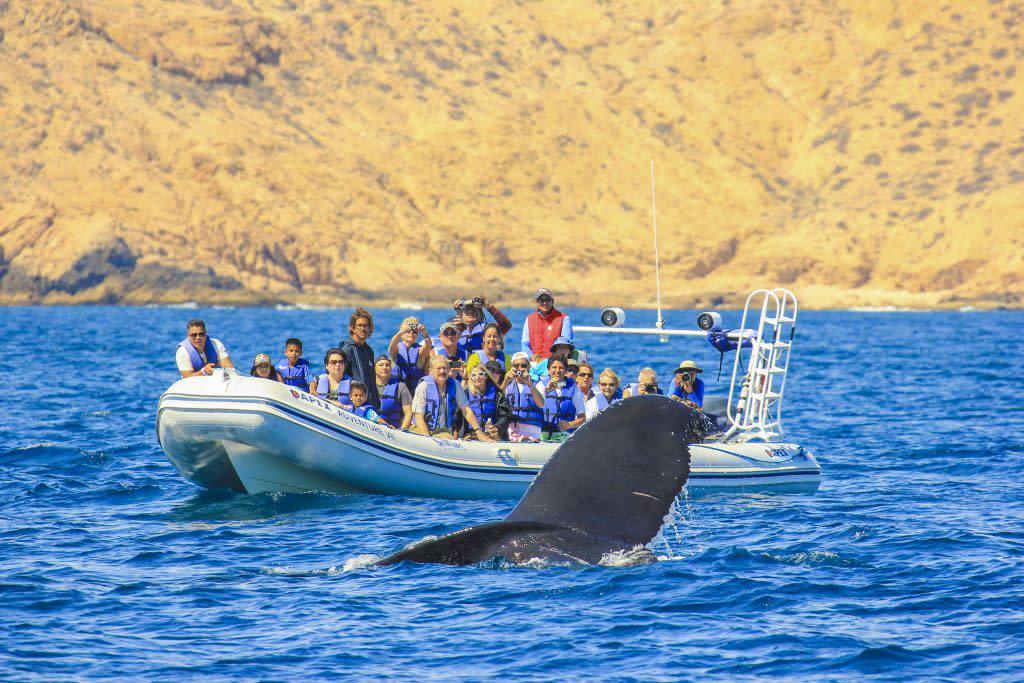 Now, if you are into adrenaline and would like to appreciate something bigger and closer, we have good news for you. The Whale Shark Encounter is a one-of-a-kind experience that not only allows you to swim along with such majestic creatures, but to also connect with nature in a very different way.
Did you know Whale Sharks are known to be "the largest sharks in the world"? This mesmerizing title is due to its imponent length of 40 feet or more. Luckily their favorite meal is plankton!
As you can imagine, they're very docile and, you can get approach to swimming nearby them. Sounds like a challenge, right?
[caption id="attachment_1866" align="alignnone" ]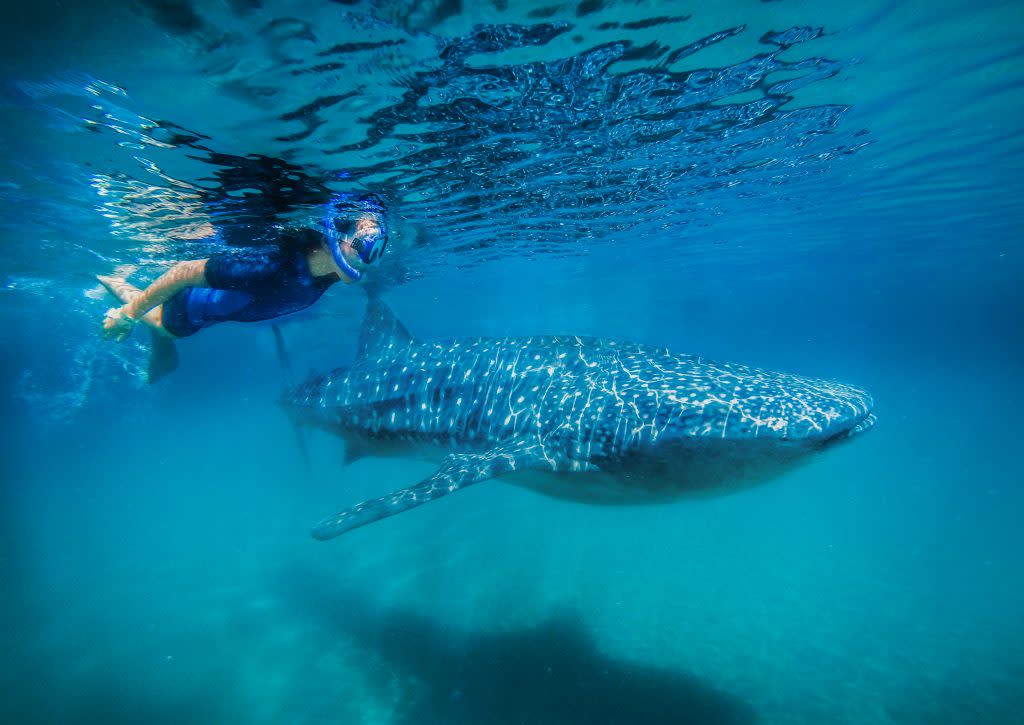 DCIM100GOPROG0148534.[/caption]
Whale Sharks are usually found around La Paz from December through April, and we have the perfect tour to take you there to live a one-on-one experience: The Whale Shark Encounter Tour.
You will depart from Cabo San Lucas on a comfortable ride to La Paz. It´s a very scenic 2-hour road trip to start your day, a delicious light breakfast will be provided while you're getting there. Then, once you've arrived, we'll go on a boat ride along with the experts, our local tour guides, to find these beautiful yet imponent marine creatures. In the meantime, our tour guides will teach you all you need to know about the Whale Sharks, their behavior and habits. Get your gear ready before you jump into the water!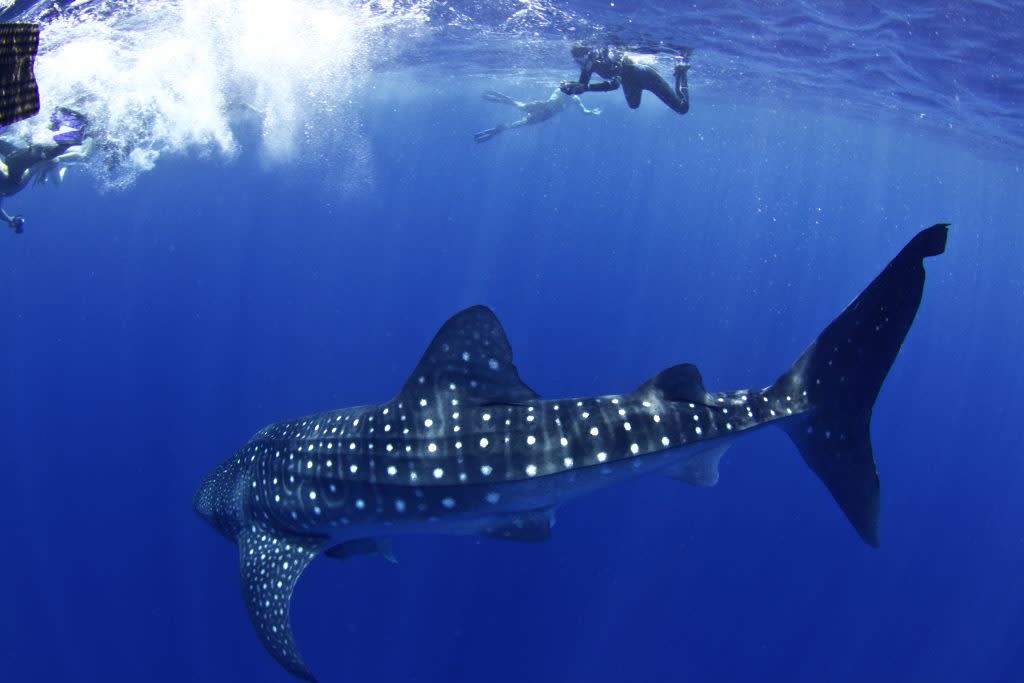 Take turns to jump in and discover a wonderful world underseas while swimming along with the Whale Sharks.
Such activity will leave you hungry. Get ready for a delicious "Baja-Style" lunch and refreshing beverages while sharing stories with your beloved ones.
This is a one-life-time experience worth to try!
So, as you can see, these are few of many wildlife adventures that Los Cabos offers to travelers. A hidden side of Mexico for you to be discovered. Break the routine, surround yourself with nature and live the adrenaline to the fullest. Something you won´t forget!