Are you planning a family vacation, but you don't know what to do with your furry family member? Can't stomach leaving them with your neighbor? Are you eager to travel with your friends to Los Cabos beaches, but don´t want to leave your bestie alone? Don´t worry, we have the perfect solution!
As more pet lovers head off to the beach with their pups, tourist destinations have been taking note and are offering pet-friendly amenities in order to help you to experience a thrilling vacation, pets included!
Los Cabos understands how important it is for our visitors to find pet-friendly hotels around this stunning geographical setting. So it´s time to discover five high-class resorts with open doors to four-legged guests!
1- LAS VENTANAS AL PARAISO The pampered pet who has it all will feel right at home at Las Ventanas al Paraiso. The resort offers special menus and massages to pamper furry friends who are vacationing in the lap of luxury.
In addition, a portable Pet Cabana is available for use in suites, or at the pool or beach so dogs can enjoy the outdoors in shady comfort. As well as the "Canine Delights" menu that features special dishes and made-to-order meals prepared by the hotel's chefs.
The resort staff will also walk pets, either along the fine-sand beach or in the flowering desert countryside, at the times each day that the guest specifies. Your pet will receive the best care possible, by folks who love animals just like you, while you are out by the pool or off exploring the city.
2- CASA DORADA Casa Dorada knows that vacations are even more special when you bring every family member along. With its pet-friendly accommodations and thoughtful creature comforts, they welcome pets with open arms.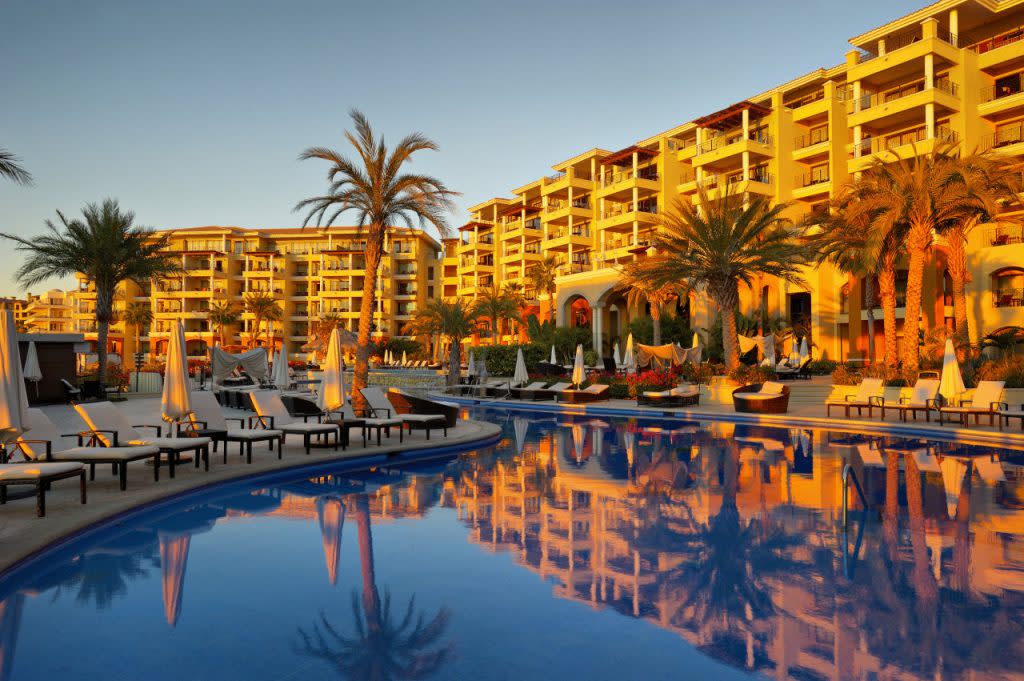 It is a true oceanfront sanctuary overlooking the best swimmable beach in Los Cabos. As a guest, you will enjoy the amenities of an ultra-exclusive five-star hotel in a delightful, casual and relaxing ambiance. Who can resist a day spent by one of its two beautifully landscaped pools or lounging on the sands of its private beach club?
3- ONE & ONLY PALMILLA Your pup will be greeted with glee at the airport and welcomed with refreshments. Hotel staff then take your pup's photo for a "Dog Passport" and given their own a passport stamp.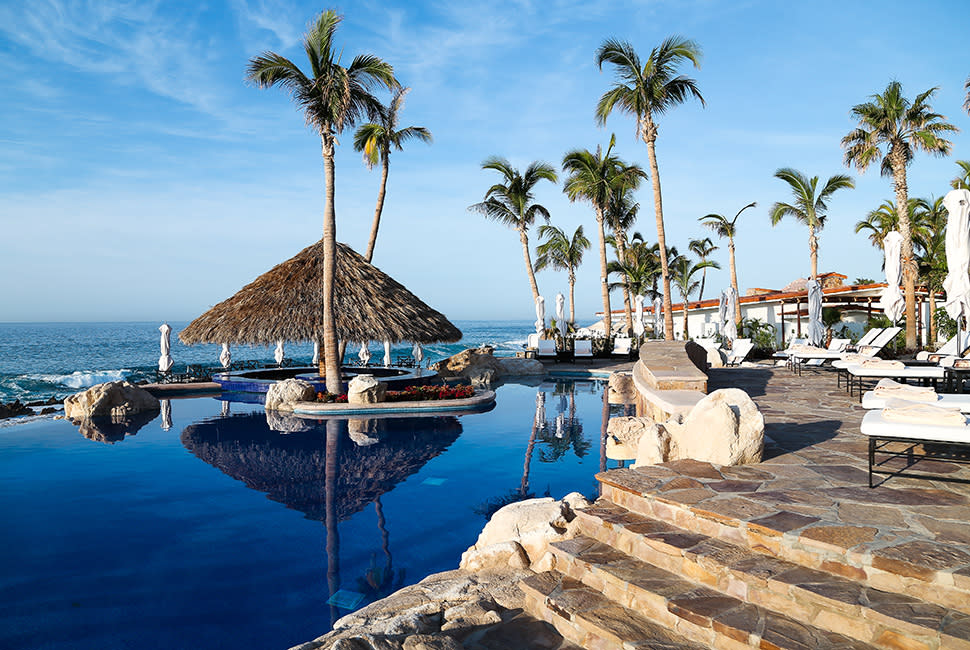 Once on the property, your dog will find a gourmet menu with offerings like organic roasted chicken, beef tenderloin, and steamed Pacific salmon. Taking canine hedonism to the next level, One&Only Palmilla offers pets a rare poolside front seat – fully serviced by a poolside doggie cabanas.
4- ME CABO Known for striking the perfect balance of the principles of Yin and Yang, Me Cabo will make your furry family members feel more than welcome. While you enjoy the perfect balance of both privacy and social activities at this unconventional resort, your pet will happily be free to indulge and move around the venue.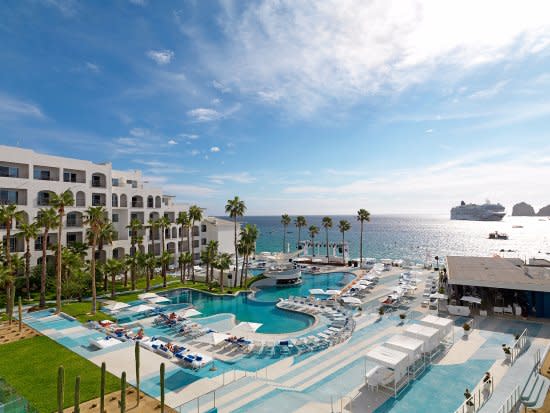 Balance yourself through wellness programs, spa recovery treatments, beach yoga and more, while indulging in sophisticated daytime and nightlife experiences. ME Cabo pulses with a distinctive vibe that hints of Ibiza with a touch of New York.
5- THE RESORT AT PEDREGAL The Resort at Pedregal offers a delightful ocean-front experience that boasts an unmatched level of individualized service tailored to your whims and needs and is the perfect escape for owners and their pooches.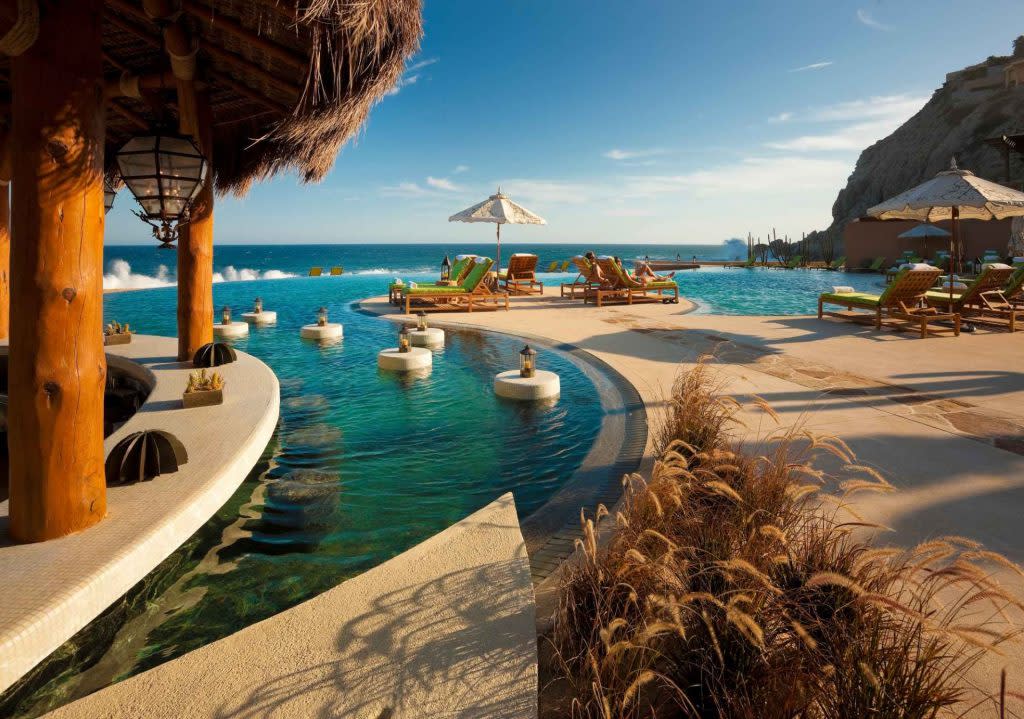 Located at the heart of activity, this Cabo San Lucas resort offers a perfect infinity pool that flows into the horizon of the Pacific Ocean.
There are some essentials that you should not forget when heading out on a trip with your pup: vaccination records, collar and leash, tags, blankets, food, water, and their favorite toys.
Thrill the adventure-seeker in you alongside your cherished pet here in Los Cabos.