In Los Cabos, experience the thrill of all types of adventure in year-round sunshine.
The promise of adventure in Los Cabos welcomes all who find their way here. Crystal-clear water beckons to be explored above and below the surface. The golden desert is a canvas for a variety of exhilarating activities that are sure to get your heart racing. Clear blue skies are perfect for adventures that make your spirit fly.
By Air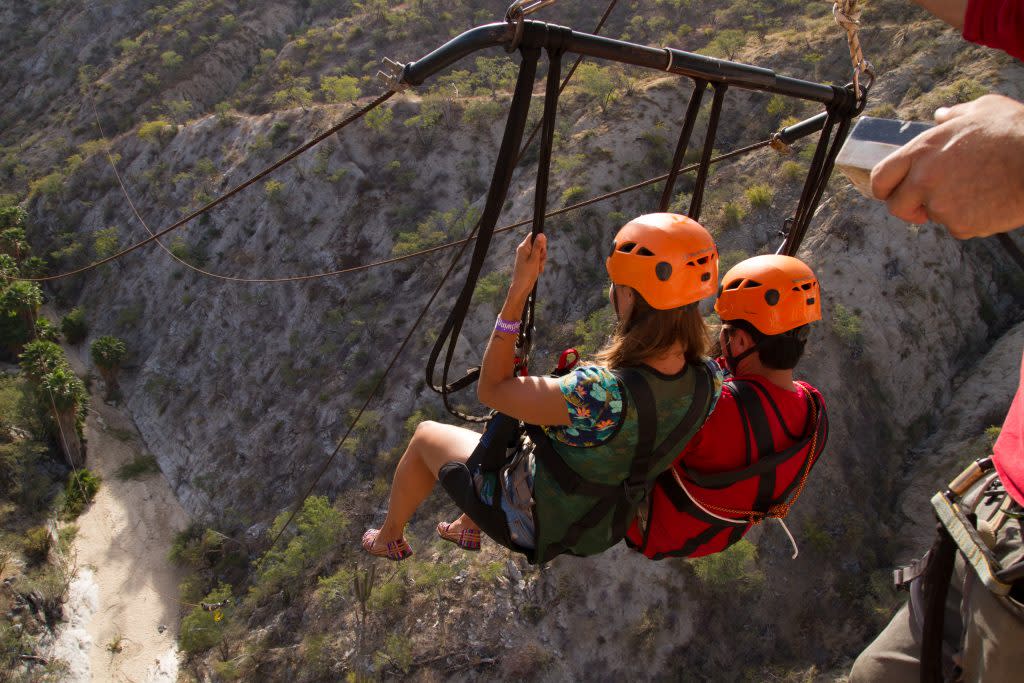 Soaring over the rugged desert landscape on a zipline might be the closest you come to flying. Perched 300 feet above the labyrinths of canyons and tangles of cacti, the eight ziplines at Monster Ziplines offer the largest ziplines in Los Cabos for the ultimate thrill. Feel the rush as you fly high above ground forward, backward, or even with your friends and family in a four-person train. 
The four-hour tour winds its way through Wild Canyon, an adventure park that lies just 20 minutes outside of San José del Cabo. Aside from 2,673 feet of zipline, the park also offers a water park and an extreme Sling Swing pendulum that sails back and forth with a 240-foot radius. For those daring enough to give it a try, the Sling Swing free falls at a speed over 75 mph and can be done solo or with a partner. 
For a true bird's-eye view of the glistening sea below, parasailing offers an exhilarating yet relaxed experience to soar high above Los Cabos' landscape. Feel the anticipation as you slowly climb higher and higher into the air, then enjoy smooth sailing and 360-degree views at 600 feet above the waves.
By Land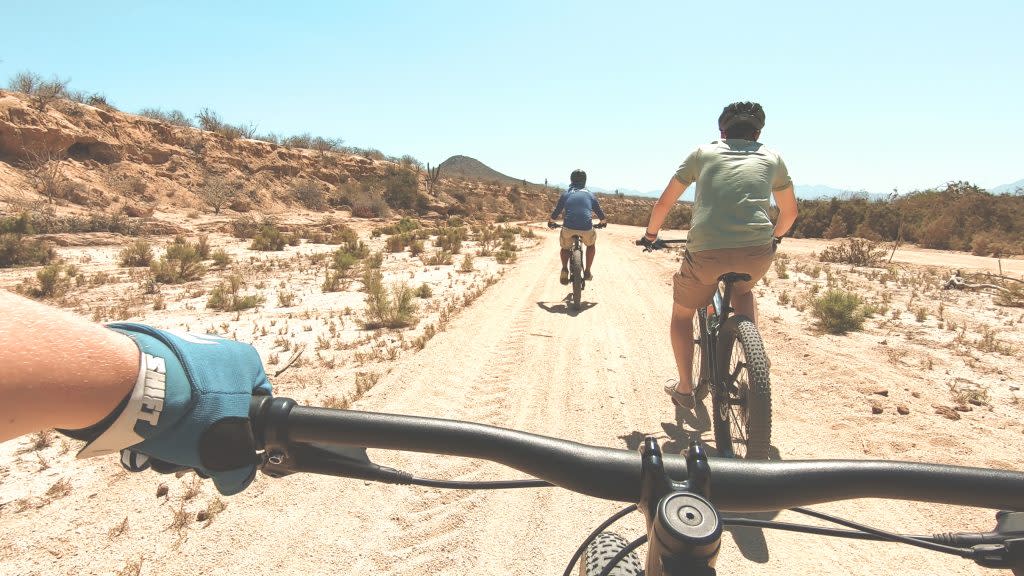 Buckle up for an adventure of a lifetime when you climb aboard an off-roading-equipped ATV bound for the desert. Catch views of the Pacific Ocean as your ATV climbs over dunes, rumbles over the uneven bumps and grooves of the desert and speeds across the sand.
Another way to admire the desert landscape is on a horseback ride. Settle into the saddle as your horse gracefully navigates varied landscapes, and take in views of the undulating desert and shimmering Pacific Ocean. During December through March, you might even spot a whale breaching offshore. 
Mountain biking through the desert is sure to get your adrenaline pumping. Traverse the twists and turns of singletrack trails that weave through the desert on a custom-fitted all-terrain mountain bike. For a truly unique way to explore Los Cabos' desert, check out bike glamping, an experience that combines the thrill of mountain biking with the luxury of glamping.
By Sea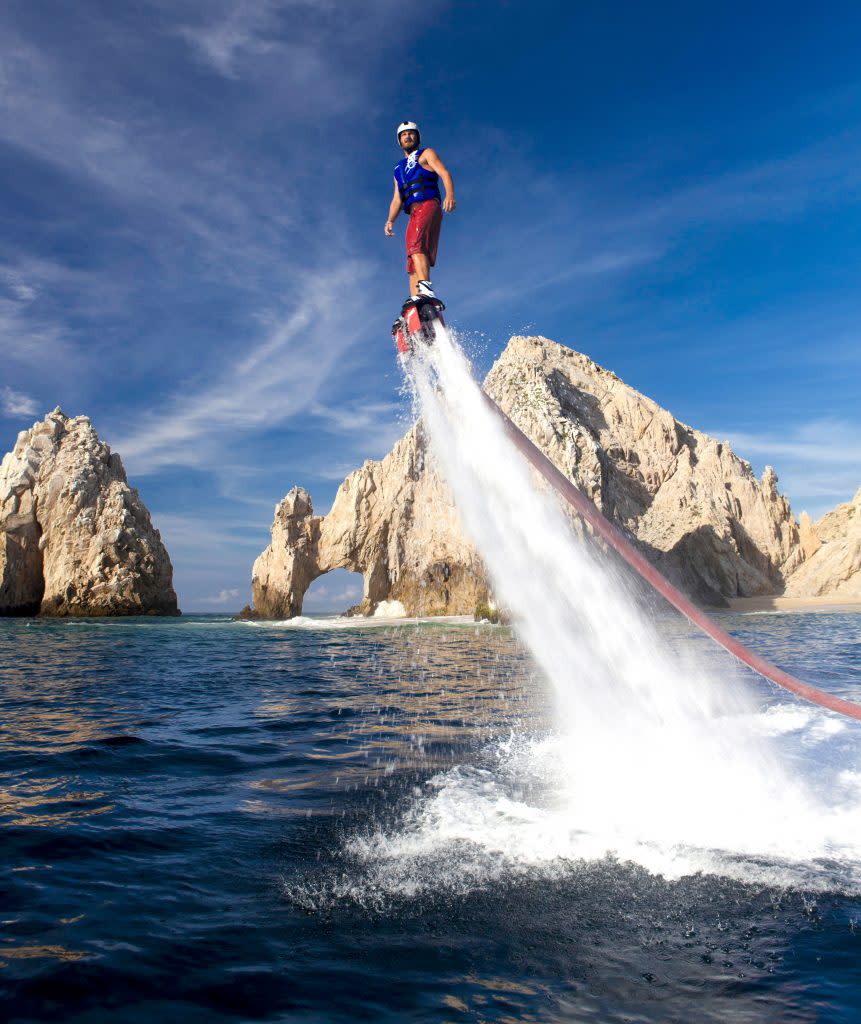 Plunge into the aquamarine water of Cabo Pulmo National Park and discover a kaleidoscope of brightly colored fish and coral. Once called "the aquarium of the world" by Jacques Cousteau, Cabo Pulmo is a snorkeling and scuba diving experience you can't get anywhere else. The park is 60 miles north of Cabo San Lucas and cradles the only hard coral reef in North America.
If you've never heard of flyboarding before, Los Cabos is the perfect place to try it for the first time or hone your flyboarding skills. Buckle up into to the watersports device that propels you straight into the air and through the ocean by water pressure, the rest of the movements and tricks are up to you!
Kayaking brings you closer to Los Cabos' natural wonders, like iconic El Arco and Lover's Beach. Glide past curious sea lions, paddle closer to the jagged rock formations that rise from the sea, and spend the afternoon relaxing on the sun-kissed Lover's Beach before paddling back to town.
In Los Cabos, every day brings a new adventure, all you need to decide is what you want to do first. That's living life The Baja Way.