A culinary journey in Los Cabos is just the beginning. Discover some of the best dining experiences in the Los Cabos region that range from casual bites to upscale epicurean experiences.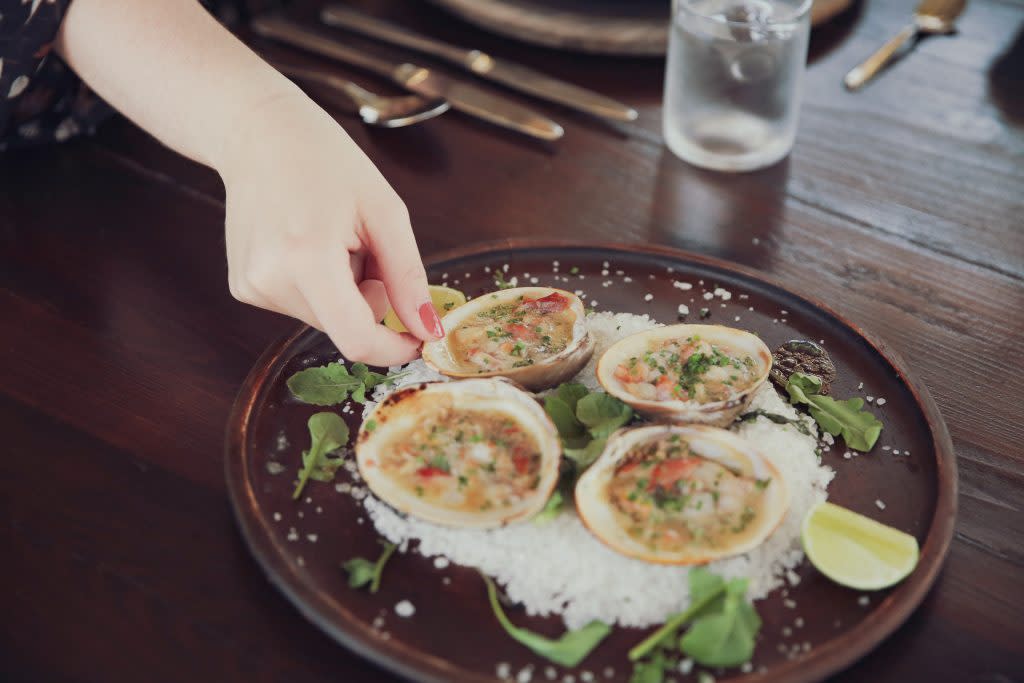 Casual Favorites
Las Cazuelas del Don in San Jose del Cabo
For a taste of local cuisine at a great price, stop in Las Cazuelas del Don, where you'll find authentic dishes cooked in a traditional cazuelas for added flavor. Crowd favorites include homemade tortilla soup and tacos, but if you're not sure what to order, ask the owner and he will point you in the right direction.
Claro Fish Jr. along the Tourist Corridor
Seafood tacos are the highlight at this casual palapa-style restaurant. Shrimp tacos, breaded and fried fish, and a salsa bar that offers a spectrum of mild to hot homemade salsas are just part of the reason why locals and visitors love it. There's also a Claro Fish restaurant in San Jose del Cabo.
Mi Casa in Cabo San Lucas
The charming setting of Mi Casa invites you to sit back and take in the sights of Cabo San Lucas while enjoying an authentic Mexican meal cooked from the heart. The restaurant is accented with vibrantly colored chairs, tables and decorations, and the menu serves a variety of Mexican food, including traditional mole.
Upscale Restaurants
La Revolucion in San Jose del Cabo
Celebrated chef Benito Molina created the invigorating menu at La Revolucion using ingredients exclusive to the Baja California region in order to promote sustainability, freshness and local producers. Main dishes on the menu range from seasonal vegetables to exquisite cuts of meat, and appetizers like ceviche de mar and oysters offer a taste of Los Cabos' abundant seafood selection.
Puerta Vieja along the Tourist Corridor
Sit down to dinner at Puerta Vieja, where a welcoming ambiance exudes from the romantic lighting and cozy wood décor. Chef David Peña likes to reinterpret and constantly evolve the cuisine at Puerta Vieja, but you can always count on eating tasty traditional dishes with a Mexican twist.
Romeo & Julieta in Cabo San Lucas
The team at Romeo & Julieta artfully prepare a variety of Italian dishes inspired by the regions of Italy. The menu changes periodically in order to best incorporate seasonal ingredients and has a selection of handmade pastas, seafood selections, meats and salads — including a Caesar salad made tableside.
Exquisite Culinary Experiences
Flora Farms in San Jose del Cabo
Flora Farms is one of the most iconic farm-to-table restaurants in Los Cabos and is known around the world for its cuisine and remarkable setting. Ingredients are sourced from the 25-acre farm and 150-acre ranch nearby, which means your handmade meal is literally served from their farm to your table. Cooking classes, a spa and a grocery store are also on-site for you to further explore their wellness and culinary offerings.
Sunset Monalisa along the Tourist Corridor
Pair an evening of indelible cuisine with breathtaking views of El Arco at the renowned restaurant Sunset Monalisa where freshly caught seafood is the highlight of the menu. Plan your reservation at sunset where Sunset Monalisa's cliffside dining pairs well with the brightly colored sky and echoes of the waves of the Pacific Ocean.
El Farallon in Cabos San Lucas
El Farallon at the Waldorf Astoria Los Cabos Pedregal is an exceptional dining experience in Los Cabos. Admire views of waves crashing on the shore from your table that's tucked into the seaside cliffs and dine on expertly crafted dishes prepared by a talented culinary team. The menu changes daily, but you can expect to dine on fresh seafood and prime cuts of meat.

Jazamango in Todos Santos
Todos Santos is an enchanting coastal town situated on the Pacific Ocean just an hour north of Cabo San Lucas. Known for its community of artists and creators, Todos Santos is a bohemian paradise full of eclectic galleries, shops and restaurants. Jazamango is a vision of famed chef Javier Plascencia and a can't-miss restaurant that showcases the best flavors of the Baja Peninsula.
In Los Cabos, an open seat is an open invitation, especially when it comes to cuisine. Discover the inviting nature of the people and places you explore and you're likely to make some new friends along the way.