Movies Filmed in Los Cabos
With its stunning beaches, sapphire-blue water, stark deserts and luxurious resorts, Los Cabos, located just a two hour flight from LA in Mexico's Baja Peninsula, makes for an obvious location to shoot feature films. The stars might like to come to play and relax, but that doesn't mean that they never come to work. Hundreds of local and international films have been shot in this Mexican paradise, but here's a list of four of the biggest, boldest and most popular.
Troy (2004)
Everyone knows the story of the city of Troy. A kidnapped queen, a decade-long war, a wooden horse and the destruction of one of the history's most mythically immense cities. However, that's never stopped Hollywood from making incredible epic movies showing it all off. Troy was one of the year's highest grossing films, pulling in nearly half-a-billion dollars thanks to its ensemble cast of Orlando Bloom, Brad Pitt, Diane Kruger and Eric Bana.
Obviously, Cabo San Lucas is half a world away from where Troy stood, however, the location scouts were wowed by the beachfront, and picked the golden sands as a great stand-in for the exterior of the city's impenetrable walls. An opening fight scene featuring Pitt's Achilles was shot near the beach, and, mirroring the film's finale (spoilers), the set of the city was damaged by a Hurricane, forcing a rebuild before shooting continued.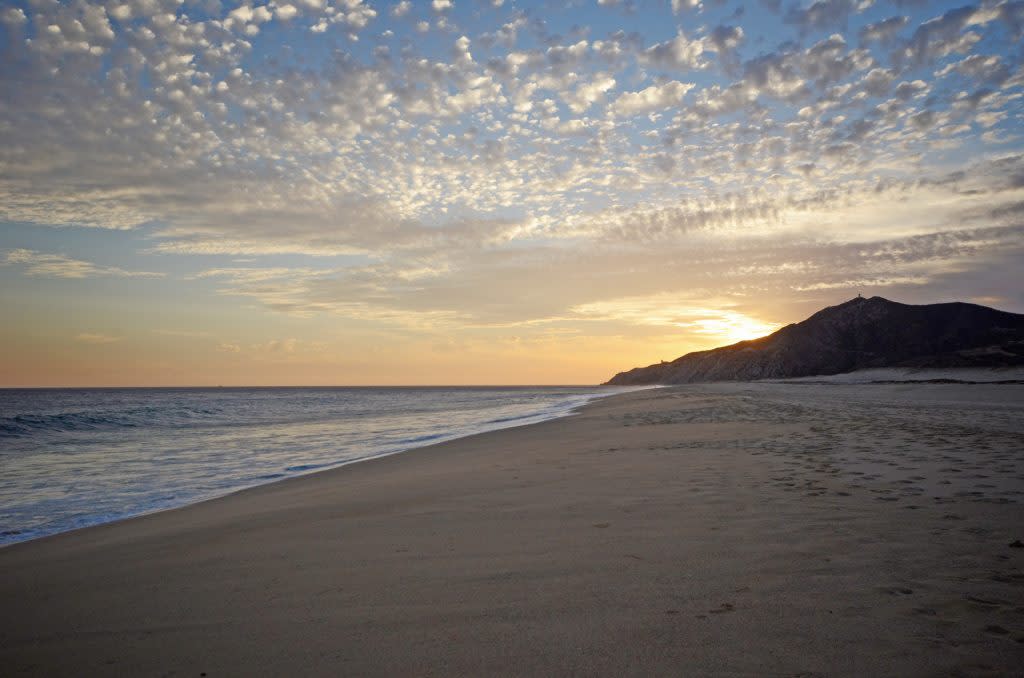 The Heartbreak Kid (2007)
This 2007 remake of the 1972 film featured Ben Stiller as the protagonist who can't settle on his dream woman. A large portion of the action in the film takes place in Cabo San Lucas, with Stiller's character Eddie and his new wife Lila (played by Malin Åkerman) honeymooning in the resort town. The complication arises when Eddie meets another woman, Miranda (Michelle Monaghan), and he is torn between the two.
In the film, Stiller, Åkerman and Monaghan's characters experience the beauty of Cabo, staying at the Esperanza resort, a hotel that features incredible ocean views, private villas, an adults-only pool to get some quiet time away from the youngsters, and an award-winning spa and wellness program. The trio hit the water in many scenes, and despite some scripted run-ins with jellyfish and sunburn (always pack sunscreen), Los Cabos put on one of its best performances.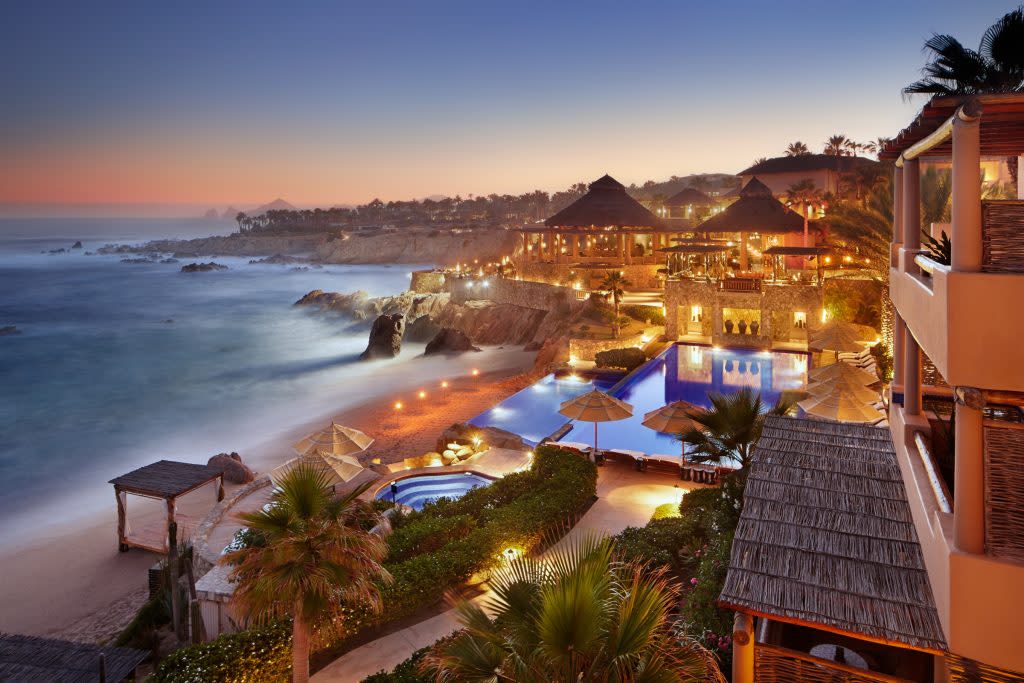 Sisterhood of the Travelling Pants (2005)
This globe-trotting tale follows four best friends as they separate for their first summer in high school. The group find a pair of magical jeans that fit and flatter them all, despite their physical differences, and vow to send them to each other throughout the holiday. One of the four heads to South Carolina, another to Santorini in Greece, a third stays in Maryland, and the fourth heads to a football camp in Baja.
We might be biased, but we think that this third girl, Bridget (Blake Lively), drew the best lot of all the characters. She experiences her plotline in the backdrop of one of the greatest spots on the planet for beaches and relaxing. Bridget falls in love with one of her coaches, and we'd like to think that the romance of Cabo San Lucas had something to do with that.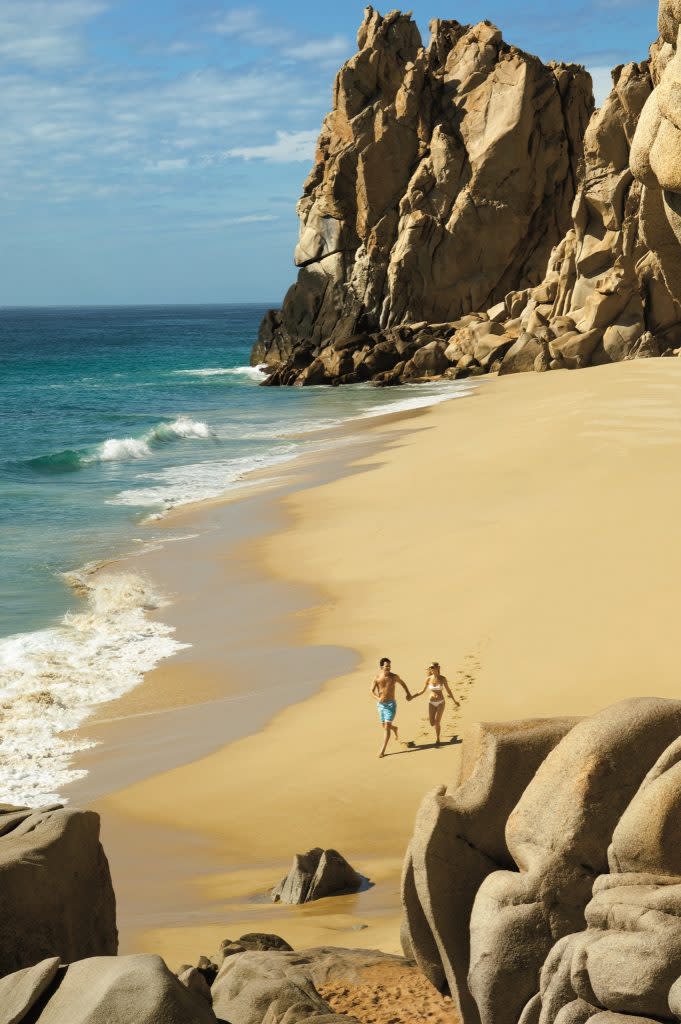 You Don't Mess With the Zohan (2008)
Adam Sandler's zany comedy about a former Israeli-counterterrorist commando-turned-hairstylist was perhaps not the highest grossing film of its year, however, it was certainly a hit for Sandler's vacationing. In the film, Sandler's title character smuggles himself out of Israel to New York to follow his true dream of opening a salon, but his past catches up with him, in the form of his nemesis, the Palestinian terrorist "Phantom".
Cabo San Lucas may not feature heavily in this largely New York-focused feature, however, the town makes a very picturesque stand-in for Tel Aviv early in the film. The beach looks as inviting as ever, and we'll forgive Tel Aviv for stealing our thunder on this one. This kind of scenery was meant to be shared.
Credit: Courtesy of Columbia Pictures & Happy Madison Productions